Talent Acquisition
6 Reasons Why Recruiters Should Go Mobile
As smartphone penetration zooms, recruiters need to go mobile in the face of constant change or get left behind
In an age where the youth is driving technology rapidly, it becomes imperative that businesses catch up too or staying at the top will prove to be a herculean task. When hundreds of millions are hooked on to their mobile devices, it seems but logical that hiring processes too become accustomed to the mobile medium.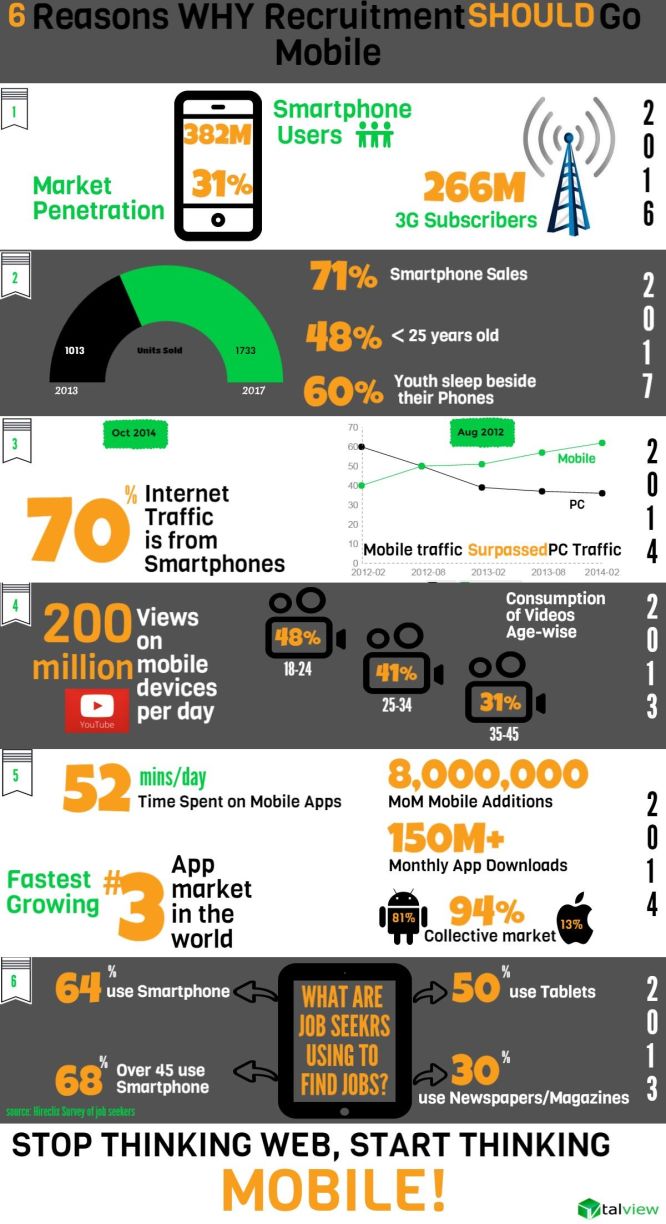 This article will highlight six reasons as to why recruiters should consider going mobile in the face of constant and rapid change!
It's just the tip of the Iceberg – Smartphone penetration set to proliferate
If you think smartphones have massive penetration already, here's some news that will shake you. Studies suggest that smartphone penetration will increase by as much as 31% by 2016, elevating the number of smartphone users to 382 million! That is more than the number of instagrammers! This just goes to prove that, with the advent of smartphones, more and more people will have access to one major resource for job hunting, a mobile.
A smartphone is the last contact before going to sleep!
Twenty years ago, kids would go to bed after their parents had read them a bed-time story. 20 years hence our youth go to bed with their phones. The statistics? About 60% of our youth sleep with their phones close by and 48% of the smartphone users are less than 25 years of age! With the demand for smartphones skyrocketing, sales of the same are expected to grow at more than 71% in the years to come. So, if you have a job offer, chances are that it will be seen by someone on a smartphone rather than any other device.
Mobile traffic surpasses PC traffic and growing!
As much as we all hate being in traffic, this traffic news will surely make your jaw drop. Last year, a whopping 70% of the online traffic came from smartphones, ousting the traffic from laptops. If the trend continues, and it surely will from the looks of it, the figures will completely give laptops the slip in no time! Don't you want to then get in on this action?
Whatever the trend, it is first viewed on mobile devices
It's viral! Yes, the number of people watching videos on their mobiles is snowballing. With the number of views per day on mobile devices touching 200 million, it just gives you more incentive to switch to mobile devices for hiring!
The fastest growing app markets? India is right up there!
Let's talk about the third fastest growing app market in the world now. India. The Indians have always been quick to adapt to technological advances and the transition to mobiles has been a piece of cake. A smartphone user in India spends close to an hour a day using mobile apps. If that's not enough, MoM addition is 8 million devices, with 150 million apps downloaded every month! Android and iOS collectively contributes to 94% of the market!
Job seekers are increasingly using their phones to find jobs, indicate studies
Changing tracks to jobs and their seekers. Studies show that a significant percentage will use their mobiles to find jobs. And when we say significant, close to 65% of each segment of the age demographic is looking at finding jobs through their mobile devices. The hiring-compass needle is pointing in just one direction and that direction is mobile. Get your recruitment processes mobile and be a pioneer by being an early adopter instead of being left behind!