Talent Management
Arts therapy sessions as talent wellness strategy of media.net
Media.net has devised Arts-based therapy sessions to ensure the physical and mental wellness of its employees. This is an overview of this therapy sessions strategy.
Talent wellness is an increasing interest in TM. There can be many kinds of wellness programs for Talent welfare. However, engagement in Artistic activities can be exhilarating as well as fulfilling. Here is a short case study of arts therapy being used as Talent wellness program in a film marketing and advertisement company that helps its clients through digital traffic analytics.
Media.net is a global advertising technology company that develops innovative products for both publishers and advertisers. It provides advertising and traffic monetization solutions to its large, diversified client base worldwide. This company has 800+ employees in key operation centers at - New York, Los Angeles, Dubai, Zurich, Mumbai & Bangalore. Their US HQ is based in New York and Global HQ in Dubai.
The employees are engaged in the following tech offerings:
It builds products that auto-learn and optimizes to display the most relevant ads and offers to end-users in formats that provide a balance of user experience and revenue and provide industry leading user privacy protections. This creates long-term sustainable value and, at the same time, maximizes publisher revenue and provides high ROI to advertisers.
It simplifies online advertising by building products across multiple segments within ad tech, such that all of the customers' needs are met without them having to engage multiple vendors or to use the company's platform to unify the solutions from multiple vendors that they want to manage.
Tech products in analytics and traffic monitoring
Proprietary machine learning algorithms,


Sophisticated data processing and


Detailed analytics capabilities
It manages traffic that generates 70+ million paid ad clicks each month. To put this into perspective, at the industry average display CTR of 0.08%, it would require others an estimated 87.5+ billion display ad impressions per month to generate this volume of ad clicks.
Display to Search (D2S) ad format
Media.net has created the display-to-search (D2S) ad format, a highly sophisticated method of monetizing display placements by identifying user-search intent and displaying relevant search keywords, which lead to the display of search ads bought by advertisers on a cost per click (CPC) pricing model. This format enjoys uncapped advertising budgets as it is seen by advertisers as a cost of sales rather than an operating expense from a discretionary marketing budget.
Talent acquisition and retention
Media.net recruits freshers from campuses and also experienced employees laterally. It sees to the growth of these employees into learning the tech skills to be able to work on their roles involving tech operations. Its policy is to try to retain as many talents as possible so that it doesn't have to keep on investing into tech training of untrained new talents.
The high-pressure roles in the creation of advanced technology that can accurately monitor traffic, give advanced analytics, process data in a sophisticated manner and engage in complex machine algorithms, in addition to meeting other roles in the organization; result in increased stress levels in the employees. It is the goal of media.net to keep exploring newer interventions that are effective and interesting at the same time to help the employees their stress levels.
Arts therapy sessions on offer
Dance (Zumba)


Yoga


Mandala coloring


Pet therapy


Employee Assessment Program (EAP)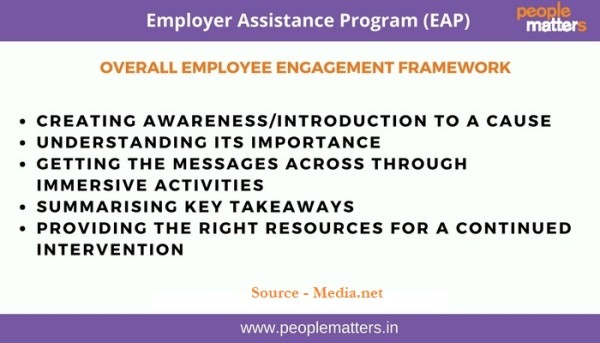 Employees are given the option to attend any of the above-mentioned sessions to bring down their stress level, feel naturally connected to their environments, rejuvenate themselves and enhance their performance. They are given training and counseling with coaches to get the maximum benefit of session therapy and achieve physical and mental wellness.
Employee Assistance Program (EAP)
Employees are taken through a structured awareness engagement framework. This helps the employees to understand their stress level, the possible causes and takes them away from the stress of work to relieve them and engage in other meaningful activities.
In the following chart, we see the details of the Employee Assistance Program (EAP).
The awareness sessions are spread across different levels:
Manager/Business Unit Head level – Helping the leaders identify symptoms and equipping them with means to help their teams


Individual-level – Creating awareness, floor walks, periodically spaced discussions to reinforce the message and introduction to the portal
Resources for arts therapy sessions made available
Self-help libraries,


Assessment tools,


Health risk assessment,


Discussion forums and


Conversations with experienced counselors and wellness coaching
Individuals are allowed to choose offerings that best fit their needs
The diversity in sessional therapy is allowed because every individual has different inclinations and hence, responds positively to different kinds of activities. Same kinds of coaching or same kind of cultural activity are not likely to achieve similar results in all individuals.
The organization has tried to understand participant interests through the activities they pick to profile roles and individuals. The organizational policy introduces this sessional form of mental and physical wellness initiative each Quarter. Assessment of the impact shall be made at the end of each financial year.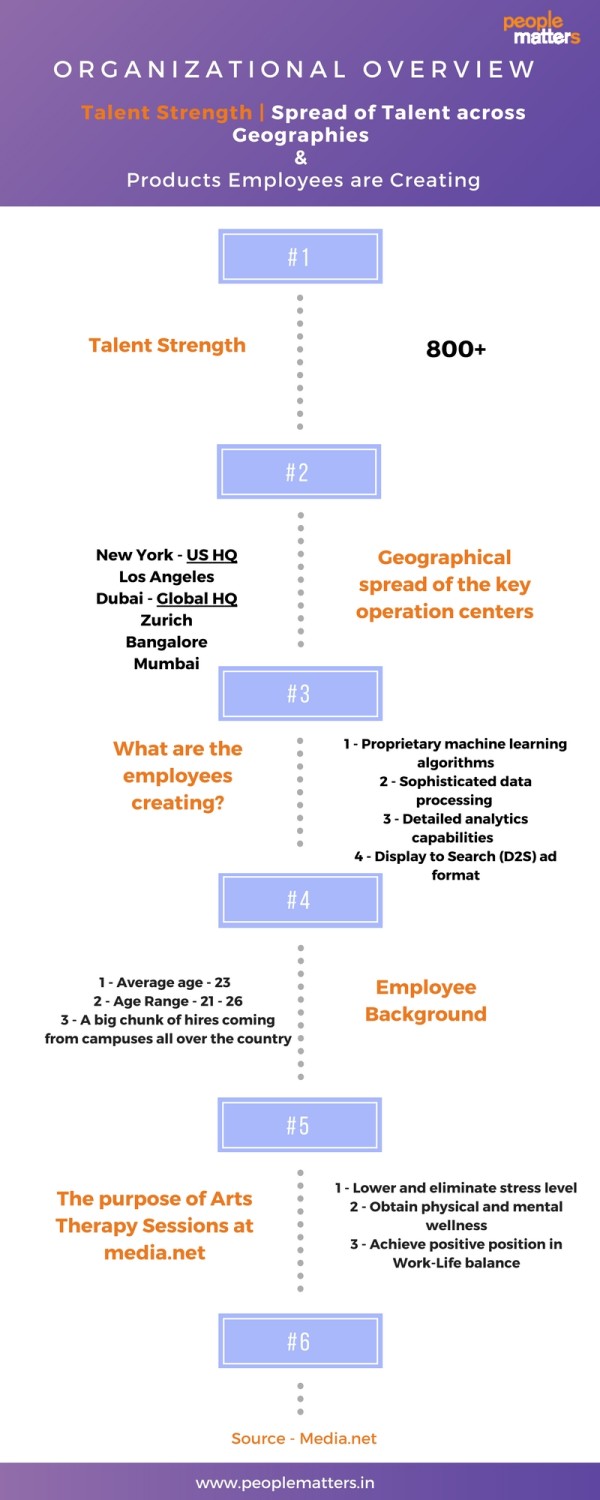 As told to Archana Verma