A Brand Reachout Initiative
Talent Acquisition
Building a brighter future for talent: HireRight's 2021 Global Benchmark Report
With remote working changing the way talent is found, onboarded, and nurtured, a greater awareness of trends from around the world can help organisations devise forward-looking strategies to hire and retain the best talent in 2021 and beyond.
There is no doubt that the pandemic has significantly impacted the world of work, with the manifestation of remote and hybrid working becoming the new normal. 
With the rise in demand for flexible working, the introduction of vaccination policies, and employee testing programs being launched, many may be wondering if COVID-19 has permanently changed the future of work.
While remote working offers great potential for expansion of the talent market and the pool of applicants that an organisation can cherry-pick from to meet their requirements, this is often easier said than done. 
Many candidates now have a wider range of job opportunities open to them, with more employers recruiting for remote workers. Some candidates may even be pursuing roles in different countries, which could help to secure them better positions and/or higher salaries. 
For employers, this means that the competition is no longer just local, as large global organisations with more flexible working conditions, better brand recognition, and larger recruitment budgets may be sweeping up the best talent from all corners of the globe.
HireRight's 2021 Global Benchmark Report, titled 'Back to the Future of Work,' covers background screening, talent acquisition, and talent management trends from the last year, as well as some predictions for the rest of 2021. Here are some of the key findings from the report for businesses with a footprint in India:
Background screening is improving the quality of hires globally, but most noticeably in India 
HireRight's 2021 Global Benchmark Survey found that 80% of respondents from India identified a "better quality of hires" as a top benefit of conducting background checks. This was the highest rate reported in any country. Additionally, 65% of respondents from India attributed "more consistent safety and security" to their background screening process, and 45% said they benefitted from "improved regulatory compliance" as a result of it.
The survey also found that errors or inconsistencies on candidates' application forms and CVs are still commonly found by many employers globally. Respondents from India were most likely to find discrepancies in their candidates' employment histories or education credentials, with 70% and 65% respectively saying they had identified issues in these areas during pre-employment background checks. The illustration below shows where candidate discrepancies were most commonly found in North America, EMEA, and APAC (including India).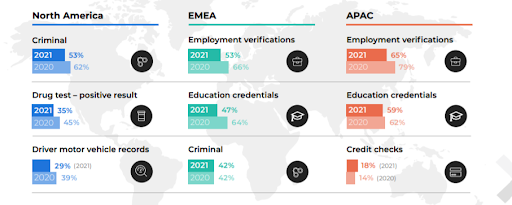 Despite mass unemployment in 2020, most businesses expect employee numbers to grow in 2021
Despite unemployment rates in India peaking at 23.5% during 2020, the outlook for the future appears to be a lot more optimistic, with 76% of respondents from India expecting their companies to expand by the end of 2021. Of these, 37% expect to be growing their company's workforce size by over 6%; conversely, just 6% of respondents from India expect to decrease their numbers by the end of the year. 
Globally, 40% of respondents said that their business stopped hiring for a period – roughly half of these for up for three months and half for over three months – in 2020. With many businesses expecting growth in the coming months, it looks like a variety of recruitment channels will be utilised to support their talent acquisition efforts. 
56% of respondents from India think that social media will be one of their most effective recruitment channels in 2021. Perhaps unsurprisingly, LinkedIn is the most popular social media channel for recruitment purposes, used by 85% of respondents from India. However, 11% said they do not use social media for recruitment purposes. In joint second place, online job boards and referrals are expected be top sources of new talent by 54% of respondents from India. 
Staff retention and developing leaders within the company are big talent management challenges in businesses in India for 2021
When asked about the top talent management challenges for 2020, "driving employee engagement through digital channels" and "boosting morale" came out on top for respondents from India, with 63% and 46% respectively saying this. "Staff retention" was ranked third, with 40% of respondents from India listing this as a top challenge in 2020; however, it is expected to be the most common talent management challenge for 2021, with 44% seeing it as an issue this year. 41% of respondents from India believe that "developing leaders within their company" will be a challenge in 2021.
During the pandemic, many steps were put in place to mitigate the talent management challenges it exacerbated. To boost employee engagement, 62% of respondents from India said their company hosted regular social activities during office hours, 56% set up group chats on platforms like Microsoft Teams or similar, and 38% introduced internal competitions or reward incentives. To counter low morale, 71% introduced internal wellbeing initiatives, 50% provided employees with more contact with their direct manager or supervisor, and 38% provided an employee subscription to a wellbeing website or app.  
Remote working is one area in which businesses are looking to make permanent changes to support their workforce and hopefully drive retention. 57% of respondents from India plan to be more flexible in their approach to remote working after the pandemic, allowing workers to reduce their number of days in the office. Additionally, only 6% of respondents from India expect that none of their workforces will be remote in January 2022, compared to 22% who said they had no remote workforce in January 2020. 
HireRight's 2021 Global Benchmark Report is key to exploring trends and attitudes relating to the new world of work. It is based on the responses of over 3,000 human resources and risk professionals worldwide who shared their experiences of background screening, talent acquisition, and talent management. The report compares and contrasts survey responses from North America, EMEA, and APAC, and offers additional regional perspectives on India and Latin America. 
Click here to download the exclusive report.