Talent Acquisition
Delhi/NCR to create seven lakh jobs – Report
Human Resource service company Teamlease released their job report for the fiscal year 2018-19. The report suggests that there are good days for jobs in the coming years for the capital city New Delhi.
Given the current employment scenario, India's transition from farm-to-non-farm jobs will be spearheaded by the sales domain. The report highlighted that the sales area has the caliber to create around seven lakh jobs in Delhi/NCR and ten million jobs in pan India.
According to the report, FMCG and FMCD sector is likely to create thirty percent of the 2.5 million jobs and the organized retail sector will create fifty percent of these jobs.
Talking to People Matters, Mayur Saraswat, Head of North Business, TeamLease Services, said, "The hiring perspective in the city seems to be on a growth trajectory. The fiscal year 2018-19 will witness a 17% growth in the hiring outlook."
He added that 32 percent of the job seekers prefer New Delhi to be the best place to start their careers because the employers in New Delhi pay thirty percent premium in comparison to other cities.
The reports highlights, currently, Delhi employs 343,000 sales professionals across sectors, this amounts to 33% of the overall 1.5 million sales profiles in the country. But with a combination of macroeconomic, strategic and technological factors like GST, FDI, digitization and Artificial Intelligence (AI) the profile will witness a significant growth.
The retail domain is in an expansion mode and the retail store space of 5 million sq ft, Delhi's retail sector will be the biggest driver of demand for sales talent. Other sectors like hospitality, real estate, etc. will push the demand for sales talent significantly.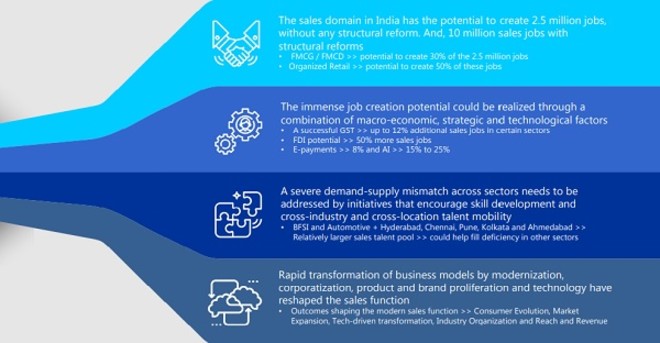 Saraswat said that the sales domain has immense potential and currently the country has the capacity to create 2.5 million jobs over the next 3 years, without any structural reform. And, 10 million sales jobs with structural reforms.
By 2025 India is set to become the fifth largest consumer durables market in the world and it will have a corresponding impact on sales profile. With FDI inflow of 77K crore between April 2000 and March 2017 the incremental sales job creation resulting from FDI inflow is estimated at around 200k in the next 3 years, said the report.
Apart from traditional sectors, new age business driven by the governmental thrust on digital India is also going to add a hundred thousand jobs. The adoption of mobile banking and e-payments will add new profiles such as merchant acquirers. In fact, the profile alone will create around 122K jobs in the next three years. Apart from Sales, the other domains that will see a boom in job creation are Engineering & Design, Information Technology, Marketing, Accounts & Accounting and Human Resources.