Talent Acquisition
Diwali 2023: HR, here are top Rangoli memes that will light up your DMs sooner or later
Since we pride ourselves on keeping you well-informed and updated, there's no way we could exclude HR memes from the festivities. That's we've handpicked the best Rangoli memes, just in time for Diwali.
Forget all the usual HR stuff – employee relations, learning and development, reskilling-upskilling. When people in India hear "HR," the first thing that pops into their heads is Rangoli. And with Diwali just around the corner, you can bet your bottom rupee that HR Rangoli memes are about to break the internet. You know you've got that one friend, colleague, or relative itching to send you memes about HR's undying love for Rangolis. We HR insiders might not always find these memes endearing, but let's be honest, some of them are knee-slapping hilarious. Since we're all about keeping you updated and informed, we couldn't leave HR memes out of the fun. That's why we've curated a list of top Rangoli memes on HR just in time for Diwali – which will sneak into your inbox or DMs sooner or later.
Top HR Rangoli Memes
1. Let's break it down to the basics: many folks out there believe that the HR department's main job is to ignore employees' real issues and make Rangolis all year round. If only they could step into our shoes for a day!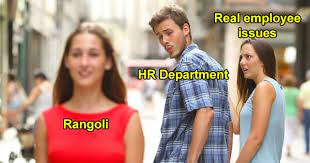 2. Little do they know that while most employees had the opportunity to work from the comfort of their homes, it was the HR department that made remote work possible and seamless – and that didn't involve Rangolis!
3. If HRs neglected employees' well-being, there'd be no Diwali celebrations, no get-togethers, and no fun beyond work. Remember the saying, "All work and no play makes Jack a dull boy"?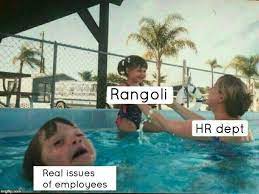 4. HRs can also teach employees that not all gifts are tangible; some are the experiences and great times shared with colleagues. Of course, this doesn't mean tangible gifts and bonuses aren't important!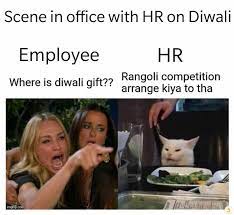 5. Let's settle this once and for all: making Rangoli is no laughing matter, and crafting a good one isn't child's play. So, the next time someone cracks a Rangoli joke, send a snapshot of your artistic prowess. (And if you're not the Rangoli maestro, don't hesitate to share a photo of your fellow HR Rangoli expert.)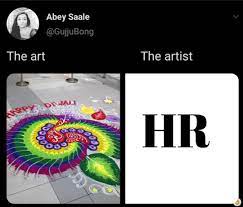 6. We can all relate – no matter how innovative or funny these memes get, HR has had its fill. Haven't we?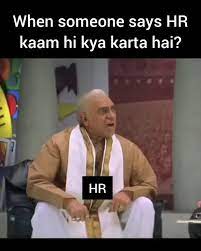 7. As I mentioned earlier, crafting a Rangoli is serious business. After hundreds of memes and hours of labor, anyone who decides to trample on it is in for a world of trouble.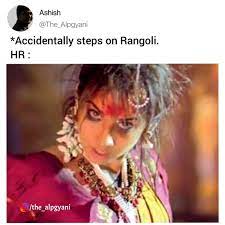 8. Indeed, bringing everyone together for that Diwali party, making it both productive and fun, isn't a piece of cake. Even with a system in place, HR needs to get creative every year, and that takes time and effort.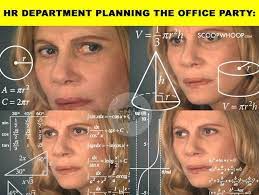 9. Adding new skills is always a bonus, and it's not just HR who are happy to utilize them. Most employees are thrilled to showcase their talents with colleagues.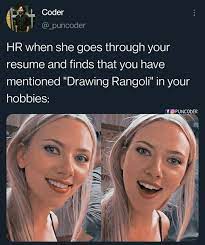 10. And to wrap it all up, our very own Virat Kohli channels some serious HR vibes, and we're here for it!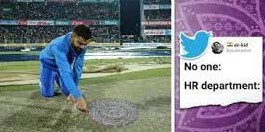 These memes highlight the humorous side of the Human Resources profession. These clever and relatable memes serve as a reminder that HR plays a crucial role in navigating the complexities of the workplace with a blend of empathy, patience, and wit. By finding humour in the ups and downs of HR, these memes foster a sense of camaraderie among HR professionals and provide a much-needed moment of levity in an otherwise serious field.
Hope you had a chuckle – don't forget to hit that share button!
Happy Diwali!