A Brand Reachout Initiative
Talent Acquisition
Here is what you should do to effectively screen and shortlist talent

Hire Better Hire Faster Read similar articles
A study reveals that on an average, a recruiter spends 23 hours on screening resumes for a single hire. We present to you a checklist on how to shorten your time to hire and screen and shortlist the best candidate for your organization.
In the times of talent shortage, effective screening is perceived as a critical skill to achieve the business outcomes.
In our recent research, Role of Technology in Recruitment, we found that the biggest pain-point for recruiters or hiring managers is the quality of hires and time spent on the process. According to a study, an average CV spends 23% of its lifecycle time in HR Screening (9.18 days) while top candidates do not stay on the job market for more than 10-12 days. According to another survey, 52% of the Talent Acquisition leaders say the most difficult part of the recruitment process is screening candidates from a large applicant pool.
Identifying the right talent faster plays a decisive role in realizing company's business objectives. To help you address this prominent challenge in recruitment, People Matters in association with Param.ai hosted a webinar on "Screening & Shortlisting Candidates Effectively Using Technology," which shares the checklist to screen and shortlist the right candidate effectively.
Here is your checklist to effectively screen and shortlist candidates:
Branding:
A strong employer brand attracts 3.5 times more candidates than your competitor. Identify your target talent and craft your branding strategy accordingly. Focus on mass branding strategy is never the right way to target the desired audience. Use collaterals that excite your target talent. Create a social community of your target applicants.
Understand the job role:
Keyword screening is an inefficient and redundant way to search for the right candidate. You can never do justice to screening unless you know what you are hiring for. Spend sufficient amount of time in understanding the job role. This improves the quality of profiles in the recruitment process.
Have a target in mind:
Sunil Parambath, Head of Talent Acquisition, Arcesium shares, "It is extremely critical to have historical data around the conversion percentage for a role as it will help you create a target pool of profiles while screening. This also helps in taking proactive corrective measures in sourcing, if your screen selects are looking low."
Pre-screening Questionnaire:
Multiple pieces of research have shown that typically 60 to 70% of job posting applicants are screened out in the initial phone screening. Most of the screening out is based on their ignorance to mandatory requirements of the job – Shift timing, travel time, max experience, etc. Having an automated pre-screening questionnaire ensures, you get applicants have some level of fitment.
Integrate Technology:
Technology implementation across the HR value chain is helping firms with selecting the right candidate, enabling pre- and post-employee engagement and personalization of the recruitment process. Currently, the HR marketplace offers multiple products that can screen and rate candidates based on the inputs/criteria provided by the recruiter. This way a recruiter can spend quality time reviewing and engaging with the "Top fit of the lot candidate" through the rest of the recruitment lifecycle.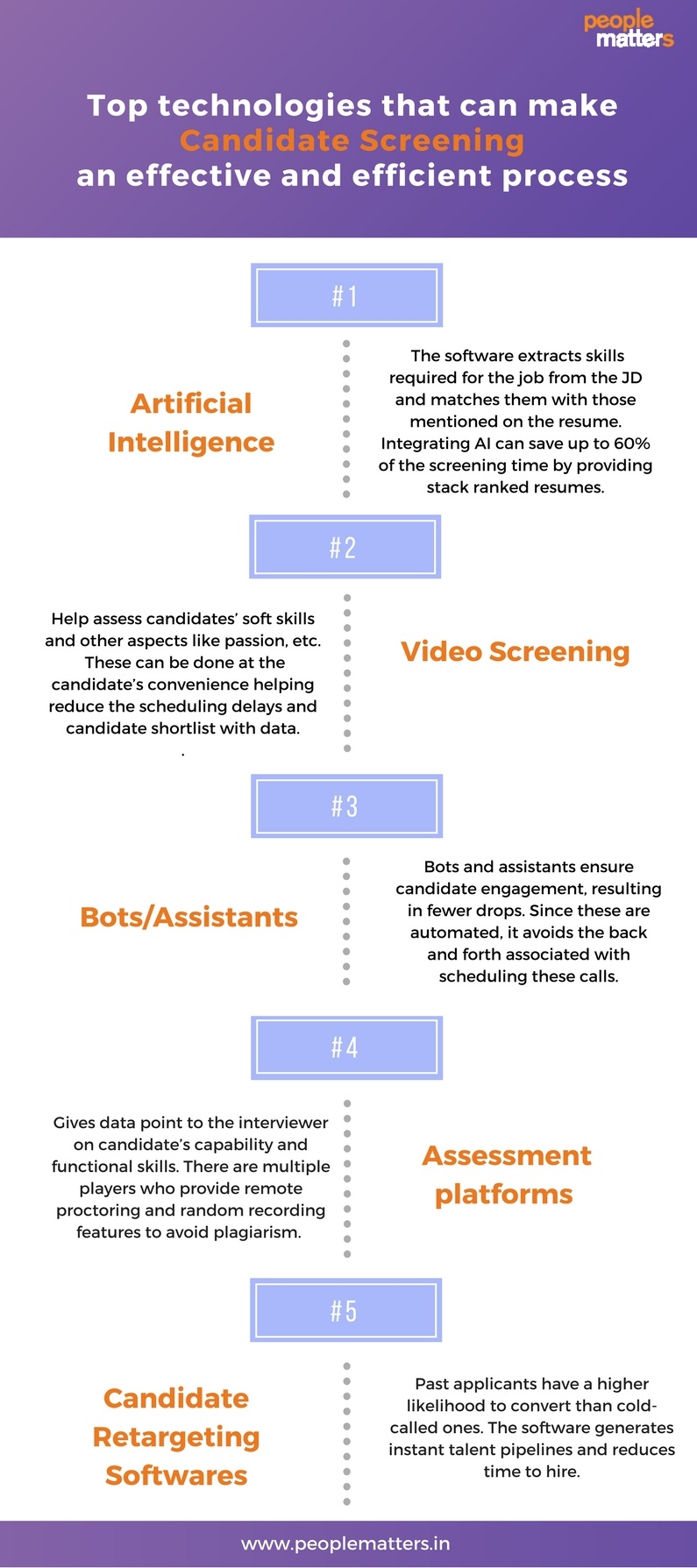 Skill Assessment:
A Coding test for technology roles or a domain test in other functional areas is an effective method to remove "best-on-paper" profiles. There are many new Age ATSs where these come as part of the package. There are also many Assessment platforms who provide this as a standalone service, complete with plagiarism check.
Metrics:
Measuring the effectiveness at every step of the recruitment lifecycle is exceptionally critical to check your progress. Put metrics like time spent in every stage, conversion percentage at each stage of the hiring process, etc. and measure it periodically to know what is going right and what is not.
A functional, technology-enabled relationship between recruiters and hiring managers is a key to eliminating bottlenecks in the talent acquisition process
Screening candidates from a pile of resumes and applications is indeed a time consuming and arduous process. Ideally, a recruiter and a hiring manager's responsibility should focus on networking with the right talent pool, building employer branding strategy and strategizing a great candidate experience. Review your hiring process and understand the inefficiencies that can be tightened up. Select technologies that can help you in eliminating these inefficiencies so you can shift your focus from the transactional to the strategic aspect of recruitment. Hope this checklist helps you in expediting your screening process.