Talent Acquisition
How can talent analytics drive talent strategies of the future?
In her session in the People Matters Talent Acquisition League Annual Conference 2018, Nutan Singapuri, Senior Director Human Resources, Asia Pacific, LinkedIn, shared insights on the future of work and how data-driven insights can be applied to talent acquisition.
"If you think about future of work or how the world is going to transform, three dimensions come into the picture-AI, skills and the skills gap, and the independent work and independent workforce," revealed Nutan Singapuri, Senior Director Human Resources, Asia Pacific, LinkedIn.
In her session, 'Gearing up for the future of work: The era of talent intelligence,' Nutan pointed out that pretty much all HR leaders are talking about one or the other of these dimensions pretty much. But we still don't have clear answers on all these dimensions. Though the one thing that is clear is that there will be disruption of jobs.
Potentially about 5 million jobs will be disrupted, as per the World Economic Forum, in industries like retail, hospitality, she pointed out. And even India is not immune to this.
As per a study the Mckinsey Global Institute, even in India, 52% of existing work or activities are susceptible to automation.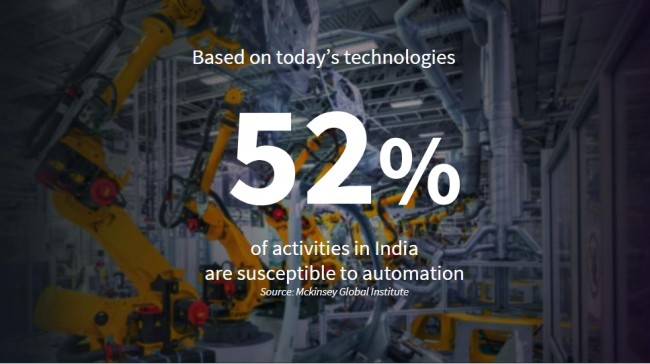 Nutan pointed out that if this kind of disruption is just possible with today's technology, it means that the implications of tomorrow's technology are going to be greater as the world of bots and humans combines and converges.
Implications of the gig economy on the future of work
Moving on to the second dimensions of skills, Nutan stated that as per a PwC survey, the number one top issue for many CEOs is skills. The issues pertain around the availability of skills, lack of mobility of skills, and information asymmetry.
When LinkedIn looked at the engineering population data it realized, not every engineer can be an expert in AI. But it is expecting that with at least 300 engineers sitting in its AI academy, it will enable them to at least develop an understanding of AI to understand what is needed to top up in these skills in the future.
Touching upon the theme of independent workers, Nutan pointed out that the gig economy has transformed the way we work with three significant underpinnings. The first one is the rise of millennials. There is a stronger demand for flexibility or adaptability leading to the rise of side gigs. So how work is done will change as we will need to adapt to the way we think about jobs and roles.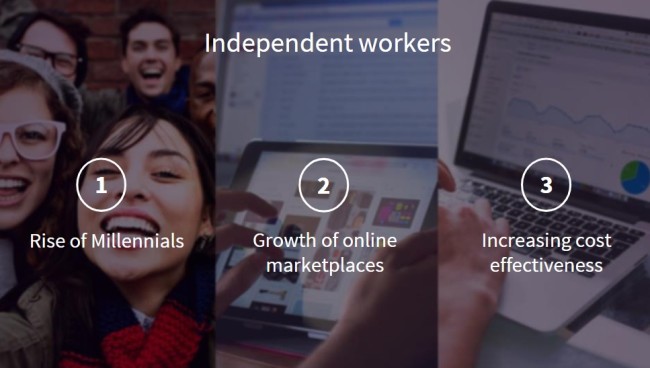 The second underpinning is the area of online marketplaces. Human beings are changing their consumption patterns as technology evolves. The work to fuel these online marketplaces 24X7 is also location agnostic. Thus these marketplaces will become growth engines in both the developed and the developing world.
Lastly, she pointed out that increasing cost-effectiveness is something that companies are looking for. And having some level of flexibility in terms of a contingent workforce makes economic sense.
So how can HR practitioners have a conversation about these dimensions with their business heads? For that, they need data to tell them what needs to happen next.
A world driven by data insights
In this respect, LinkedIn's mission is to create an economic opportunity for every member of the global workforce and benefit a broader audience in terms of using and analyzing data in the right way. With 560 Mn members, 20 Mn companies on the platform, 15 Mn jobs, and a record of 50,000 skills, it lights up a very interesting set of intelligence to enable organizations to make better economic and human decisions.
Citing an example of one of their clients Novartis India, Nutan revealed that their challenge was whether they should open an office in Mumbai or Bengaluru and what insights should they use to drive their decisions. LinkedIn worked with them to understand their interests and needs and the kinds of data pools they needed. One of the things they were looking for was mid-career talent, and with the information LinkedIn shared, their decision pivoted to Mumbai after the TA team shared those insights with the business leaders.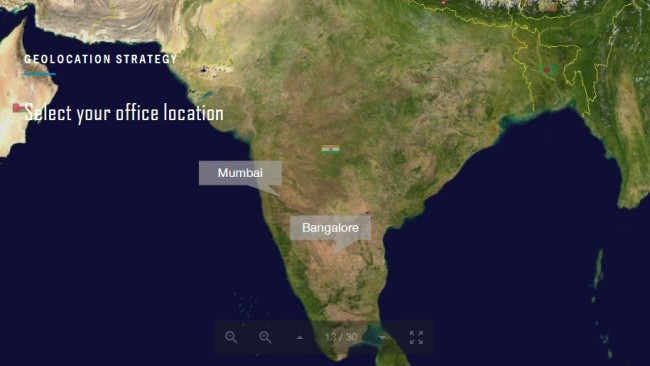 Citing another example, Nutan shared how one of their customer's challenges was around hiring talent in Trivandrum. Looking at the talent landscape of Trivandrum, they were not able to full needs. So one of the things they did was to take a wider look and gauze the affinity levels of people who have moved out from Trivandrum and interested in moving back. Through this exercise, they were able to increase their hiring significantly.
She pointed out that talent intelligence will enable better workforce planning, help TA leaders create macro and micro learning moments for their talent, know the companies from which you are losing or winning talent, in employer branding, and in upping productivity and performance.
In conclusion, Nutan pointed out that while data is the new oil in this economy, but one needs real-time on-demand actionable insights in terms of talent intelligence. TA leaders need to bring those insights to the business leaders in order to drive the talent strategies for the future and make people their competitive advantage.
Image Credits: LinkedIn