Strategic HR
Interim Management: A novel route to Talent Acquisition
Interim management is a new-age solution to help you meet talent needs in todays dynamic business environments.
The business environment today is highly uncertain. Sudden exits at middle and senior management, unpredicted ramp-ups to meet growth, and special skill requirements for a temporary period are raging realities. The talent acquisition strategy must mould itself to meet these undulating needs, at the same time meeting budget constraints. How do today's organizations walk the fine line between exigent demands and cost-effective hiring?
Interim Management: An interim solution for bridging talent gaps
Interim Management is a hiring philosophy wherein middle or senior level skilled candidates are hired for temporary periods. While this need may be met through temporary contracting too, the difference lies in the nature of resources. Interim managers are experienced business leaders, often with a specialized skill set. They are not consultants; they carry a strong implementation orientation. They are not temp contractors owing to their rich background and experience. This talent pool can thus be used to plug into talent gaps such as need-based projects and sudden exits.
Why choose Interim Management?
An organization may choose to hire an interim manager because the role is not permanent and/ or for the expertise, the resource brings to the table. This may be due to any of the following:
Gap Management i.e. in case of an exit
Specific Programme or project management
Turnaround / crises management during transformations
Rapid Growth such as a start-up scaling up
Merger / Acquisition related special roles
The idea is to tap into a talent pool that is highly skilled, experienced and often available at short notice. Often, such a resource is not working full-time by choice. The negative perception around "contracting" is thus removed. You can avail a significant cost benefit by not having to invest in regular employee costs (such as performance bonus, increments, retirals, recruitment cost etc.).
From the resource perspective, the concept fits in very well with changing work norms. Flexibility, challenging and diverse assignments is a growing need amongst employee groups. For example, millennials are keen to explore different roles; interim management provides that opportunity. It helps develop a range of skills and become an expert solution provider. Senior and experienced professionals can share and gain value by applying highly specialised leadership skills in complex environments.
Interim Management is thus a win-win for both organization and resource. It is especially advantageous for start-ups whose needs may be undulating and cost is a concern.
IM: A Global Perspective
In concept, Interim Management emerged in Europe in the 1970s and 80s as a solution for the prevalent high termination payouts. The oil crises that followed spurred the need for highly specialized talent on short availability, fuelling the need for interim managers. Since then interim management has grown to be a popular concept in the US, Europe and South East Asia. Today it is a preferred option for injecting skilled talent for short-term requirements in the developed markets.
The latest Providers' Survey by the Institute of Interim Management, shows that a specialized Interim Service Provider is the preferred partner, closing about 45% of all interim positions.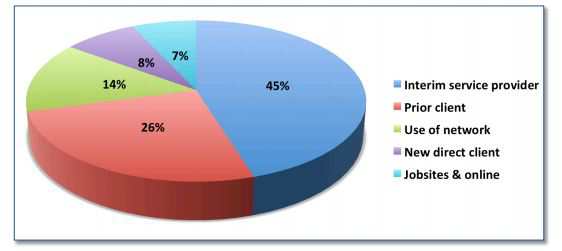 Interim Talent Sources
Source: Interim Service Providers' Survey and Guide, 2016, IIM
The concept has grabbed global attention with a range of companies providing interim hiring services; Green Park, Boyden Interim and Nordic Interim to name a few. Many companies have congregated to join reputed global associations such as The Institute of Interim Management UK and the Worldwide Interim Leadership Group.
India View: Are we ready for Interim Hiring?
India has traditionally posed a challenge for the widespread adoption of temporary contracting, including Interim Management. Corporates have been wary about the delivery, accountability, loyalty and confidentiality of temporary professionals. A cultural bias thus persists against the concept.
Yet, times are changing, and with the overriding business volatility, Interim Management comes across as an innovative talent solution. We can learn from our global counterparts, and turn to IM in turbulent times. India has a large pool of interim resources which we must avail for business benefit.
IM Success Stories in India
Aman Lal, Chief People Office-KFC at Yum! Brands sharing his experience of how IM helped filling a critical compensation role after a sudden exit says that, "A short onboarding period and a super-fast learning curve with a hands-on attitude helped the company tide over the crises and gets the compensation cycle running, business-as-usual. The financial model works well for need-based roles, it helped us gain cost savings of about 30-40%". Thereafter, the company has used IM to fill 3-4 critical positions.
GAP used IM helped plug a critical talent gap within their HR function. Aishwarya, Talent Manager at GAP shares, "A high quality and highly professional candidate was available at a short notice and came up to speed to manage an interim HRBP role. In fact, the model worked so well that the resource was later made permanent in another role with GAP. Interim is a solution that lies in between the contractor versus consultant mindset".
How can you start on the IM journey?
The Indian talent market has typically thrived on two ends of the spectrum- search agencies for full-time positions and temporary contractors for temporary positions. IM lies somewhere in between, with a limited but highly resourceful talent pool.
Create a culture of acceptance
The first step in embracing IM is leadership buy-in and belief in the process and people involved. It is important to train your leaders on the treatment of interim managers. Perceptions matter and one must do away with the prevalent perception that a contract employee is less skilled.
Given a vacant position, quickly assess whether it suits an interim arrangement. Once identified, be clear on the success factors for the role, and communicate the same to your IM partner, so as to get an interim match from the IM pool at the earliest.
Next, scout the talent pool. You can opt for an exclusive interim management solution or turn to your professional networks or regular recruitment consultants. Some of the players in India like Flexymanagers, Excellence in Management, Shine and executive recruitment consultants like Boyden India are filling in the shoes of specialized interim consultants.
Engage in a discussion by refraining from donning the employee-lens, focus on the "added value". A discussion with an interim candidate is not a typical "interview" but should aim at understanding the special skills and experience he or she brings to the table.
Closures involve drafting an employment contract and outlining the payment norms, which is generally a pay-per-day model. The agreed rate must reflect the value-add to business, and not just be calculated as per the pro-rata cost of an 'equivalent' permanent employee or agency temp. The interim manager must be given the freedom and accountability to be able to exert his or her special skills to speed, from advisory to implementation.
In treatment, an interim manager is like any other manager on the roll. Make the person feel as a part of the team with a brief but effective onboarding. Orient him or her to supervisory norms and organizational processes, as well as cultural elements. Engage the person in team interactions and discussions. It is important that an interim manager receives the same treatment as a regular manager of the same level.
Interim managers arrive quickly, engage effectively for as long as required, and then leave.
-Institute of Interim Management
This statement captures the essence of interim management and must be treated as just that- an out-of-the-box solution for new talent needs. Extracting true benefit from the concept involves not just a process and people change, but an open mindset to engage with this new and capable talent pool.