A Brand Reachout Initiative
Talent Acquisition
L'Oreal on Campus 2021: Career fairs for the Digital World
At this virtual campus event, L'Oreal India showcased how it is a company that truly innovates by offering a Virtual Reality platform for students to engage with the purpose and culture of this leading beauty-tech company.
L'Oreal, a digital first company, stands up to its name. First hosted in the midst of the pandemic in 2020, this year this leader in beauty tech is back again with its virtual campus tour event which is unlike anything one has ever seen. With 6000+ student attendees pursuing MBA from top 17 universities across the length and breadth of the country and 45 global leaders of the company sharing their experiences, L'Oreal India set out to showcase its values and culture and work life to the up and coming talent that would soon join its ranks. This entire endeavour took place on a Virtual Reality platform which resembled a hotel lobby divided into multiple sections ranging from one on one networking sessions to talks delivered on the different departments of the company to even a makeup booth showcasing the use of its AR technology where attendees can virtually try on makeup and see for themselves how truly digital this company is. Given the accelerated pace of digital transformation industries have to keep up with, in the FMCG arena, L'Oreal sets its mark by extending this digital experience to students as well. 
Roshni Wadhwa, Director-Human Resources, L'Oréal India emphasises, "L'Oréal On Campus 2021 event was a fantastic engagement opportunity and a terrific showcase to over 6000+ students that a successful, purpose-driven, and noble career awaits them at the world's largest Beauty-Tech company. We welcomed students to experience the world of beauty through a world-class created virtual platform. Our leaders and MTs alumni got this opportunity to engage with future leaders on meaningful topics and it was simply splendid. This is also a testament of our commitment to digital innovation and young talent without whom L'Oréal could not continue its growth into the BeautyTech leadership." 
Digital Agility and Accessibility: 
Given how critical talent attraction and talent acquisition process is to meet the future goals of an organisation and to enable it to thrive, L'Oreal takes up this challenge by engaging with students beyond geographical boundaries. By offering a VR platform which is accessible to anyone keen to gain insights into life at the company, it attests to its vision of agility and innovation. From talks on the purpose of L'Oreal to what it means to be a beauty tech company to even offering career counselling on achieving success in B-school and cracking interviews and e-internships, it is a company that truly cares about the young talent and wants to use technology as an enabler to aid them in achieving success in their careers and success at L'Oreal as well.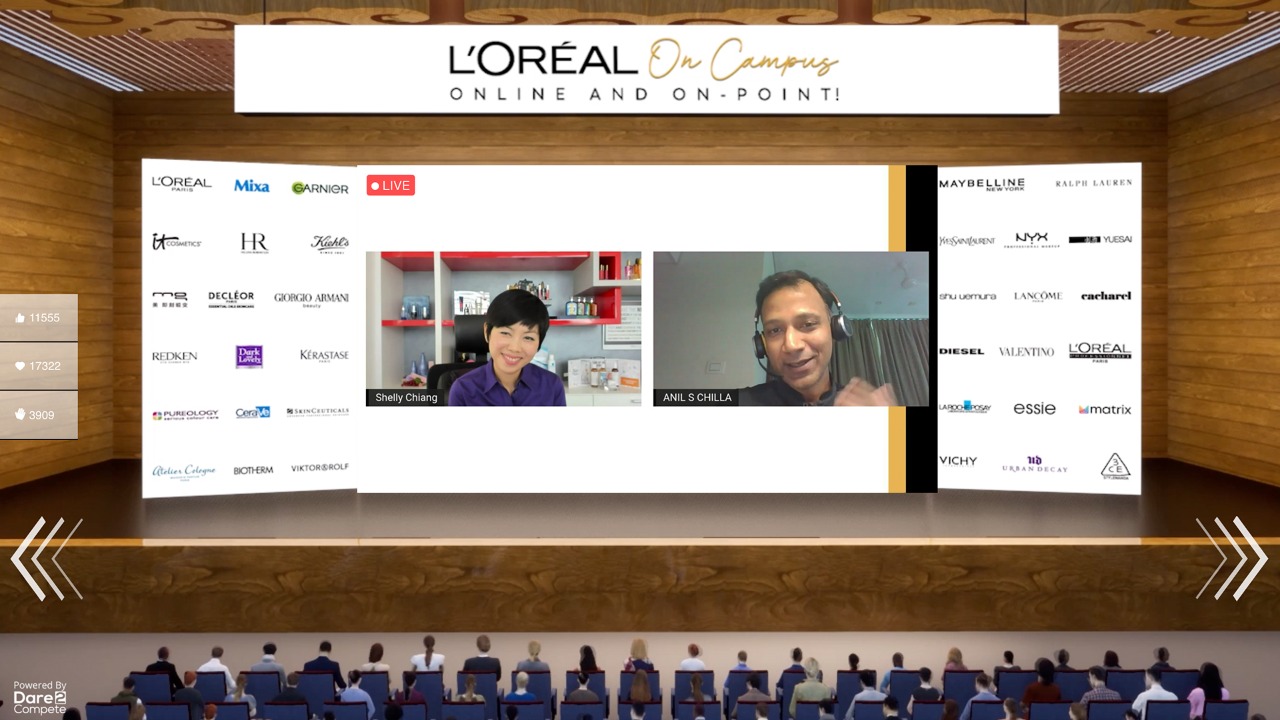 "L'Oréal's presence on campuses has always been a strategic priority for the Group and here in India to attract the best young talent. With the global crisis, we had to ensure we keep our Campus activities alive and maintain a strong connection with students. Last year we surprised students with a new communication approach, introducing L'Oréal in a more authentic and engaging way. This year was all about integrating our brands and communicating our purpose driven employer branding vision, " says Priya Pandit, Head-Talent Acquisition, Employer Branding and D, E&I, L'Oréal India.
Another unique initiative that was carried out at this event was a career cafe dedicated to giving insights on the experience of working in seven distinct career tracks at L'Oreal: marketing, digital, supply chain, information technology, human resource, sales and finance. Added to this was one on one networking sessions with leading professionals at the company. L'Oreal looks to the future and aspires to bring in the right talent that will set them in the direction of their goals. And to find that right talent, you have to care, you have to be agile and accessible and re-enter the talent market with strategies that showcase your culture and vision in as inviting a fashion as possible. This is exactly what L'Oreal does.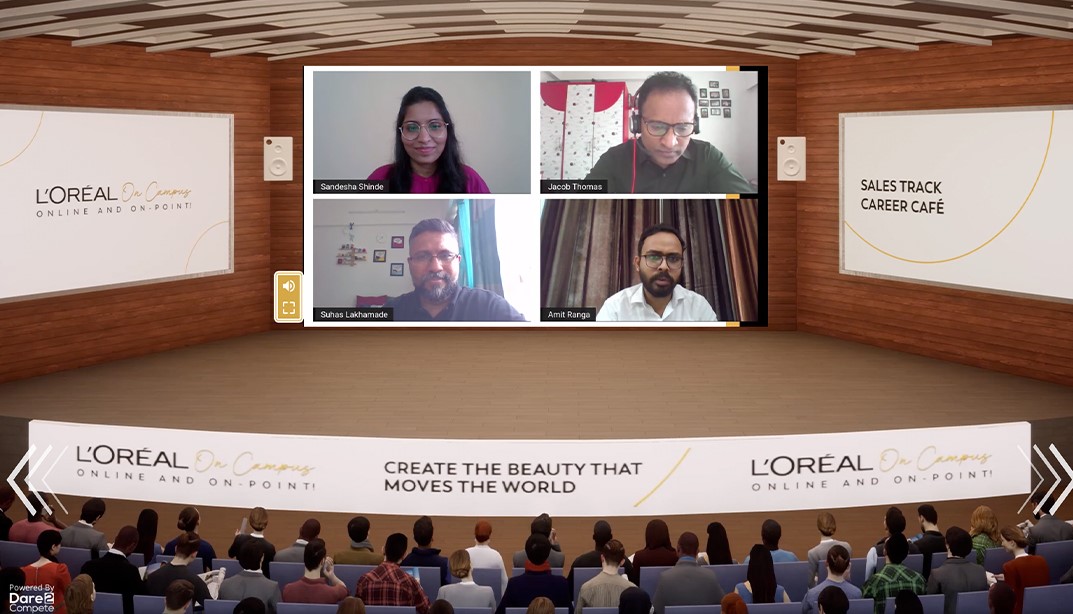 Driving engagement and sparking curiosity: 
Along with different speaker sessions, simultaneously a host of interactive events were taking place in the lobby ranging from photo booths to virtual try on makeup booths and all of these encouraged the curiosity of attendees. They were not only given first hand experience of the AR technologies that are the backbone of their beauty tech agenda but they were also given the opportunity to explore the brand portfolio of the company beyond the talks that were being hosted. In this digital space that L'Oreal India created for the students, they were free to understand the purpose of the company on their own, to be excited by it and to be curious about it. 
As Amit Jain, Managing Director, L'Oreal India says, "At L'Oréal, our culture of entrepreneurship & innovation manifests in everything we do, including our engagement with potential talent. Our campus programs are deliberately planned to allow students the freedom to challenge, ask, debate, innovate & impact; the freedom to go beyond, that's the beauty of L'Oréal."
Student attendees Pranay Seth, Niharika Singh and Sidra Khan have also shared their experiences at the virtual career fair.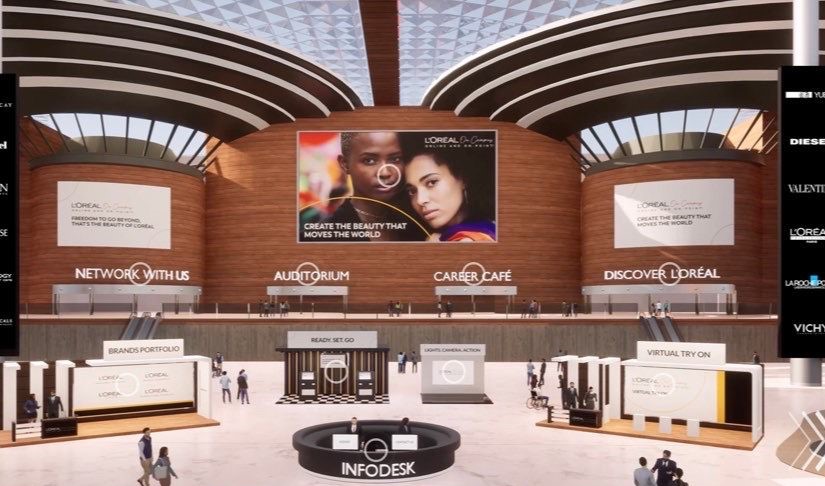 By offering this digitally accessible platform that sparked the curiosity of attendees, what sets L'Oreal apart is not just its vision to be a beauty tech leader that innovates, it is also a company that cares and is dedicated to taking its people along for the journey. It is a company that recognizes the significance of the dynamic digital landscape and has not simply accommodated it but chooses to thrive in it, to grow beyond its limitations. And this growth cannot  be carried out without the talent that has the potential to change the course of the industry in a dynamic digitally transformed world. L'Oreal has presented its purpose and vision to invite this very talent to be part of this agenda of becoming an industry that leads the future. It is a company that innovates in everything it does and in this culture of innovations, it is opening its welcoming doors to even more change and growth and success. It is inviting the young and upcoming talent to be a part of this journey and to take it forward.