Talent Acquisition
Top employable skills of 2016: LinkedIn report
As businesses evolve their talent mandates, certain skills gain more importance vis-a-vis others when it comes to their employability. Here we take a look at LinkedIns list of top skills that can get you hired in the coming times.
Job markets are usually in a state of flux. With business priorities constantly evolving, their talent demands are reflected in the recruitment processes. As business become more aware of the skills that are necessary for them to grow, job markets have, over the years seen certain skillsets being more sought after than the other.
Looking closely at this trend one can also find the impact of transformation journeys that companies are venturing into. Some skills like data mining and visualization have recently shot up in demand. This is because the external, fast-paced, disruptive world has created a mandate such a mandate within companies today.
LinkedIn recently unveiled its top employable skills of 2016. Moving ahead into the new year, the list consists of the top skills that companies are looking for in their candidates.
"While we see job applications spike on LinkedIn in October, we know companies aren't actually hiring at the same rate until January," says LinkedIn career expert Catherine Fisher in a press release. "While some skills expire every couple of years, our data strongly suggests that tech skills will still be needed for years to come, in every industry. Now is a great time for professionals to acquire the skills they need to be more marketable
Certain key trends are noted below
Global trends
LinkedIn career expert Catherine Fisher in her blog mentions four key trends that LinkedIn observed when they compared this year's data to the previous ones. These are:
Marketers are relatively less in demand now:
Writing for LinkedIn, Catherine explains that "while marketing skills like marketing campaign management, SEO/SEM, and channel marketing were in high demand in 2015, things have changed." Highlighting that how, in the current year, SEO/SEM as a skill set has dropped almost five points in the Global Top Skills of 2016 list she adds "This along with marketing campaign management completely dropping off the list, The reason for this has been that the demand for marketing skills is slowing because the supply of people with marketing skills has caught up with employers' demand for people with marketing skills."
Data and cloud-based computing skills still remain important:
In support of the growing mandate within companies to switch to cloud-based computing and including data-driven decision making at all levels of the company, she highlighted how "cloud and distributed computing has remained in the no.1 spot for the past two years and is the top skill on almost every list — including France, Germany, India, Ireland, Singapore, the U.S., and Spain." This urgency is often reflected within companies who need the right talent within them to handle and see through the successful adoption of cloud computing. "Following closely on its heels is statistical analysis and data mining, which came in no. 2 last year and no.1 in 2014. These skills are in such high demand because they're at the cutting edge of technology. Employers need employees with cloud and distributed computing, statistical analysis, and data mining skills to stay competitive."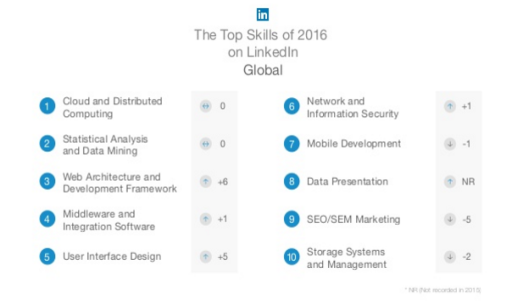 Source:LinkedIn Blog
Growing importance of User Interface design
User interface design is the designing of product interfaces to make them more appealing and intuitive to use for the people interacting with the product. With technological offering getting more and more nuanced, one finds this to support the growing demand for UI designers. "UI design ranked no.14 in 2014, no. 10 last year, and ranks no.5 this year," explained Catherine, "data has become central to many products, which has created a need for people with user interface design skills who can make those products easy for customers to use."
Indian trends
Looking at the Top Skills of 2016 India report, one finds a close reflection of the global priorities of skill sets. With cloud computing and data mining staying at the top, one finds a significant increase in the importance given to UI design and skills around creating a web architecture and development framework.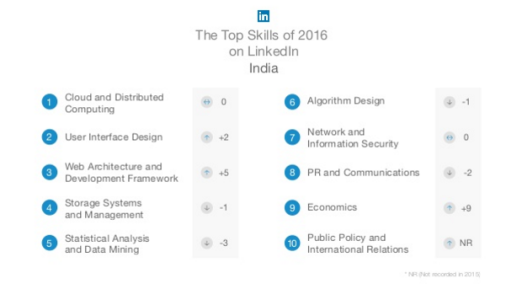 Source: LinkedIn Blog
You can know more about the rankings here.