Talent Acquisition
Welcome to the era of talent intelligence
In today's evolving economic landscape, the power of data and insights can transform your business, build a winning talent strategy and help you make smarter decisions.
Machine Learning (ML) and Artificial Intelligence (AI) driven technological disruption is happening faster than ever before across geographies, industries, functions, and roles. This trend will continue into the foreseeable future as AI establishes itself as a General Purpose technology, much like electricity did several decades ago. Unlike previous technological revolutions, experts predict that AI and automation will start by impacting white-collar professions (like talent acquisition) before cascading to blue-collar roles.
What does this mean for leaders in the talent industry?
AI revolution will transform the role of not just sourcing experts but of talent leaders as well. For recruiters, activities that entail repeatable tasks such as collecting resume or social media aggregation will be the first to get automated. But for talent leaders, it would be about rethinking their approach to talent acquisition.
To help you and your recruiting organization prepare for the upcoming changes, we have created an easy-to-use reference chart that maps "Automation Potential" (from High to Low) in the X-axis against the "Value Added with Human Touch" in the Y-axis. The bottom le quadrant refers to those activities that add little incremental value with a human touch and the top right quadrant refers to recruiting activities where human touch is required to interpret or augment AI-driven information.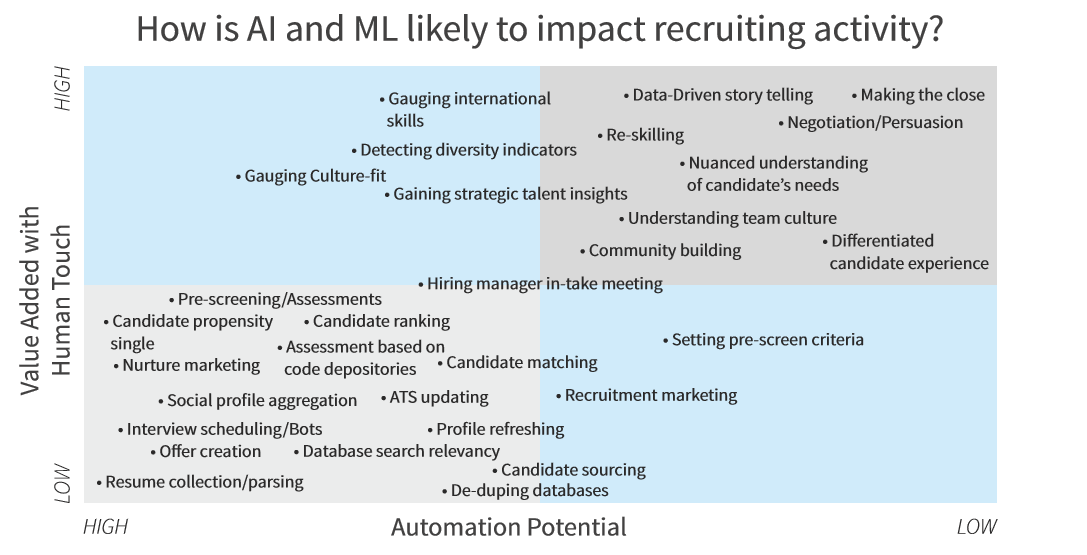 Front-end recruiting activities would broadly result in the area in the bottom le quadrant. These are the activities that are likely to be automated ?rest, given that computational abilities are out-pacing e?iciencies of human decision making in the recruiting process. In fact, there is a justifiable argument that automating many of these activities would streamline the front-end process, remove mundane and repeatable tasks from the system and ultimately improve the candidate experience.
As you move towards the recruiting activities listed in the top right quadrant, the need for and value of human touch becomes more obvious. These are activities geared towards delivering high-value services expected of recruiters in any organization. Empathetic interactions such as understanding the nuanced needs of candidates, negotiating with clients and internal stakeholders, and eventually making a hire demand the human touch. These are the ones that will be hard to be automated using algorithms in the foreseeable future. This means that talent leaders need to re-assess the skills set of their recruiting teams and lead in transforming the recruiters of today into talent consultants and advisors of tomorrow.
Meanwhile, for CHROs and TA leaders, machine learning and predictive algorithms will help provide key talent insights that will inform broader talent strategies. These will assist talent leaders in tackling complex issues in both, Talent Acquisition and Talent Management, ultimately bringing their voices all the way up to the C-Suite, where talent discussions are happening in a way that they never have before.
With the democratization of information, the battle for talent will be won by those who use data in a strategic manner thereby ushering the era of talent intelligence - where insights are used in new ways to reinvent and improve every step of the talent acquisition and management process.
This article was first published in LinkedIn's Annual Coffee Table Book 2018