Strategic HR
What's different about the Indian millennial?
One cannot generalize the characteristics of Gen Y across the globe. A look at the influencing factors that determine the characteristics of generations!
If context becomes so important in definition of everything in todays world, we cannot ignore the influencing factors in determining the characteristics of generations
Indian Gen Y still in formative years with younger entry age to workforce and moving even at younger age from their home for technical and higher education
Characteristics in individuals develop by way of experiences. And the influencing factors that nurture these characteristics become crucial in deciphering the behavior and bring to light the various motivations that help employees connect with their work and be more driven to do better.
We cannot generalize the characteristics of Gen Y (Millennials) across the globe as the influencing factors in each geographical location are different. Most of the research available today is based on the Gen Y (Millennials) in developed economies like the US and Europe which can be misleading at times as we cannot build the engagement model for developing economies like India as per the Gen Y characteristics of the US. If context becomes so important in definition of everything in today's world, we cannot ignore the influencing factors in determining the characteristics of generations.
One of the most important reasons why we need to have a clear understanding of the characteristics of Gen Y in India is the notion of the 'demographic dividend'. India is now at an inflection point with a population of 1.2 billion, of which about 0.8 billion is in the working age. By the year 2026, 64.8 percent of India's population would be in the working age of 15-64 years. The strength of this large pool of employable talent will not only power India's economic progress, but it should be able to supply enough human capital to the developed nations.
Therefore, irrespective of the location where this generation will be working in, their characteristics would be common since the place of origin that helped in developing these traits were the same. The study on Indian Gen Y thus becomes more relevant, becoming an important guideline across functions, units, and organizations across the globe.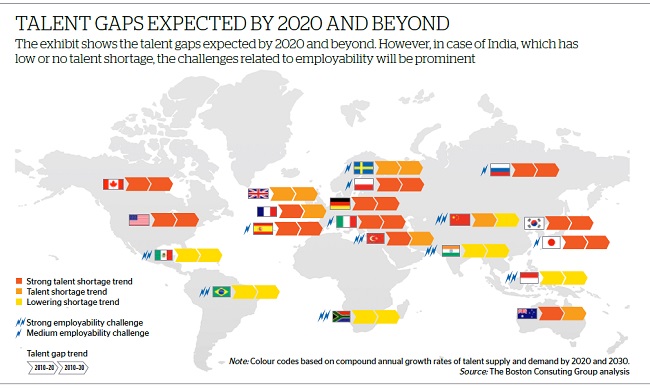 Influencing Factors of a Generation
What determines dominant characteristics in individuals? While some traits are inherent, a real majority is formed by experiences each individual has undergone during their formative years. The same holds true for generations as well. At the end of the day, a generation is also a set of individuals who chronologically share a same location in the history.
The key influencing factors in any generation are:
Economics
Politics
Culture/Social Lifestyle


Influencing Factors leading to characteristics
Economics
The factors that seemed to have affected India most intensely were the opening up of markets post-liberalization in the 1990s and the establishment of MNCs and BPOs. However, this new found abundance was not comparable to the ones seen in the US, and only a small percentage of the population enjoyed this affluence. There was still a large population living in villages and Tier II and Tier III cities where a large segment belonged to the lower income group and was not able to afford a good education–which brings us to delve deeper into perhaps the most important influencing factor which is economic growth.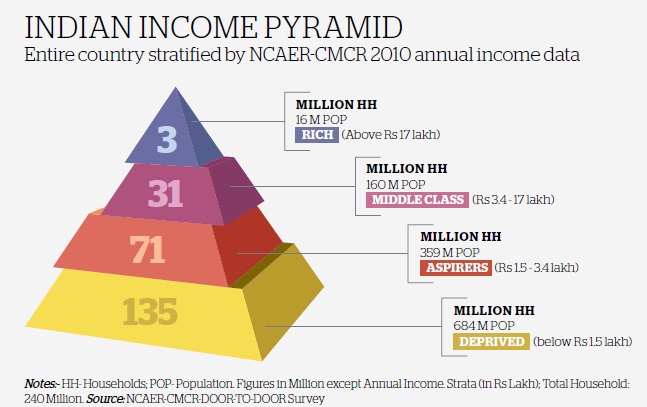 What does this economic difference mean if we look at a level classification of Indian population? The National Council of Applied Economic Research (NCAER) report 2012 describes this as the stratification of the population into deprived, aspirer, middle and upper-middle and high-income household in India. The report highlights only 31 million homes which can be compared to the US. The larger population is still in Aspirer and Deprived class. With economic development, the population in Aspirer category is moving to Middle Class, however, the fundamental experience of this Aspirer class cannot be compared to Gen Y of developed nations by way of their access to disposable income. But it can be compared to Gen X of developed nations because of critical experience encountered by the Gen X of developed nations and Gen Y of developing countries like India is usually the same.
Characteristics
Ambitious & Risk takers
Looking for growth (Still in formative years if compared to their global cohorts as majority is in Aspirer Category so growth becomes Important)


Key experiences and challenging work


Growth opportunities engage them rather than job stability as was true for earlier generation


Keen on higher education(Since majority are in Aspirer category, education is still way to do well in life. More focused on education than their global cohorts)


Politics
India has come a long way since 1980.Major political events which impacted our society like Indira Gandhi's assassination, Mandal Commission, from single party rule to coalition regime, regional parties started major deciding factors for Government at center, increase in terrorist attacks, Bombay blasts, 26/11 to mention a few. All these political factors culminated characteristics in generation which had seen political turmoil but was firming their ground by asking questions and rationale for decision and the same got affirmed more with passing of RTI (Right to Information) Act in India. For the first time in decades, there is a high public demand for accountability in the running of Government.
Characteristics
More transparent and less bureaucratic
Readiness to comply with fair reasoning


Desire/drive to make a difference


Keen sense of competition both regional and global


Eager to prove they are not less than their global counterparts


Culture/Social system
The sudden westernization of lifestyles and values with the IT boom propelled India towards a path that was more aggressive in financial growth and homogeneity of culture. This subsequently led to more jobs and more economic independence, and there was exposure to global culture, in a way, not seen after independence of the nation. In India, women who worked and actively pursued a career increased significantly. This shift in social trend began as a result of high influx of population from rural to urban cities which led to nuclear families. The need to support increasing household expenditure and a new sense of freedom and identity, previously uncommon in the social structure led to a number of women joining the workforce in new cities. This led to breaking of social structure connected to family, region and clan. Role modeling which was majorly from large family setups was broken and this generation started identifying itself with workplace and looking for role models and mentors from the professional world.
Characteristics
Need for identity & role model
Unlike the earlier generation who had a strong social system to anchor, this generation identifies with work and looks for role model in workplace. This need for identity and role model is peculiar to Indian Gen Y as their global cohorts had not experienced the social and joint family structure from the past as well, so the gap was never felt.


The starting working age for Indians is much younger when compared globally, so emotional maturity is not at par with their global cohorts.


Title conscious and peer pressure – Creating a role-based organization structure with quick progression
Indian Gen Y employees are aware of their designation and prefer to have elaborate designations for an enhanced identity. Partly peer pressure and partly ambitions, these designations are important to them and define who they want to be. Hence, organizations should clearly define the role and designation and state the path to a rewarding role for quick progression. This is connected with the culture where hierarchy is expected coupled with the need for growth. The influencing factors of culture and economics here make Indian Gen Y different from global cohorts.
Create a platform for high awareness and give priority to ethics and moral value system
Indian Gen Y is still in formative years with a younger entry age to workforce and moving away at an even at younger age from their home for technical and higher education. Ethics and moral values start becoming blurred with social peer pressure determining the way of understanding things. Thus the need to create awareness on ethics and values becomes very important for organizations. While their global cohort's majority of them are independent since younger age and have seen abundance, their personalities are formed by their independent view points and less by social peer pressure.
Establish mentor programs with senior staff
There has been a huge population influx to urban cities and nuclear families are fast replacing the traditional family systems. The desire of belonging to a larger institution is prompting a need to identify socially with work and organization. Mentors from the extended family are now missing and employees are now looking for mentors within organizations to fulfill their need for recognition and development and help them navigate the corporate structure deftly with refinement, often helping in softer issues of grooming and coaching. In the long run, this helps Gen Y develop a stronger connect with the organization.
While as for their global cohorts in developed economies, the social structure was never strong. As per Geert Hofstede's model, these cultures are individualistic and lesser tied with the society. So the gap was never felt but for Indian context with the migration to major cities and loosening of societal ties, the need for mentoring is strongly felt by Indian Gen Y.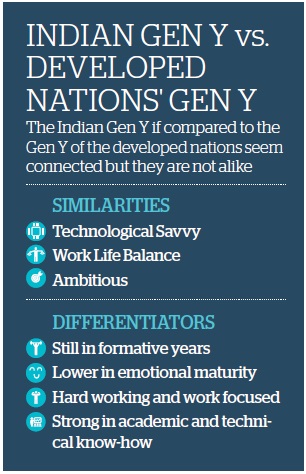 In conclusion
Majority of Indian millennials are still in formative years vis-a-vis their global cohorts. Education and growth still continue to be the focus of the Indian millennial. Since they identify themselves with workplace vis-a-vis their global cohorts, robust mentoring plans will help in leveraging a lot from them. Organizations should be aware of the potential conflict of Gen X with Gen Y. Millennials are not different but come with extra exposure and confidence which needs to leveraged by organizations by building managerial capability.