Talent Management
Analytics-Based Change Adoption Framework
Most Change Management initiatives have been found to flounder in the absence of a well-defined change measurement and adoption tracking system
Change Adoption framework can identify specific adoption-related pain areas and the impacted audience segments, and also helps design timely, targeted interventions to address such pain areas for specific audience segments
Picture this: You have strung together your best Change Management initiatives to drive a large transformation program for your Client. You have secured the buy-ins of all key Client stakeholders, and have even socialized the benefits of the transformation with the impacted audience segments. Do you reckon this will ensure effective Change adoption by your targeted constituencies?
As surprising as this might sound, most Change Management initiatives have been found to flounder in the absence of a well-defined change measurement and adoption tracking system. Consequently, a slew of Change adoption-related questions go unanswered for lack of specific data points:
"Do you have any idea how fast adoption is happening in your organization?
"Are you able to identify user segments not able to demonstrate the desired behaviors?" 
"Are you able to measure the effectiveness of your change management initiatives?" 
"Are you able to identify the process/system errors that are preventing successful adoption?" 
"Can you track the value resulting from your Change initiatives?"
To address these challenges (low process/system usage, high number of user errors, frequent system disruptions and burgeoning IT service desk calls) future-state business processes:
need to be analyzed
the potential change adoption issues need to be modelled, and then
the associated change adoption attributes need to be parameterized by way of leveraging Adoption analytics capabilities.
This will ensure key change adoption metrics (transaction frequency, usage, duration classified by location, business and roles) are reported seamlessly pre- and post- ERP implementation. Which, in turn, will help business units track critical gaps and usage/adoption issues.
The Change Adoption Framework 
This is where 'Change Adoption' framework can come to your rescue, as this not just identifies specific adoption-related pain areas and the impacted audience segments, but also helps design timely, targeted interventions to address these pain areas for specific audience segments. This framework comprises three key components:
First, the Change adoption measurement instruments, which unravel critical change adoption gaps:
Training Measurements
Help Desk Tool Analysis
Snap Surveys of HoDs / End users
Voice on the Ground
Adoption Analytics using SAP KNOA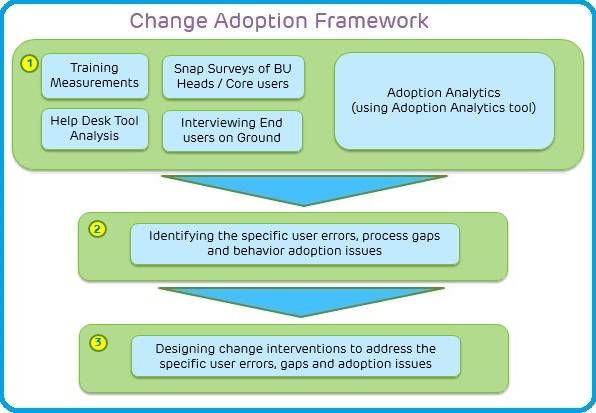 The Second component of the Change Adoption framework involves collation and analysis of the results from the surveys, training assessments, Help Desk tickets, end user/core user surveys and Adoption analytic reports.
The final component involves designing Change Interventions, which are targeted at specific change adoption gaps involving system, process or end users.
Here's how to go about deploying the 'Change Adoption' framework: 
Step 1 – Baselining existing performance against targeted metrics: First, detail the legacy processes down to the workflow level to identify the key gaps that need to be addressed. We need to audit the concerned processes and applications for the existing utilization of transactions, modules, screens, objects, etc., and benchmark them against industry metrics to arrive at the key process/application gaps.
This will also enable us to identify the customized functionalities that are no longer required, and therefore, do not need to be taken forward into the next release. This, in turn, will lend us a view on where the organization needs to put up its investments.  
Step 2 – Next, apply the Change Adoption measurements to identify critical system/process adoption gaps.
Training assessments (online training assessments conducted at the end of training sessions), the results of which will indicate whether end users were able to understand and recall the key concepts/procedures explained during the training sessions.
Help Desk tool analysis, which will provide inputs on the transactions and system components where end users are reporting maximum number of issues – this will help identify key system, process, understanding gaps.
Surveys conducted with BU Heads/Core users, which will offer a sense of how they are seeing end users perform at their work place, and whether or not there are any adoption issues.
End user interviews, which will provide a direct feedback on whether there are any adoption issues.
Adoption Analytics tool analysis: there are sophisticated Adoption analytics tools, such as SAP KNOA, which you can run within the organization to generate reports indicating the top 10 user errors, system errors, process gaps, etc. 
Step 3 – As the next step, collate inputs extracted from the application of the measurement instruments, and analyze them to highlight critical gaps in system and process adoption:
Assessment scores: Low online assessment scores indicate that the end users have gaps in understanding in certain specific areas. 
Idle and low response time: You can utilize Adoption analytic tools, such as SAP KNOA, to track end user response times while performing system transactions. "Idle" time indicates the amount of time during which the user was "idle", that is, not interacting with the application or a specific function through either the keyboard or mouse for some time. High Idle times indicate low level of end user productivity.
High Help Desk ticket count: High count of help desk tickets registered by end users indicate either problems with process/system understanding, or poorly designed interface/functionality, which is likely to impede daily business transactions.
Application and User Errors: You can also utilize Adoption analytic tools, such as SAP KNOA, to track end user systems for the number of system or end user errors committed, and classify them under various degrees of severity (warning, critical). 
Step 4 – Designing Change interventions – Finally, based on the inputs from the Adoption analytics report, we need to identify the primary causes for low levels of end users/system productivity, and consequently, low levels of adoption. Thereafter, we can design corrective actions that need to be performed by end users in order to process the business transactions correctly. These remedial/corrective actions can also be compiled either as an Adoption help guide and hosted on the end user portal, or released as communication mailers targeted at specific end user segments. 
Finally, we can check for basic readiness of this adoption framework by seeking inputs from the identified group of stakeholders (Change Agents) and address any identified gaps and issues. This will help fine tune the framework and its deployment strategy across the global and local processes, working in conjunction with the concerned process owners.
Conclusion
Deploying the Change adoption framework will help businesses baseline and track a set of critical metrics across multiple time periods, including:
Usage intensity of the system-enabled business processes
Error density across system transactions and their causes
Extent of systemic compliance of business processes
This, in turn, will enable Change Managers to put in place specific and targeted change interventions defined by a high level of data accuracy. Needless to say, this will help ensure quicker and wider adoption of newly introduced processes and systems.