Talent Management
Here's how India Inc is ensuring & measuring productivity amid lockdown
More frequent check-ins, greater emphasis on setting tangible goals, encouraging employees to own their own productivity, and driving a culture of trust are some of the ways in which companies in India are addressing the productivity challenge amid COVID-19 crisis and lockdown.
Fall in productivity amid lockdown and COVID-19 crisis was identified as a major concern by most companies in a recent EY survey. Around 70 percent of the surveyed organizations shared that the single biggest concern for continued remote working is fall in productivity. As the lockdown continues in India till 3rd May 2020, the concern is likely to increase. 
While organizations are embracing the new ways of working with no other choice left there are still many challenges they are facing. Besides ensuring employees' wellbeing, for business leaders and HR teams ensuring employees' productivity and measuring that productivity is also a critical challenge. People Matters reached out to some of the business and HR leaders in India and asked them how they are sailing through the crisis and ensuring and measuring employees' productivity amid lockdown. 
The virtually connected workforce: Tech to rescue
"We are learning and discovering newer ways every day to make the most of what we are calling our 'new normal'!" exclaimed Shraddhanjali Rao, Vice President, Human Resources, SAP India.
SAP India is ensuring seamless business operations and that employees stay virtually connected with their colleagues and customers by conducting meetings, team discussions, connecting and sharing screens on various virtual platforms. Rao shared that in many instances, employees have started to arrange for virtual coffee sessions to connect with each other. 
At Pitney Bowes teams are utilizing Online Collaboration Tools that are helping them stay connected and conduct virtual meetings without any disruption to business. 
Sushant Patnaik, Head-HR, Aeris Communications shared, "Entire onboarding and exit process have been moved to virtual mode. We use our Human resource Management System to secure signatures on appointment letters and confidentiality agreements. Zoom is used for virtual induction. With entire teams going on work from home mode, news ways of ensuring teams stay connected are continually being explored."
ThoughtWorks shared that the use of productivity suites like Zoom, GSuite, Jira and Trello was already high in the company but has now skyrocketed in recent weeks. At Birlasoft, the use of online collaboration tools such as Skype, Microsoft Teams, and WebEx are helping in conducting meetings, daily discussions and global cadences with minimal disruption.
Ayush Bansal, CEO & Founder, iDreamCareer revealed, "In response to COVID-19 crisis, and especially to manage the entire team, it was important for us to move to one single communication platform so that we can work together as a team. First thing, first, we moved to Slack. We deleted all WhatsApp groups, stopped all internal team communication in whatsapp and started using Slack with different channels and video conference calls at one place."
Hinduja Global Solutions (HGS) has also digitized most of its processes from business delivery to employee lifecycle management. Icertis has created ad hoc efforts like an IcertisFit Club and the Profound-ish Posts channels in Teams to help employees who are WFH, stay connected. also leveraging AI tools for certain parts of the workforce to enable additional forums to be heard. "This provides real-time feedback and analysis of the organisation, so that we can address them appropriately," shared Anushree Singh, Country HR Director, India Sub-continent, AkzoNobel India. 
More focus on setting clear & tangible goals 
Shubhayu Sengupta, SVP – HR Head India, HGS shared, "For the delivery organization where KRAs are hardwired to tangible metrics, tracking, measuring and giving feedback on productivity is easier than for the support functions. MIS reports and tools that were being used before lockdown continue to assist us now. However, certain basic elements like attendance tracked through systems login and on premise attendance systems are obviously not there for consideration."
For support functions at HGS, the output and individual deliverables is pretty much done similarly as would be for any work-from-home employee and these would be based on attainment of KRAs, which are slightly more subjective in nature.
SAP India has also been encouraging its leaders to set clear goals and tasks at the start of the day in order to provide direction to the employees. 
"Prioritizing tasks become critical to ensure that employees remain productive without burning out. Managers are also encouraged to connect with their teams on a regular basis to track progress of work and to also connect with them beyond work," said Rao.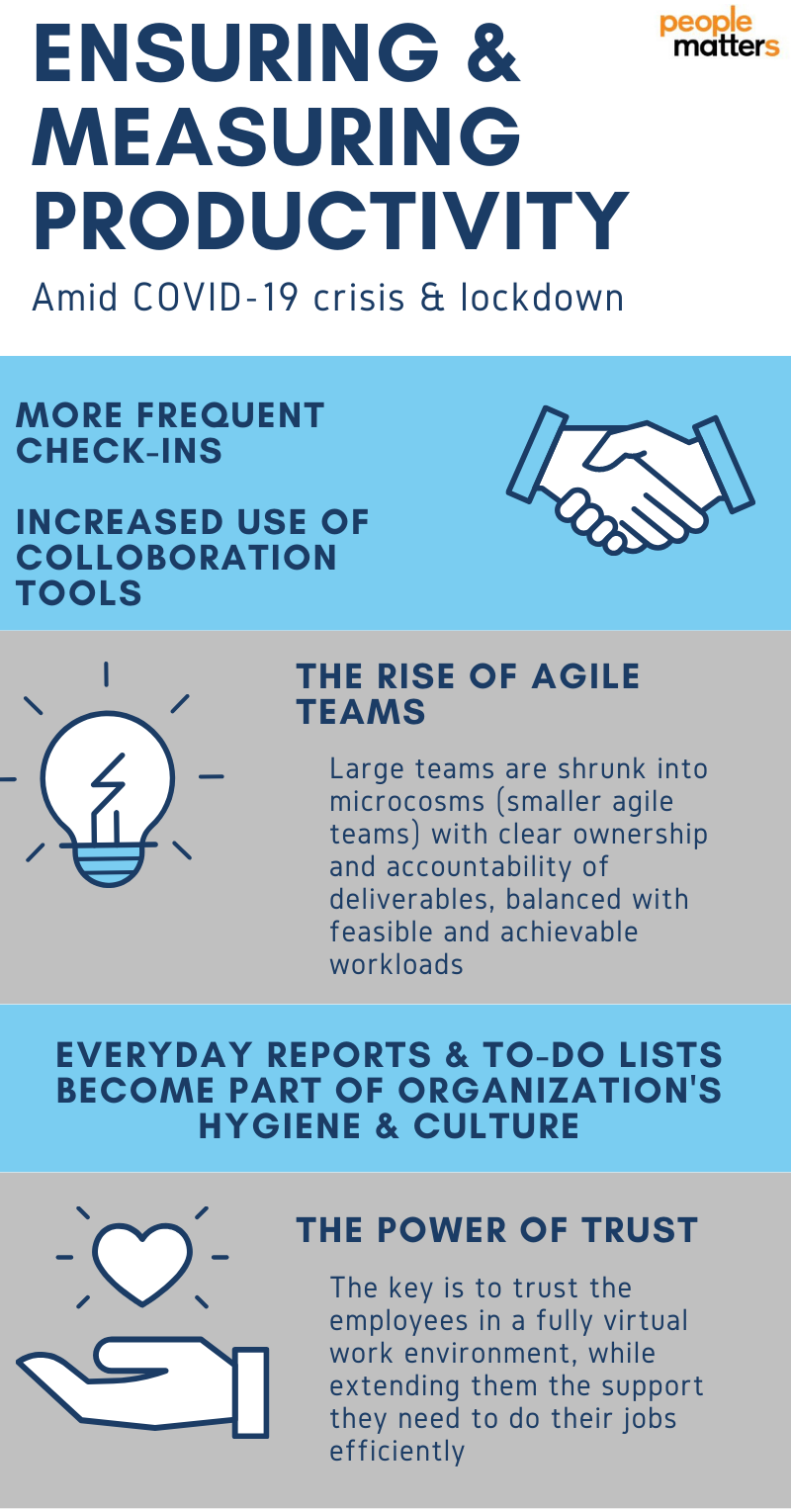 Utilizing the time to learn & upskill
In SAP India separate training programs are being conducted for Managers on how to lead virtual teams. Managers can also register for a 45 Minutes exclusive 1-1 coaching session to get more guidance and insights. Ruchi Bhalla, Vice President & Head of Human Resources, Pitney Bowes Inc shared that they have launched a variety of online learning courses and virtual technology sessions for employees to build skills for the future. 
Shreeranganath Kulkarni, Chief Delivery Officer, Birlasoft shared, "Online training capsules and convenience-driven learning modules are being encouraged among employees, who are making the best use of their time, and dedicating specific learning hours in a day to undertake digital courses beneficial for the overall development of employees."
"We are a manufacturing and sales organisation and all our plants and sales teams in India are on a standstill due to the temporary lockdown in the country. Our approach for these teams is to engage them in self-development and wellness. For teams that can operate from home, our focus is on quality of output and ensuring that delivery standards are met," shared Singh from AkzoNobel India. 
"Other than connecting virtually with the team with regard to work, we engage with our employees by ensuring there is a learning for them. Keeping in mind there is continuous development for our employees, we organize webinars on relevant topics at regular intervals, which enhances employee productivity," said Umasanker Kandaswamy, COO & Joint Director, Bruhat Insights Global, an Avtar-funded AI firm. 
Ensuring social connection to boost productivity
Companies are adopting many virtual employee engagement activities to ensure that their workforce connects socially as well and not only for work. Even in this time of crisis, teams can connect for light conversations and engage in fun activities. For instance, Icertis have fun filled activities like: Icertis Quiz, Crossword, Icertis Has Talent, and Virtual Dumb Charades. Employees also have virtual coffee breaks and regular stand-ups. 
"The situation has forced each one of us to be creative, flexible and bring simplicity in every process for it to work efficiently," said Singh. 
Employees own their own productivity 
"Our employees take ownership of their own productivity!" exclaimed Bhalla. Leaders from Thoughtworks shared similar sentiment. "The focus is on instituting collective team-wide ownership to ensure productivity," said Sumeet Moghe, Principal Product Manager and Remote Working Group Lead. 
"While managing efficiency and productivity during such a contagion can be a task, we have put in place a Governance Model where large teams are shrunk into microcosms (smaller agile teams) with clear ownership and accountability of deliverables, balanced with feasible and achievable workloads," added Nagarjun Kandukuru, Business Principal (AI) and Remote Working Group Lead. 
At Aeris communication the employees take ownership of ensuring their own productivity. The responsibilities of leaders is to encourage this mindset and have more trust in their employees. 
Trust thy employees
Quoting Ernest Hemingway, Monish Darda, CTO & Co-Founder, Icertis said, "The best way to find out if you can trust somebody is to trust them. There's no reason to believe that, in this new environment, people won't do the work that they've been assigned."
Bhalla from Pitney Bowes reiterated the same and said, "It is important to trust your employees in a fully virtual work environment, while extending them the support they need to do their jobs efficiently."
"Spearheading remote teams and managing productivity virtually can sometimes prove to be a challenge. To us, it was more than just getting productivity back to normal, our priority was to reassure our employees of our trust in them while they work remotely and to equip them to cope with the change, especially with balancing work and home all at the same time," said Rao from SAP India.  
Ensuring productivity, as well as monitoring and measuring it is important for tracking the progress of and employees. However, what is most critical is to ensure that the human connection is not compromised in the new virtually connected world of work.