A Brand Reachout Initiative
HR Technology
How UKG solves for productivity and improved compliance by a centralized contract workforce management
A single, centralised automation solution is the need of the hour in labour-intensive industries to manage contract workforce efficiently so as to reduce costs, improve productivity and ensure compliance.
In many companies, the contract workforce is often the "hidden" workforce. The human resources team is not always involved in the hiring and management of the contract workforce. But as organisations shift to being project-based versus role-based, HR must take the lead in managing the contract workforce.
Here is a quick glance at the impact that poor contract workforce management can have on your business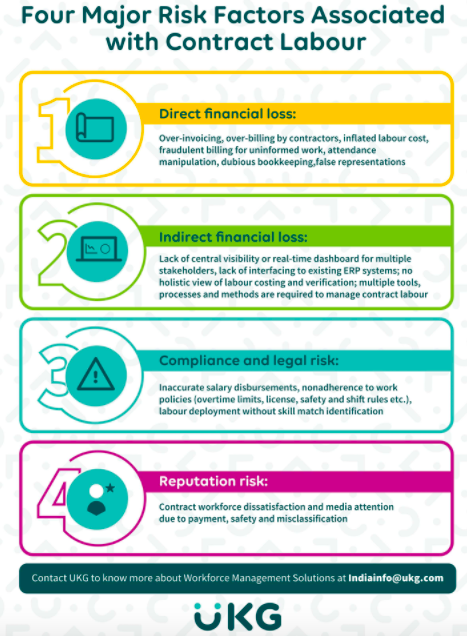 However, the systems used by organisations to manage contract labour are typically individual software modules that address specific workforce management functions rather than the entire process. These point solutions were developed for the basic purpose of keeping track of contractors, and as the contractor ecosystem continues to flourish, they have failed to scale to meet evolving requirements. Reasons for these failures include:
Paper-based processes: Because manufacturers' contract labour-related processes are essentially paper trails, it is difficult to automate these manual workflows using existing systems due to the dynamic nature of managing a contract workforce.
Contract workforce churn: Many contract labour jobs require minimal skill levels, and as a result, employees are easily replaceable. This leads to greater churn amongst contract employees, which in turn creates challenges in setting up an automated process for effective tracking.
Geographic challenges: Because many manufacturers in India operate units across multiple locations and maintain relationships with multiple contractor vendors, it is challenging to build a single system that meets all enterprise requirements. Most manufacturers have chosen to build local contract labour management systems to address the specific requirements of individual units.
Compliance issues: Since contract labour is not considered to be part of the organisation's workforce, many manufacturers maintain manual systems for contract employees and automated systems for direct employees — an approach that results in additional complexities and compliance challenges.
Automation: A better approach to contract workforce management
When it comes to managing the growing contract workforce, disparate point solutions will no longer suffice. Today's Indian organisations require a complete contract labour management system that provides an integrated suite of automated tools and real-time visibility into high-quality workforce information to help them control costs, improve productivity, and minimise compliance risk enterprise-wide. 
Key characteristics of an effective contract workforce management system include:
Complete process automation: A solution that simply captures contract employee attendance data leaves HR and Finance with time-consuming manual reconciliation tasks to help ensure accurate billing and payment.
Automated enforcement of work-related policies: Because manufacturing organisations carry liability for contract employees, it is critical that the system accurately implements and consistently applies work-related policies across the contract workforce.Real-time visibility: Manufacturing organisations need visibility into the contract workforce— from the unit and plant level rolling up to the enterprise level — in order to gain unified and cross-functional insights and drive better decision making.
Compliance support: Manufacturers require an automated system that accurately enforces internal policies and local government rules to help facilitate compliance.
Process standardisation across multiple locations: By using a single contract labour management system across multiple locations and units, manufacturers are better able to enforce local policies while maintaining enterprise-level governance and validation control.
Secure, automated data collection: A solution that automatically captures accurate time and attendance data for contract employees at work sites helps manufacturing organisations prevent contractors from manipulating data and over-invoicing.
Labour budget and cost tracking: By accurately capturing and automatically tracking contract employee time and costs, a contract labour management system helps manufacturers to take corrective action to minimise labour budget overspend for more profitable operations.
Workforce productivity monitoring: An automated contract labour management system enables manufacturers to establish uniform performance standards for all contractors and to monitor contract employee productivity to help ensure ongoing adherence.
Interfaces with ERP system: To drive data consistency and avoid duplicate data entry, it is important that an organisation's contract labour management system can automatically transfer data to and from its ERP system.
How UKG Solutions helping organisations manage the contract workforce seamlessly
The UKG solution automates the complete contract workforce management process to help Indian organisations control labour costs, improve productivity, and minimise compliance risk.  
The UKG workforce management solutions meet the complex requirements of today's large organisations in India. These proven solutions provide complete automation of contract labour management processes using a two-pronged approach:
UKG InTouch data collection terminals enable contract employees to record and track their hours easily and efficiently by simply swiping a card or badge. Optional biometric identification allows employees to clock in via finger scan for added protection against fraudulent punching.
Once the InTouch verifies the employee's identity, it records the time and attendance data and reports it to UKG Workforce Central. The InTouch's ability to automatically capture accurate timekeeping data for contract employees helps eliminate any scope of error — inadvertent or otherwise — in contractor billing to help control labour costs. In addition, InTouch's modern user interface provides a fast, self-service view into contract employees' work-related information.
The UKG Workforce Central suite provides integrated software to automate the complete contract labour management process and delivers real-time access to workforce-related information for better control and improved decision-making. Workforce Central aggregates contract labour data and manages complex work rules. 
The software requires little or no customisation and can be configured by non-technical staff. Workforce Central can generate time and labour reports or it can feed data into an ERP business intelligence system for reporting and analysis. The system can also transfer data into financial systems at the end of each month, if desired, for cost tracking, budgeting, and reporting purposes.
Indian organisations are increasingly turning to contract labour as a flexible, cost-effective resource to address workforce shortage, create value, and drive growth. A single, centralised automation solution is the need of the hour in labour-intensive industries to manage contract workforce efficiently so as to reduce costs, improve productivity and ensure compliance.