A Brand Reachout Initiative
Talent Management
The paradoxical rejection of the 'Employer of Choice'
An organization's ability to provide meaningful careers to individuals and enabling them is a critical competitive advantage
We are living in the age of complexity, with great paradoxes defining how we live our lives. While human advancement has created enablers that promise the most safe and efficient lives, stress and unhappiness are on the rise. Similarly, while communication and education are bridging the cultural gaps, religious and ethnic intolerance is at its peak.
Similar paradoxes are visible in the world of work as well. While technology is taking over the workplace, the importance of 'Human Capital' has never been more pronounced. While traditional enablers of business like Capital, Technology, and Infrastructure etc. are abundantly available, more and more CEOs are reporting shelving expansion plans on account of lack of High Potential (HiPo) talent.
Attracting, engaging and retaining HiPo talent has been never been a bigger challenge.
What is the data telling us?
Like any other means of economic value creation, 'talent' is disproportionally divided. The most critical enabler of industry and business has become very complex to explore, more so in India.
1. More than half the country's workforce is self-employed. Only 15 per cent are regular wage earners or salaried employees.
2. Only 3% of the graduates are 'employable' in spite of us producing the 2nd largest number of graduates in any country.
3. 58% organizations are reporting difficulty in filling positions; 81% of the CEOs see talent shortage as their biggest threat.
4. Indian Talent is bombarded with opportunities from across the globe. A demographically young India will be the largest contributor to the global labor force in the coming decades, and will add about 110 million workers by 2020 according to Goldman Sachs.
5. All talented individuals are constantly exposed to 'overwhelming choices' – either on their own accord or being lured into potential job opportunities via social platforms.
6. Our cultural fascination with relatively indirect form of communication makes it difficult to understand what is going on in the minds of the employees. Only 13% of Indian employees reported major dissatisfaction with their immediate supervisor. And 45 percent chose to stay neutral regarding this issue.
Talented individuals, armed with 'overwhelming choices' have become clearer and more demanding in terms of how they want to lead their lives. Making a living and sustaining it is not anymore a key driver of decisions – risk appetite is on the rise! Our experience of working with over a 100 clients annually in this complex market has taught us that today's talented individuals are looking at meaningful 'careers' vs 'satisfying, safe employment'. This is a massive shift from the earlier pursuit of working for the 'Best Employer'. Individuals are looking at opportunities that will allow them to create the 'Careers of their Choice'.  
The focus needs to shift to the individual's unstated career objective rather than the organizations stated objective of being an 'Employer of Choice'. It's time to have a 'Career Centric' talent paradigm!
So, what is the career centric paradigm of talent development and how does it impact HiPo development in organizations?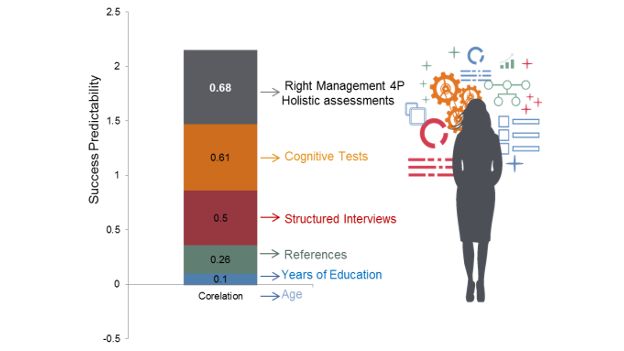 In the career centric paradigm, the focal point needs to be the individual and not the role / job family. The endeavor or the organization has to be able to enable achievement of individual career aspirations and in the process find ways to create economic success to it.  This of course needs to be limited to the chosen few – the handpicked HiPos.
The program itself needs to ensure:
1. Confidence in the HiPo selection: Far too much weightage is being assigned to the perception of others and the current level of performance. There needs to be a scientific basis to assess the 'potential' of individuals before classifying them as HiPos. Traditional perception or performance based HiPo identification modalities have shown to have limited reliability.
2. Focus on HiPo career aspirations: Often the HiPo program has a paternalistic undertone - 'The organizations know what is best for you and will take you there'. Organizations will need to enable HiPos to identify and articulate their career aspirations even before assessing or creating any kind of development plans for them. Finding the purpose early in the journey will not only benefit the individual, it will also save the organization from surprise exits of HiPos.
3. Relook at the critical roles: Most of the HiPo programs are aimed at developing individuals to fit in predefined 'critical roles' within the organization. This may often be not aligned to the talent available in the HiPo pool. At Right Management we worked with a Nigerian Conglomerate to redesign their organization structure and redefine the key roles to ensure perfect fitment of their HiPos.
4. HiPo as an individual contributor: While many organizations have evolved technical leadership programs in place, HiPo development is still largely focused around creating people leaders. This mindset needs to change. In fact as per IBM Smarter workforce, one of the mega trends - 'Rise of the Independent Worker' pronounces the need of having differentiated programs for People leadership and Individual contributor roles. Not many Indian organizations seem to have got that right yet.
5. Leverage of technology as an enabler of HiPo program: The role of technology in deploying a winning HiPo program is grossly under estimated and thereby under leveraged. It is an imperative for organizations today to have technology embedded in their development programs HiPo or otherwise.
The world of work in the Human Age is far more complex to fit traditional paradigms of talent management. Right Management's recent Career survey shares how not only has the definition of career changed in the mind of individuals, but also the approach to one's career goals and what they expect to achieve. So from earlier being focused on organizational drivers of success while designing HiPo development programs, we would now need to focus on career specific drivers of success. It would also mean that an organization's ability to think out of the box to provide meaningful careers to individuals and enabling the same will be the critical competitive advantage in the days to come. 
Copyright © 2015 Right Management. All rights reserved.