Talent Management
Reimagining Recruitment: The ROI of Recruitment Technology
More companies are experimenting with a variety of tools at their disposal.
With the rise of hybrid work, the digitisation of HR is accelerating even further. While the economic outlook continues to be uncertain among many countries the world over, companies are still challenged by a talent crunch. Finding the right person for the right job at the right time continues to be a key focus area for many companies.
Employers who use recruitment technology are reaping the benefits. While different tools have different use cases, one theme evident across usage is the increased efficiency of the hiring process. Case in point: a reduction in the time-to-hire.
With the talent war intensifying, it is imperative for employers to shift their focus on reducing the time-to-hire in order to reduce candidate drop-off rates as well. Other than this, tools for gamified/interactive assessments or video/audio recording assessments have also played a key role in the diversification of talent pools. Given the benefits of a diverse and inclusive workforce, it is only logical for such tools to see increased adoption in the coming years.
The use of advanced recruitment tools also makes monitoring talent data more effective. This is likely a consequence of the automation of the data collection process. According to Indeed and People Matters Recruitment Outlook 2022, companies are already leveraging a number of tools to boost their recruitment process. Here are some important findings:
Hiring candidates faster:
When it comes to attracting talent faster, companies are leveraging a variety of tools with varied success rates. From gamified and interactive assessment tools (26.1%), video and audio recording assessment tools (26.1%), Conversational tools (30.5%)  including chatbots, automated mailers, job post writing assistants etc. and written assessment tools (25%). Interview scheduling tools were highlighted by 38.2% of the companies for the ease and experience that they offer.
Boosting candidate experience:
22.8% of the participants in the study said that gamified assessment helped them increase candidate completion rates and diversify the candidate pool. 32.7% of the respondents said they received positive feedback on the overall candidate experience while using conversational tools. About 25% of the participants noted that they diversified their candidate pool using video and audio recording assessments.
Attracting High-quality talent:
37% of the participants in the study noted that they were able to attract high-quality candidates by leveraging conversational tools. And 33.8 % said they attracted high-quality talent using written assessment tools.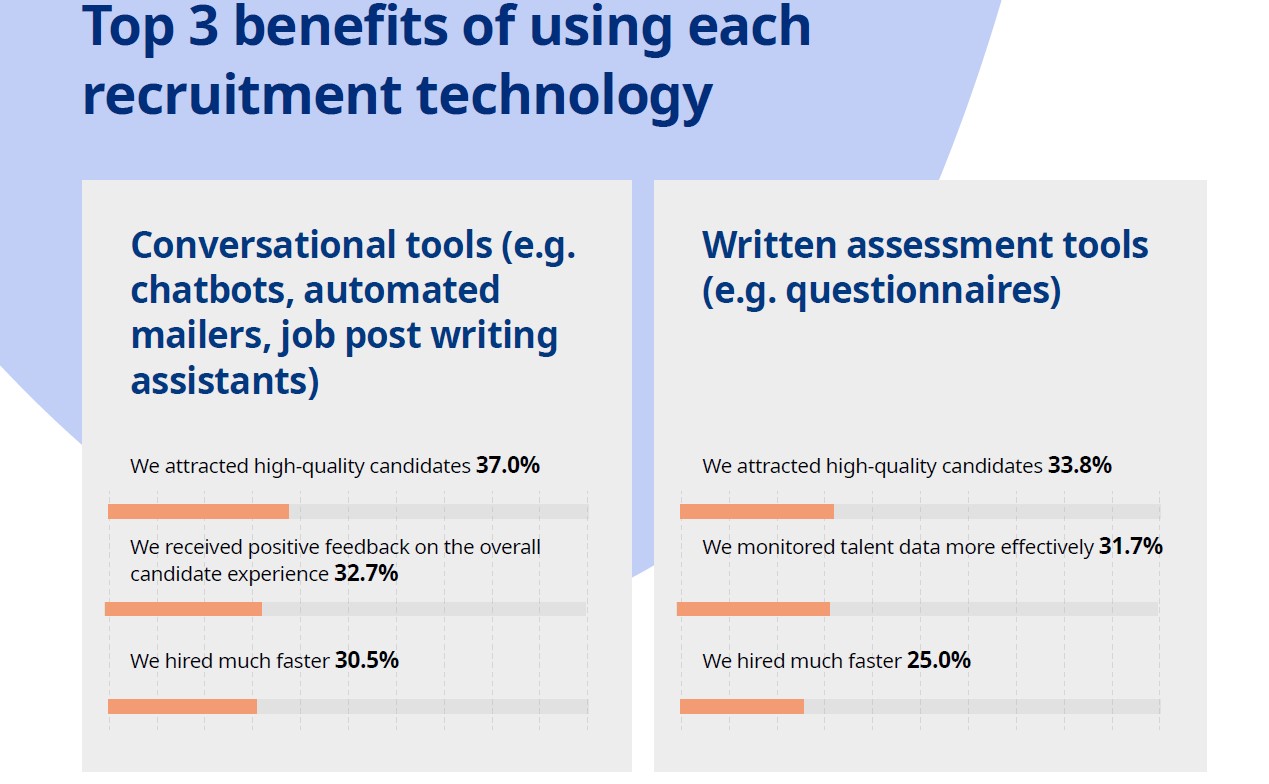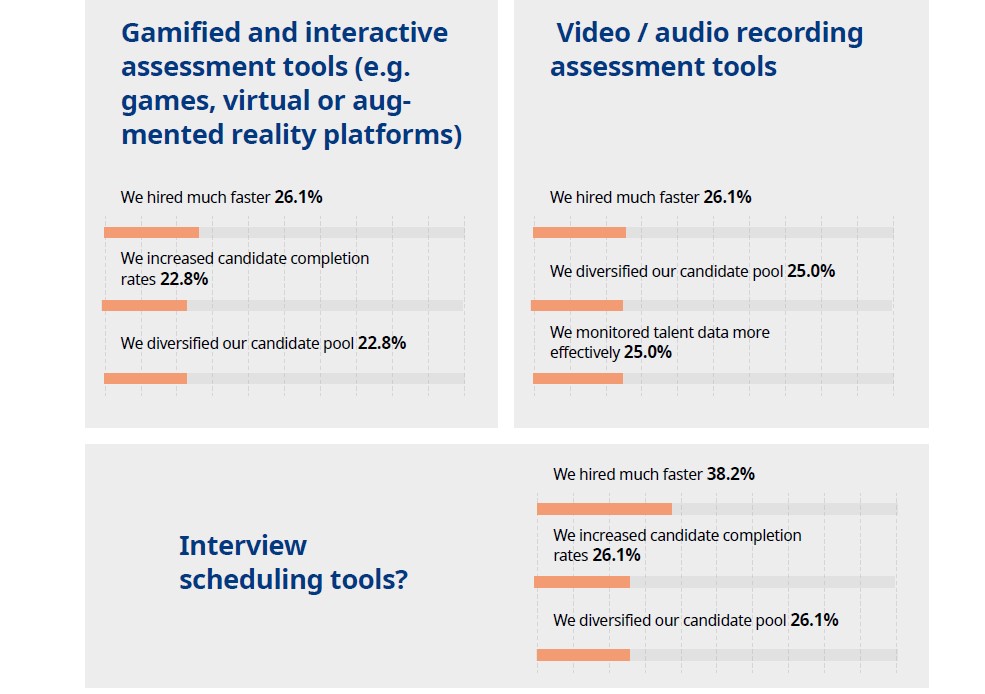 Investments in a variety of tools have boosted the experience of the candidate while easing the work of the recruiters. More companies are experimenting with a variety of tools at their disposal. Experts also note that digital recruitment channels help understand the effectiveness of the platforms in a way that hasn't been possible before.
Ready to enhance your recruitment process? Stay on top of the latest hiring trends. Download Recruitment Outlook 2022. •