Talent Management
Talent trip: The journey of talent in the tourism industry
People Matters was in conversation with players in the Indian tourism industry to understand how this sector has been evolving over the years and also to gauge how the talent space is shaping the course of the industry. Today being National Tourism Day, here's glimpse into policies, processes, challenges and trends that have an impact on the tourism industry in the country
Being a rather large market for travel and tourism, India has on offer a diverse portfolio including cruises, adventure, medical, wellness, sports, MICE, eco-tourism, film, rural and religious tourism services. The total contribution by the travel and tourism sector to India's GDP is expected to rise from Rs 15.24 trillion ($ 234.03 Bn) in 2017 to Rs 32.05 trillion ($ 492.21 Bn) in 2028. Moreover, in terms of employment extended to the population, as of 2017-18, 81.1 Mn people were employed in the tourism sector in India. This is a huge number, amounting to 12.38 per cent of total employment in the country.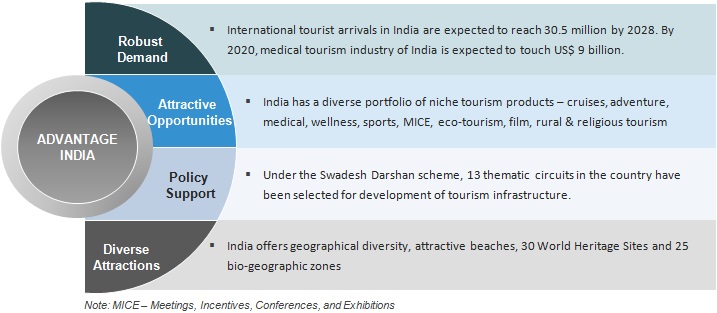 Pooja Pagnis, General Manager at TeamLease Services says that, "according to a 2018 economic impact report by World Travel & Tourism Council (WTTC), in the next 10 years, India is likely to become the third largest tourism economy." The report also says that the country would add nearly 10 million jobs in the tourism sector by 2028. With that future in mind, is the country prepared to deal with challenges that might arise out of such demand and growth?
Policy push
Ankit Rastogi, VP Hotels at Cleartrip talks of how in the last 3-4 years, "There has been a significant amount of infrastructure push that has directly provided a boost to the travel and tourism industry. This is especially true for road and highway infrastructure wherein the government has invested massively."
This, he adds, has increased the scope, comfort and convenience of weekend travel. Moreover, with the launch of initiatives like PRASAD (Pilgrimage Rejuvenation and Spirituality Augmentation Drive) the religious tourism space can be further strengthened. With an increased interest in sea travel (the first cruise in India from Mumbai to Goa was launched last year), improved local flight connections and the increased ease of e-Visas, travelling has been made a more accessible and attainable luxury. 
Ratna Chadha, CEO at Tirun says that, "Foreign cruise lines are visiting Indian ports, willing to invest in the country and hence bringing in business to the country and giving incentive to more young professionals from various industries like marketing, hospitality to explore cruise industry for their respective work."
While a lot of government policies are favouring the growth of the industry, there is still a long way to go and a need to keep up with changing needs and trends in the industry. 
"There is lack of response with regard to recognizing and regularizing new emerging hospitality segments such as backpacker hostels. These concepts have been in the West for over 50 years now with specific policies and the lack of the same in India does hamper growth and investment into such highly popular, emerging sub segments," says Akhil Malik, Cofounder & CEO at Zostel.
Talent check
The tourism industry is evolving not just with regard to what customers want but also based on what individuals employed in the sector expect out of work and the need for developing relevant skills.
Ankit from Cleartrip says that, "Gen Z and younger millennials have transformed the expectations we have from the talent we hire. These internet-savvy individuals bring unique experience and awareness to the table."
He adds that the newer generations possess fresh ideas and opinions that can only result from actual traveling experience. Moreover, being a group that is especially concerned about travel issues such as environmental protection, they force organizations to think differently as well. This also highlights the need that employees have to share their values with their organizations to be able to relate better to work.
A travelling skill gap
Sunil Gupta, MD and CEO at Avis India is of the opinion that, "With the growth in the tourism sector, the demand for skilled employees has also seen a surge, therefore, we are working on the skills of the drivers which not only includes the driving skills but fluency in different languages, presentability and adaptability to technology."
He adds that, "More often than not, it is the chauffeur who is in direct touch with and in close proximity of tourists and how they interact with customers reflects on the service orientation and hospitality extended by India to tourists. In that sense they are our ambassadors." This is an interesting thought especially for employers who have a wide base of contingent workers who have a direct control on how the brand is perceived by customers.
Ankit points towards the need for social skills and soft skills that are also essential for certain travel positions. "The lack of skill building is therefore the biggest challenge that we are facing right now," he says.
Rajesh Magow, Co-founder and CEO-India at MakeMyTrip stresses on the need for "Quality education, industry institute partnership, rethinking of vocational education, research & in-field training to be incorporated to create direct and indirect jobs across various skill levels."
The road ahead
"If future of work is flexible, autonomous and customized then the kind of work opportunities we need to create have to resonate with some of these basic needs," says Rajesh. "Keeping this in mind, at MakeMyTrip  we have opened up a new segment of holiday experts comprising mostly of women who work from home helping people plan their holidays. With over 700 women across 10 cities working as MakeMyTrip holiday experts, these are entrepreneurs in their own right," he adds. For the future thus it is important to create the kind of work that fits around a person's life instead of the other way around.
The industry in itself has undergone many changes over the last few years and is now looking at giant growth plans. Akhil says that while traditionally, hospitality has not been known neither for innovation nor for attracting the best talent in the market, the sector has undergone a sea of change in past 5 years with a number of new age hospitality companies entering the space and attracting fresh talent. "Hospitality is an exciting sector to be in at the moment and with better talent coming in, the future looks bright for the sector," he says.
The path ahead thus looks hopeful for this valuable industry though a large part of the success depends on how companies go about attracting, managing, retaining an optimizing on the best talent. Navigating the talentscape well, coupled with effective policies and sensible plans, the skies look clear for a smooth takeoff for the industry.
Image source: IBEF