Technology
A look at the Indian HR Tech funding and acquisitions: Apr-June 2018
While sustainability management technology platform Goodera stood out with its big ticket funding in the April to June quarter, employment search engine Indeed acquired Resume.com.
The second quarter of 2018 only saw a handful of activities in the skilling and HR tech space. The quarter saw some six startups raising close to $41 Mn, with sustainability management technology platform Goodera being in the news for raking in around $12 Mn from SAIF Partners.
As per Deloitte Consulting LLP, the HR technology marketplace is a $400 Bn market globally. Investor interest in this sector is steadily growing globally and in India as well. It is estimated that Indian firms can save at least $600 Mn annually with HR tech. As organizations turn more towards digitization, investments in the sector are expected to grow.
Here's a quick look at the other significant fundraisings and acquisitions in the HR tech space in the first quarter of this year.
Fundraisings/ Investments from Apr-June 2018
The first three months of this year saw about five startups bringing in money from investors and private equity firms. The total disclosed investment stood upward of $40 Mn for these startups.
Benepick: HR tech startup Benepik that provides mobile-based solution for Employee Communication, Engagement, Rewards and Recognition, raised an undisclosed amount in seed funding from a group of investors including serial investor Vishal Bali, Delhi based HR leader Yogesh Misra, and a Delhi based HNI in April this year.


Goodera: Corporate social responsibility and sustainability management technology platform, Goodera raised around $12 Mn from SAIF Partners, along with participation from existing investors Nexus Venture Partners and Omidyar Network.


Visit: Biz Stone, one of the founders of Twitter invested in his 'personal capacity' in Visit, a health-based startup in April. Visit uses an AI-powered chatbot for health advice. Snapdeal's co-founders, Kunal Bahl and Rohit Bansal, US-based BlueJeans Network co-founder Alagu Periyannan and Karthee Madasamy, a former top official of Qualcomm Ventures also participated in the round of funding. Visit shared that a major source of their revenue comes from corporates and health insurance providers. Companies like HDFC AMC, Wipro CCLG, and Rolls-Royce are working with Visit to make the platform available to their employees and subscribers as a health benefit.


BetterPlace: BetterPlace Safety Solutions Pvt Ltd, an online platform focused on the blue-collar workforce raised $3 Mn in a Series-A funding round from 3one4 Capital

and existing investors Venture Highway and Unitus Ventures in May. The Bengaluru-based startup will use the proceeds to expand into skilling, compliance and

fintech services and to consolidate its position as a single platform for the country's semi-formal workforce.


Phenom People: Phenom People, a US-based firm with a presence in Hyderabad that provides talent relationship marketing platform raised $22 Mn in series B funding led by AXA Venture Partners, with participation from existing investors Sierra Ventures, Sigma Prime Ventures, and Omidyar Ventures. The money raised will be utilized to accelerate the global expansion of its talent relationship marketing platform.


Noble House Consulting PTE: Noble House, the global marketplace for independent HR Talent has raised $1 Mn in angel funding, from HR and Business leaders based in Singapore and India in the month of June. Considering the recent growth of freelancers and independent consultants across the world, Noble House is now looking for a Pan-India and Asia expansion before they start exploring the other geographies across the globe. The funding will also help the company enhance its technology platform and accelerate hiring to create a wider outreach.


Aahaa Stores: Aahaa Stores, an integrated procurement services provider for indirect supplies to large Corporates in India, announced fresh equity infusion in June 2018. In this round, global investment Group Calega, based in the UAE has invested about $2 Mn in Aahaa Stores.


Meanwhile globally, in the month of June, InvolveSoft, the community engagement software vendor, raised $2.5 Mn in funding in a round led by Bonfire Ventures. Investors in this round included Greycroft, Bertelsmann, Launch Capital, CrowdSmart and Noname Ventures.
In the same month, Malaysian startup PayrollPanda, a SaaS-based HR and payroll software startup company has raised $700,000 in seed funding from an undisclosed group of investors, including two family offices based in the UK and Saudi Arabia.
Also, US-based recruitment marketplace Hired.com raised $30 Mn series D round of funding from Investment Management Corporation of Ontario.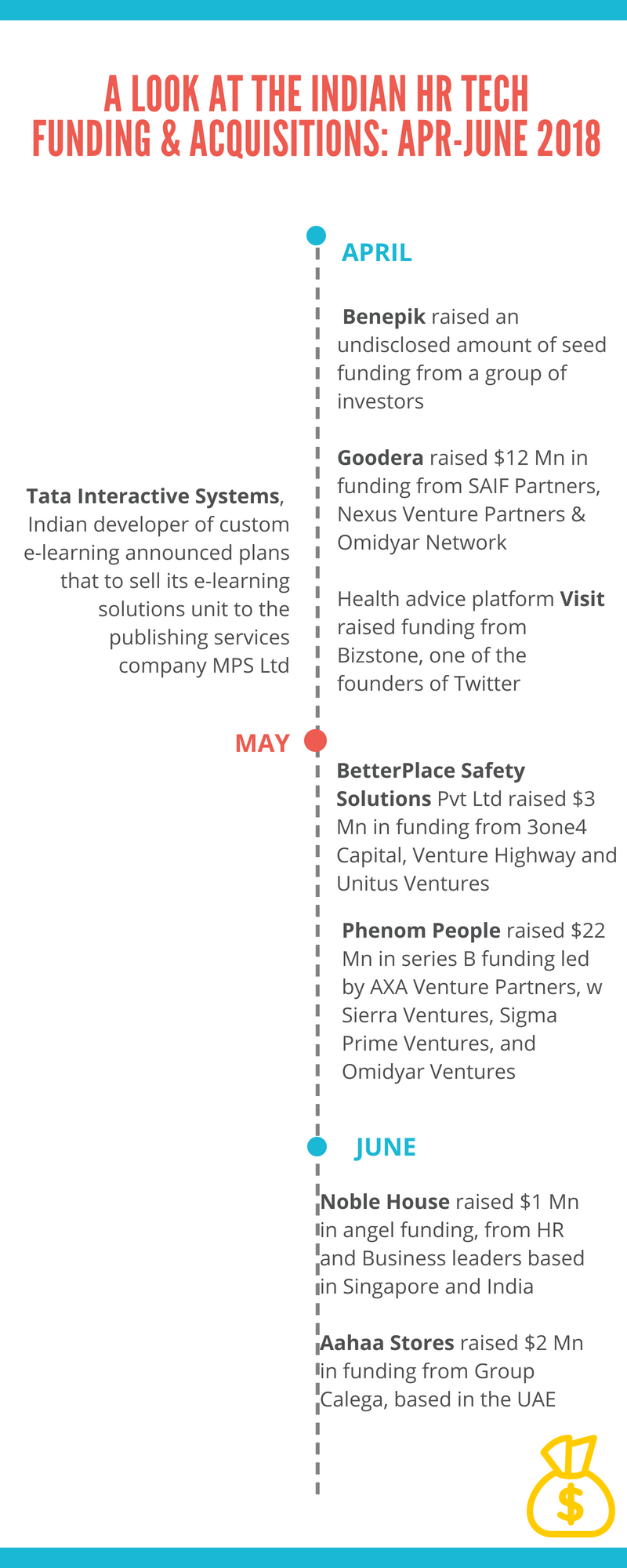 Acquisitions from Apr-June 2018
While there was no major acquisition in the Indian HRtech space, the one significant deal was that announced by Tata Interactive Systems, a subsidiary of Tata Sons in the month of April. The Indian developer of custom e-learning announced plans that to sell its e-learning solutions unit to the publishing services company MPS Ltd.
However, three major acquisitions took place in the global space.
Glassdoor: The first one was that of US-based, job review and job hunting website Glassdoor being acquired by a Japanese human-resources and consumer-information provider, Recruit Holdings Co. for $1.2 billion in an all-cash deal in the month of May.


Resume.com: The other significant acquisition in the space was that of Indeed, the American-based employment search engine acquiring Vancouver based Resume.com, an online service for creating personalized CVs. The deal was closed on May 25 for an undisclosed amount. Indeed will maintain the company as a separate entity under Resume.co.


Pathgather: The third major acquisition was in the month of June wherein Degreed acquired learning platform Pathgather, merging the two companies that invented the learning experience platform (LXP) category. Terms of the deal, which comes just four months after Degreed appointed its new CEO, Chris McCarthy, were not disclosed. Uniting these businesses is a big leap forward on Degreed's mission to unlock opportunity by creating better ways to build, measure and communicate people's skills.