Technology
DBS Hack2Hire is banking on hackathons to hire the best in technology
As the bank increases focus on going digital and developing an agile startup culture, it is banking on new hiring techniques like hackathons to hire the best talent in technology.
When organizations look to hire fresh talent, the safest and easiest bet is to look out for people who have experience in their business. But not this bank, which values agility more. Bringing a new perspective to hiring, DBS bank is looking at hiring candidates who have never worked in banking. Not only that, it is hiring them in a way like never before-by hacking their way to a job.
The program is banking on the success of its Hack2Hire programme from 2017, which it repeated in April this year with almost 10,000 registrations for the hackathon. Last year, the bank recruited developers, data scientists and system engineers through the Hack2Hire programme.
Debbie Wen Chan, Senior Vice President at DBS Bank told People Matters that the whole idea started from the graduate recruitment front. The bank has earlier used hackathons for graduate recruitment and talent development
"Previously, we used the standard case studies assessment method to select our management associates. That would also be a half day event with three case studies and group exercises. But as the bank pivoted to embrace digital and wanted to become this 22,000 startup, we realized that we had to hire in a different way to bring in talent with that mindset."
The standard case studies would be no good in that case given many candidates would already have an inkling of what's to come. So the bank started with hackathons and MAckathons (hackathons designed for Management Associate recruitment) to maintain an element of surprise by releasing a challenge statement on the very day and then let participants pitch solutions through the day.
What DBS did last summer to beat traditional recruitment methods
Consequently, about 300 people in Singapore and India took part in the two-day Hack2hire event, selected from some 10,000 applicants who took the an online programming test. DBS interviewed 150 people after the event and offered jobs to around 50 of them. Interestingly about 10% of the participants in Hack2hire event last year were women.
This year, however, it is expanding the scope, not only hiring for these roles, but also looking to add scrum masters, user interface and user experience designers, mobile application developers, and solution architects. Also, it is doubling the number of hires its hackathon programme produced last year to 100 this year.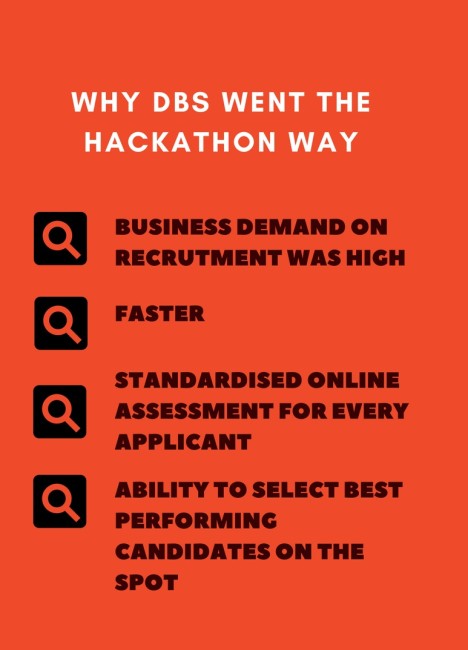 The idea is simple- to create an agile technology team, which might not be possible through the traditional recruitment methods which could be well rehearsed. Also as candidates are observed for a full day, which requires them to speak and pitch their ideas; they can't fake it which is quite a possibility in traditional interviews.
It will be well to remember here that DBS has been recognized widely for its digital leadership, and was named "World's Best Digital Bank" by prestigious financial magazine Euromoney in 2016. The bank sees itself as a "22,000-person startup that leverages startup thinking, embraces an agile culture and adopts the latest technology to design and develop superior solutions."
More so it enables the bank to beat the traditional recruitment methods. Traditional recruitment was slow. Managers require time and resources to shortlist CVs and recruiters to schedule interviews for managers and candidates. The whole process includes managing candidate liaison and booking of rooms- something which is time consuming given the high business demands on recruitment.
Hence the ability to select and shortlist best performing candidates on the spot who can prove their technical and communication/interpersonal skills during the session, which cannot be detected under the normal interview selection methods was a big draw for the bank to lean towards hackathons. Of course, it had challenges of its own as well- namely the outreach and marketing of the event and ensuring maximum exposure of the event.
Hacking one's way to a job at DBS
For hacking one's way to a job at DBS, candidates need to have a degree in Computer Science or similar technical field of study and possess a strong knowledge of distributed computing, cloud-native architecture patterns, mobile and web applications development, and public cloud.
The Hack2Hire programme consists of two parts. The first is an online technical assessment designed by DBS's technology team to measure the basic skill sets required for the jobs. Those who pass the online technical assessment will then hack their way into solving real-life business cases in less than 24 hours. Successful candidates are offered a job within the same day.
The bank's preference is to hire technologists from outside the banking industry, such as those from startups or from the gaming industry, which are similar to banking given that both are highly regulated and dependent on technology.
But the hackathon is not the only innovative practice being employed by the bank to bring in a startup like agile and technology-driven culture.
Interns for innovation- the UNI.Corn programme
Over the last five years, DBS has made significant investments in strategic technology initiatives which include a comprehensive re-architecture of the bank's technology backbone. In addition, what it is focusing on consciously is bringing about a change in culture within the bank to become agiler like a startup.
It is in this direction, it launched its flagship internship programme, DBS UNI.CORN in order to bring under its fold the new generation of innovators. This program was started by the innovation team to bring people with a startup mindset under the bank's folds.
Through the 12- week internship program, the bank is looking for people who have a passion to create and innovate, are interested in getting a hands-on practical experience and solving business problems. Interestingly, the program does not limit itself to any particular discipline. It is open for undergraduate students in their penultimate year, whether they are from the Arts, Social Sciences, Engineering, Business, Computing etc.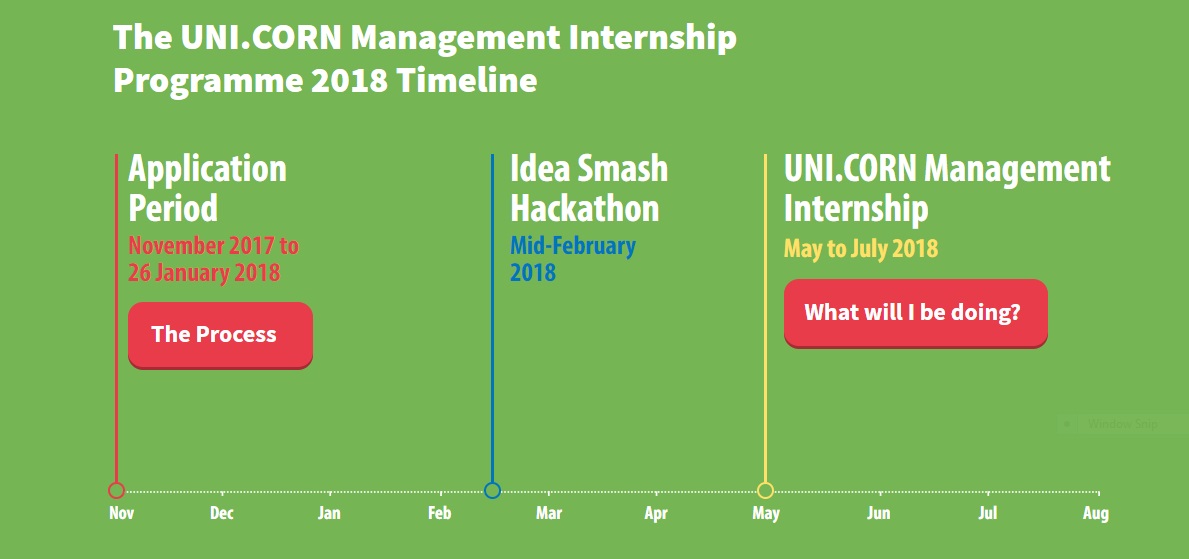 UNI.CORNs spend their 12 weeks of their summer with the bank conceptualizing and developing a solution to address a specific problem statement. They have an innovation mentor to guide them along with a HR program manager. Every month there is a check-in and assessment to single out the outstanding ones who could then be recommended for the senior management interviews. On the last day i.e. the Demo Day, each team showcases their solutions to the bank's senior management, which could then be tested within the respective business units.
Last year, the 12-week internship programme saw a total of 24 interns in its second year, up from 16 in 2016. They were chosen from over 2,000 applications received. Out of the 24, 11 progressed to the final interviews and finally 7 were hired.
Throwing light on such successful UNI.CORNs, Debbie cites, "The beauty of the UNI.CORN programme is that we have 12 weeks to watch the candidates in action and the data points on who makes a better management hire are more compelling."
Shedding light on the success stories from the program, the projects that were successfully chosen included one on how to make banking invisible. The students came up with the idea that as millennials loved data on their mobile phones, they could be rewarded with data instead of reward points or air miles when they spent through the DBS cards. The students worked with a telco in and this project is coming through already.
So while the students get to broaden their horizons through this very non-standard banking internship programme, the bank on the other hand benefits from making the engagement process with its future hires come alive through the UNI.CORM programme.
Debbie concludes, "The UNI.CORN programme is a good start to the future pipeline of leadership for the bank."
Given the ways technology is changing the face of recruitment, Debbie is completely on point as far as developing a future pipeline of future leaders is concerned. Through the UNI.CORN programme and the hackathons, DBS bank has managed to take small but sure steps in the direction of moving away from traditional methods to ramp up its recruitment game.