Technology
Digital transformation frameworks and HR – I
What kinds of frameworks exist to study the HR functions and their efficacy? Have the experts categorized the various aspects of HR functions and the ways in which they operate? Read the first part of this study to find out.
Most HR leaders today are grappling with the speed at which business environments and technology advancements are changing around them. In their efforts to adapt and adopt to these changes and provide an efficient HR function in support of business objectives, HR leaders have begun to give technology an increasingly important role. It's not only helping by taking on much of the human burden associated with planning, administration, and sourcing but also is facilitating more consistent processes and enabling informed decision making throughout the candidate and employee lifecycle.
As companies and HR leaders gear to critically evaluate "digital transformation" of their business in general and HR in particular, in this article, we attempt to provide you with existing frameworks and its applicability in the HR context. This is not a comprehensive list of all the frameworks out there; as we reckon there are many different roads one can take in this journey. The idea here is to present a few and evaluate them from its applicability in HR context and draw some lessons which are likely to help you in your planning and execution of digital HR.
According to IDC, two-thirds of global 2000 enterprise CEO's will have digital transformation at the center of their corporate strategy and as we would see in this article HR plays a crucial role in enabling and embracing this digital world of work.
Digital Transformation
As the IMD report rightly mentions, the majority of the business value will be unlocked through business change leading to faster innovation, higher productivity, increased efficiency and enhanced customer experiences.
Before we even begin to understand the models we think it's important that we understand the concept of digital transformation. In our attempt to define this, we would use the definition coined by IMD's global center for digital business transformation. The definition is, "Digital Business Transformation is Organizational Change through the use of Digital Technologies and Business Models to Improve Performance". We particularly like this definition as it very clearly identifies the objective of the digital transformation as improving performance while also focusing on the importance of organizational change in the process.
The importance of organizational change is particularly important for business and HR leaders alike when we look at the rate of failure of such transformation initiatives which is anywhere between 66% to 84%. We attribute a majority of this failure to the lack of change management initiatives and a lack of culture of change management. As the IMD report rightly mentions, the majority of the business value will be unlocked through business change leading to faster innovation, higher productivity, increased efficiency and enhanced customer experiences.
When we look at digital transformation for HR, we essentially need to focus on these elements outlined above in the context of HR.
The IMD and Cisco Model
The IMD and Cisco model is a very simple and easy to understand the model that while created for business digital transformation can also be effectively used in HR context. The model divides the journey into 7 high-level categories and then combines them with a set of 28 questions which help evaluate the depth of transformation required. This framework lends itself very well to workshop methodologies where HR can engage with multiple stakeholders and assess and ascertain current and future readiness effectively.
The whole process begins with asking 3 simple questions –
Why transform?
What to transform?
How to Transform?
These 3 questions form the starting point for the dialogue and then lead into the defined 7 categories guided by the set of questions. We find this very practical and easy to use as it allows you to draw very specific insights particular to an area by giving specific guidance while also allowing for the room for necessary changes as your context would require.
The model also specifically helps business and HR leaders identify various key stakeholders and forces HR leaders to focus on the whole value chain. Particularly the category at the beginning would force HR leaders to think about "How do they make money?" which means finding out what value do they provide to their business stakeholders. Similarly the products and offerings category would require HR leaders to critically look at various "services" being offered and critically evaluate which of these have seized to add any value to employees and businesses. In her particularly reaching out to employees as consumers of HR services is a great insight that HR leaders can get.
The figure below is an example from the IMD and Cisco whitepaper where this model was applied to Burberry when it was struggling with its brand identity and needed to transform into a leading digital brand.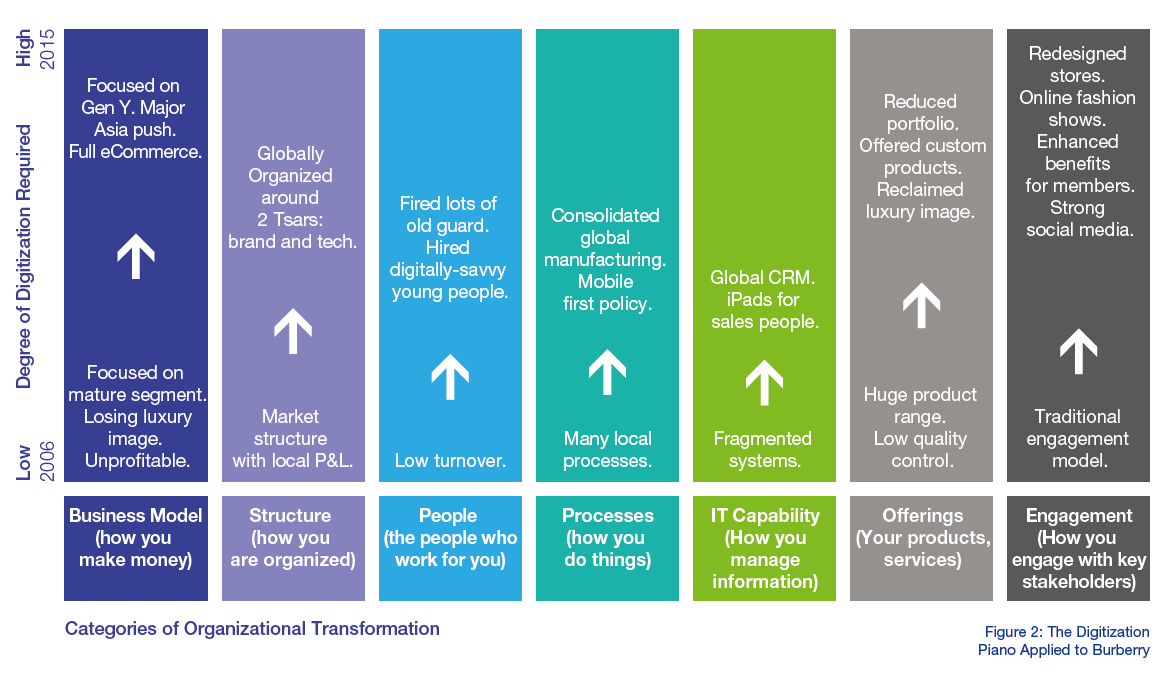 The INSEAD Model
The model postulates that leaders need to identify possibilities and drive change concurrently in three areas where digital technologies can make significant differences and change the face of the organization.
The three elements are:
Intelligence: Seeing digital data as a source of insight and using data in knowledge creation processes to create competitive advantages.


Integration: Leveraging digital channels to transform organizational processes and create agility.


Impact: Rethinking how digital dynamics can improve a company's value proposition.
The model further talks about 3 phases that each of these elements need to go through for the digital transformation to be a source of sustainable advantage. The phases are defined as: Initiation in which we focus on discovering new possibilities, then ritualization where we are looking at ways to interact with the digital ecosystem and finally the internalization phase where we are prioritizing digital solutions.
We believe these 3 phases combined with these 3 elements provides business and HR leaders a very potent framework to assess current and future state of their digital efforts, thus enabling to initiate and engage in conversations about this topic within their organization. The model is depicted in the figure below and offers further guidance on what the organization is able to do at each such intersection. This model thus helps build a shared understanding of where we are today and where we wish to be, while it may not provide very specific guidance on how to get there.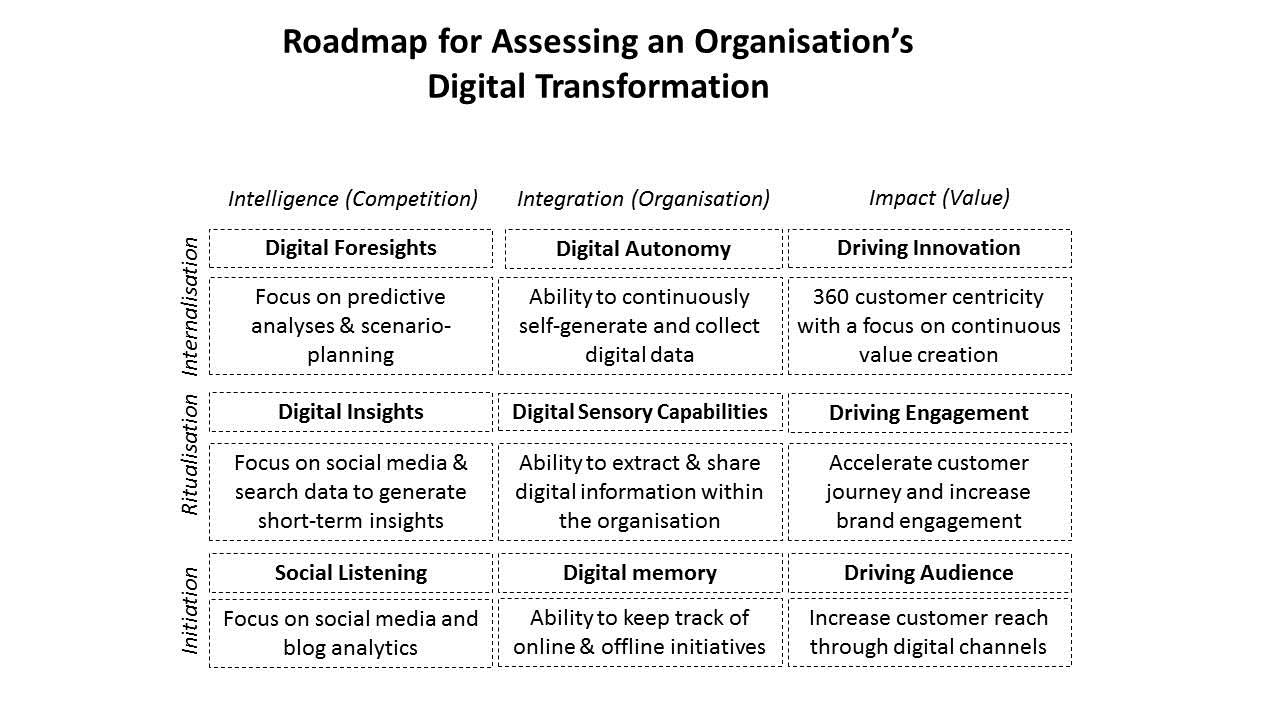 Wait for the concluding Part II of this article here.