Technology
Going Social for business
Social media is being wisely leveraged by some organizations to build a business momentum
Organizations don't tweet people do1. Business Managers are faced with increasing use of Social platforms by their employees, customers and competitors. Managers still aren't sure of the context to make better decisions about Social Web and its impact on them.
Business Leaders are challenged and they are eager to know, how to make a quantum leap to derive best value out of newer emerging technologies for best business outcomes. The Answer is Social Business.
This year's MIT Sloan Management Review and Deloitte2 global survey found clear evidence that
Companies across industries are creating value with social business
Employees want to work for companies that excel at social business.
What is Social Business3? How can an organization become a Social Business?
When companies move itself and its clients well beyond social media into a new era of collaboration, insight sharing, and lead generation it is called Social Business."
When companies take full advantage of social media to drive business benefit while managing the potential risks associated with employee use of social media.
Companies which leverage only external Social Media platforms rely on uni-dimensional approach to managing business. Social Business looks at the ways people interact in Digital Experiences holistically (inside the firewall and on external Social Media platforms). The insights derived are applied to a variety of different business processes.
Social Business impacts all areas of a business eg. Human Resources, IT, Marketing, Sales, R&D, Product Development, Operations.
Technology implementation would be a small portion of the overall spends on the Social Business implementation. The most important aspect is Community Management and this is one of the most vital Capabilities, organizations need to develop in-house and allocate resources for. HR Leaders play a critical role to ensure their Organizational Development Function does not ignore this crucial aspect. Usually the path to becoming a Social Business is a phase-wised approach.
So how do you eat the Elephant? One bite at a time
Encourage your employees to become Digital Citizens
Failing early is allowed and ok too
Have a Strategy in place. Reactionary approach never works
Follow and Learn from Experts. Learn from the businesses and organizations that are doing it well
Find out what stage of the maturity continuum you fall and have a mid to long term plan to becoming a Social Business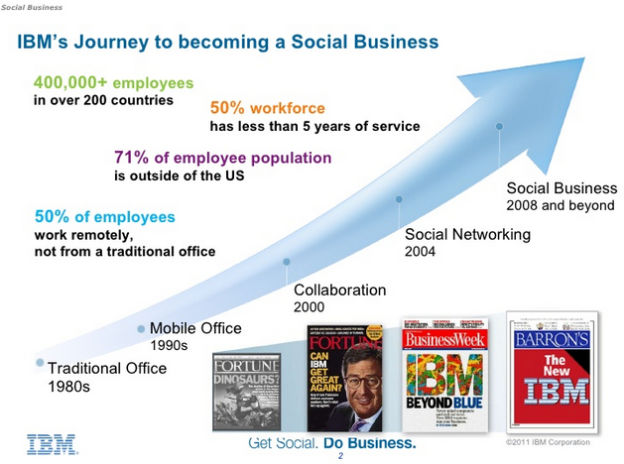 Reference Links