Technology
H-1B Visa: 3 Key Focus Areas for Indian IT Transformation
US immigration reforms will accelerate changes in delivery models of Indian IT companies: Automation, Virtual and more of local talent
The High-Skilled Integrity and Fairness Act of 2017 introduced by California Congressman Zoe Lofgren that proposed the increase in the minimum salaries of H1B employees to $130,000 is part of the immigration reform effort of US President Trump to prioritize jobs for Americans. By raising the salary threshold, the Bill aims to narrow the gap between standard pay for an American tech employee and that of a foreign one.
The industry has vociferously voiced their arguments against this Bill and how it affect negatively the US Economy from the short-term impact this policy will have (like the fact that higher cost of employment will ultimately mean higher cost of US companies buying IT services) to long-term impact (research reports that 20% of Fortune 500 companies were founded by immigrants and 50% of the US start-up ecosystem have an immigrant founder). However, this imminent change presents an opportunity for the Indian IT firms that have been under pressure for the last decade. Today, the Industry is ripe for disruption — on the one hand, traditional revenues have been declining, and while they still contribute 20% to the revenues, they depend highly on immigration legislation; on the other hand, the new revenue generated from digital, cloud and analytics products and services still represent a small percentage.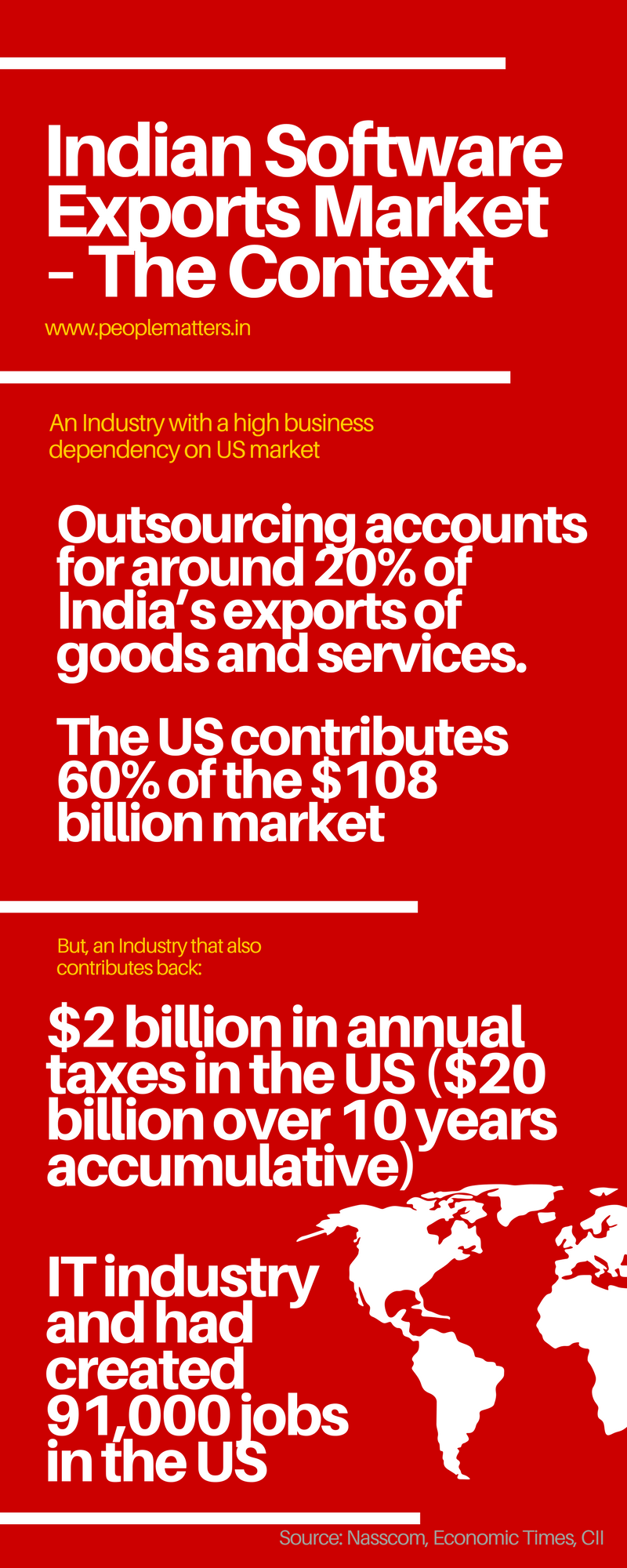 Since early 2000, Indian IT firms have highlighted how they are trying to shift their traditional linear business models by leveraging automation, AI, and changing their delivery models with near-shore and local delivery centers. This means a radical shift in how these organizations operate and structure themselves. Let us go deeper in each one of them:
Virtual Experience: The opportunity
Today, many of the projects are delivered onsite, and as part of the service requirement, it necessitates a large part of the team working onsite at the client location. How many people are required to be onsite? How many people talk to the clients face-to-face regularly? The reality is that with new, available and inexpensive technologies, IT organizations can reduce their mix of the onsite employee. Investment in virtual reality technology can make this happen today – teams can sit and work together and deliver superior service without actually being there in reality.
Hire locals and build local delivery centers
As per CII report, 100 Indian companies in the US had created more than 91,000 jobs. This trend of hiring local talent started in 2007 with TCS, Infosys, Wipro setting up "near-shore" centers and hiring locals, especially in the US and Europe.
On the one hand, the rising cost of operating the current model will reduce the Indian firm's cost arbitrage pushing increase in local hiring; on the other hand, newer business offerings like digital and cloud requires a different talent strategy that involve more consultative engagements and delivery closer to the customer.
"With or without Trump, the transformation in IT services would prompt Indian IT companies to be present close to the customers," said Dinesh Goel of ISG. Voices across the Industry have argued on the benefits of hiring more local talent and making this industry multi-national.
Automation, Automation, Automation
McKinsey's research suggests that as many as 45 percent of the activities individuals are paid to perform can be automated by adopting demonstrated technologies. The report, by McKinsey Global Institute argues that where automation is mostly software-based, we can expect to capture value much faster and at a far lower cost. In a recent interview with ET, Vishal Sikka of Infosys shared that "When we think about jobs which will go away, we are invariably thinking of the jobs of the past… because that is all we know about. We cannot foresee jobs that would be created. Most of us cannot. What it means for us is that the sooner we embrace automation, the better." Automation will be the third element of innovation in the IT delivery model and Indian IT companies will need to clearly look at the speed and focus of their automation efforts and determine how much to invest, where and when.
The effect of changes in the US immigration policy is yet to be seen but there are growing opposing voice from CEOs of the largest US companies, supporting and reassuring employees on their support for workplace diversity. Regardless of the pace and nature of this change, today's challenges present an opportunity for Indian IT firms to reflect on their business paradigms and focus on disrupting themselves before someone else does.