Technology
Here's what past participants of TechHR Startup Program have to say!
In the last five years, hundreds of startups have been showcased through the TechHR startup program. Hear from the previous participants as to how did they benefit from it.
The People Matters TechHR Startup Program has been bringing together early-stage startups in the HR technology space to interact with investors and buyers while showcasing their products to the decision-makers in the HR domain.
In the conference, the startups not only get a chance to participate and showcase at the Startup Zone for three days during the conference but also get a chance to their products to top investors and mentors. They get a chance for a One2One exclusive interaction with investors and an exclusive Masterclasses from India's Top VCs and startup entrepreneurs.
In the last five years, hundreds of startups have been showcased through this program. Naturally, the best endorsement comes from previous participants who participated in the program and benefited from it.
Let's hear from our past participants how did they gain from the People Matters TechHR Startup Program.
Hyphen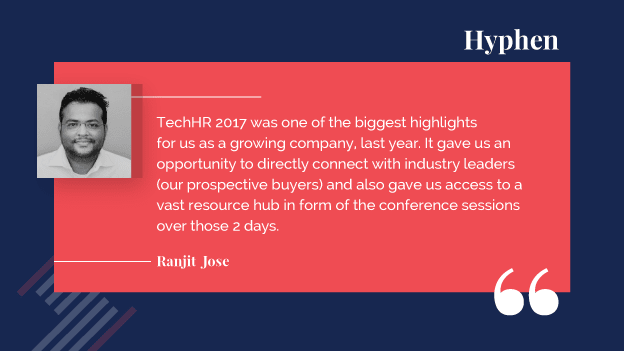 Hyphen, co-founded by Ranjit Jose and Arnaud Grunwald, also added that being at the startup program last year, it fueled them with enough mileage to be participating in Tech HR 2018 at a bigger scale.
Param.ai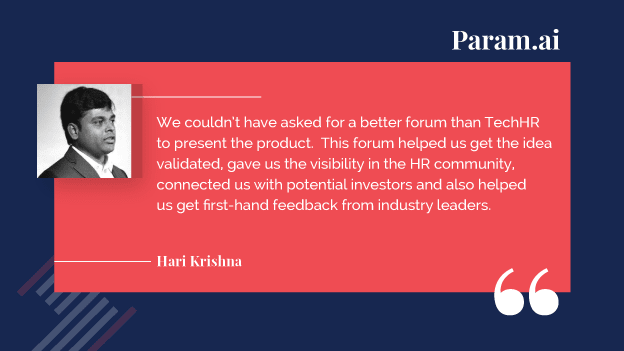 Hari Krishna, founder and CEO of Param and Ashish Sahoo, the CTO of the company added that TechHR helped them get connected with Singapore-based VC firm Yournest. While it was too early for the firm to have funding discussions during TechHR, the startup is in discussions with them and hoping for a positive outcome from subsequent discussions as the time is right now.
PayReview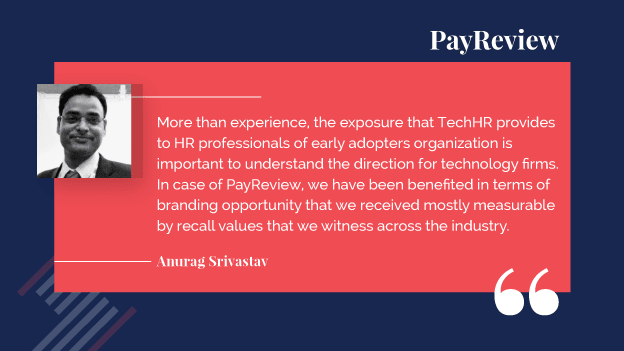 Scriptifi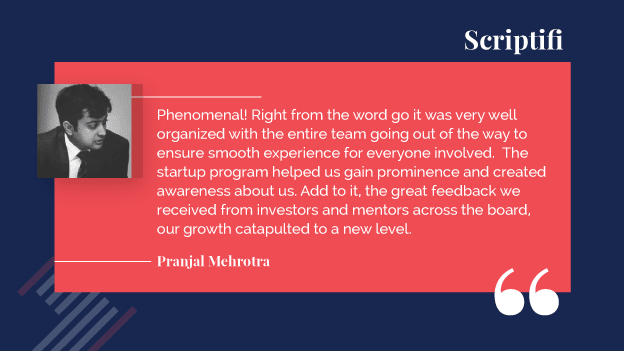 Pranjal Mehrotra, Founder and CEO of Scriptifi added that the program helped them connect with like-minded leaders who believe in its "Hi-Tech" and "Hi-Touch" model of hiring. The startup was just three months old (probably the youngest company) when they participated. It had a good start with 25 odd clients in 90 days of its journey leading upto the TechHR Conference. The program helped it gain prominence and created awareness about it.
Storecheq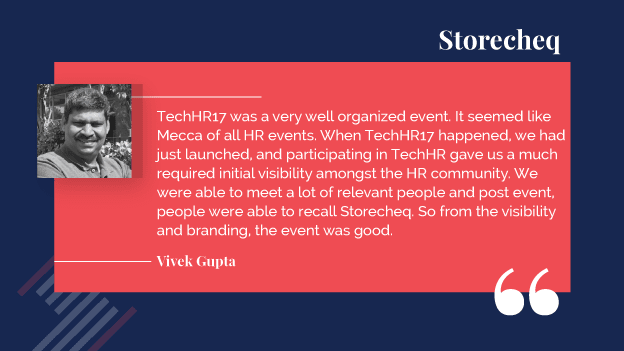 Vivek Gupta, founder and CEO, also added that the startup realized that the perception of its potential customers was good as it was part of the shortlisted Tech companies displaying over there.
Meet many more such startups at TechHR 2018. Click here to register.