Technology
How organizations can embrace digital
Customer centricity needs to be on top of the organization's digitization agenda, says Shiv Shivakumar, Group Exec. President - Corporate Strategy & Business Development, Aditya Birla Group, during the People Matters TechHR India 2020.
COVID-19 has forced organizations to quickly adapt digital and digitization has shifted from being a voluntary upgrade to a means of survival for organizations. Join this session to know how the road to digitalization starts from a mindset shift first and what other factors play a part in accelerating this change. 
Almost every company says that it is digitizing but Shiv shared his views on how one can take it forward. Here are some of the key lessons from the session:
Be on the right organizational mindset
If you look at organizations, organizations can be  proactive or reactive, however with COVID-19, most organizations have been reactive. Very few people have been proactive and are thinking ahead of time. Second, organizations can be functional or business led. Shiv shares that, "I think we have enough evidence to say that we need organizations to be business led which means consumers and customers where all at the centre of activities and organizations should be aligned to it." Further, the organizations can be internally focused or externally driven. The best organizations are externally driven, they sense the environment, they know how harsh conditions are and they align accordingly. They don't sit in the boardroom, they don't sit in theri cabin and measure themselves on SLAs and KRAs which they are comfortable with. Great organizations measure themselves on external KRAs which are  market share, customer satisfaction, etc. "Finally, listening to the customer and consumer, I think is most important for us and we need to be extremely clear about the choices we made. Many times we make choices out of clarity or we can make choices that lead to chaos," shares Shiv. Shiv says that he wants businesses to reflect upon the type of organization mentality as they look ahead in terms of  what they can digitize or what they cannot.
Approaching digital
Different industries have a different approach towards digital. The first step is knowing whether your industry displays disruption happening to you and then deciding on what's your approach and what you can learn from different industries. Never think that your industry cannot be impacted and that only a particular industry can be impacted. Shiv shares that iit is an absolutely ordinary thinking which people display in order to not to respond to whatever is happening.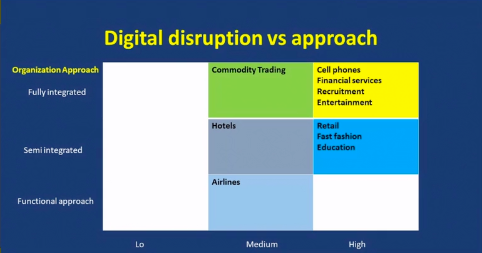 It always starts and ends with customers
Every business starts and ends with customers- satisfying current customers, getting new customers, or losing your customers. Good businesses are those which are getting new customers and satisfying current customers. In a digital world, it is about personalization- you have a lot of data about the individual or the consumer.How can you personalize for them? Second is what unique experience you can offer that consumer and third, how can you connect the consumer to the virtual community?