Technology
How Sense is helping recruiters engage with contingent workforce
Here's how a U.S based work tech startup is helping recruiters enhance candidate engagement throughout each candidate's job cycle, especially for the contingent workforce.
For the past decade, the contingent workforce has increased, and now at almost 41.5 percent, is rapidly moving to make half of the total workforce. As the contingent workforce grows, staffing firms and companies struggle to engage with them. 
Anil Dharni a former investor and former Chief Operating Officer, GREE International realized the engagement gap among staffing firms, contractors and employers back when he was building his previous company and working with recruiters to hire for his own team. He identified the flaws in the existing communication and engagement methods. 
Anil Dharni, CEO and Co-founder of Sense shares, "Despite how fast the contingent workforce is growing and how much value the cohort represents for the $461 Bn staffing industry, there is little to no interaction between the staffing firm and contractor, or insight into what drives a contractor's engagement on the job."
He adds that most recruiters are working with piecemeal point solutions, manually handling their interactions with potentially hundreds of contractors, each at different phases of their employment cycle. 
Anil exclaims, "Frequent contractor check-ins and the accompanying data entry to track these exchanges is highly unproductive: contractor response rates are under 5%, rendering the effort a waste of time. Aside from this administrative headache, 20% of contractors will renege on a job between offer date and start date and 15% of contractors will leave an assignment early."
Anil took it upon himself to free recruiters and employers from these efficiencies and in 2017 launched Sense, a smart talent engagement and communication platform. 
Recruiter - Candidate: Enhancing engagement & improving the experience
At the initial stage of the hiring process, Sense automates applicant engagement and reminder messages to candidates. The platform allows the recruiters to juggle multiple candidate conversations from checking in after an interview or sending a dress code reminder the evening before the employees' first day on the job. 
For instance, Adecco Group US Foundation used the Sense platform to strengthen their engagement with their workforce and the platform help them garner a much higher response rate on surveys. 
"Sense significantly helped us strengthen our engagement with our workforce, ensure a much higher response rate on surveys and achieve a faster turnaround when sharing information and communications," shares Joyce Russell, President of Adecco Group US Foundation.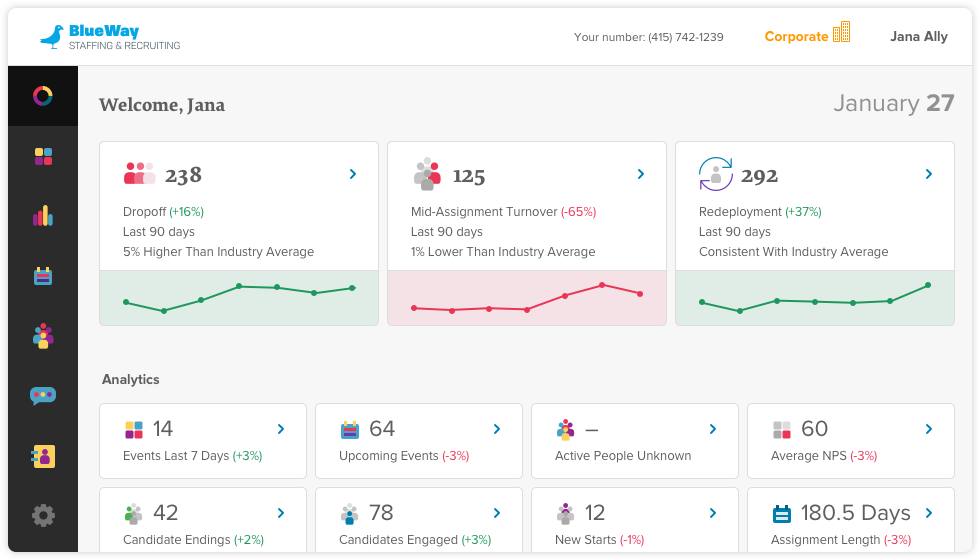 Apex Systems, on the other hand, was able to give their candidates and contractors the highest level of service by adding Sense to their ecosystem. 
"Sense's combination of a people-first approach and strong analytics has definitely given us an edge," said Rob Lowry, Executive Vice President of Apex Systems
The recruiters can also customize the SaaS product as per their needs and get real-time feedback, status updates, NPS scores, and attrition prediction that enhances decision making and increases preparedness. This personalized communication clears the path for recruiters to put their focus on what's moving their business forward while establishing the strongest possible connection with their contractors.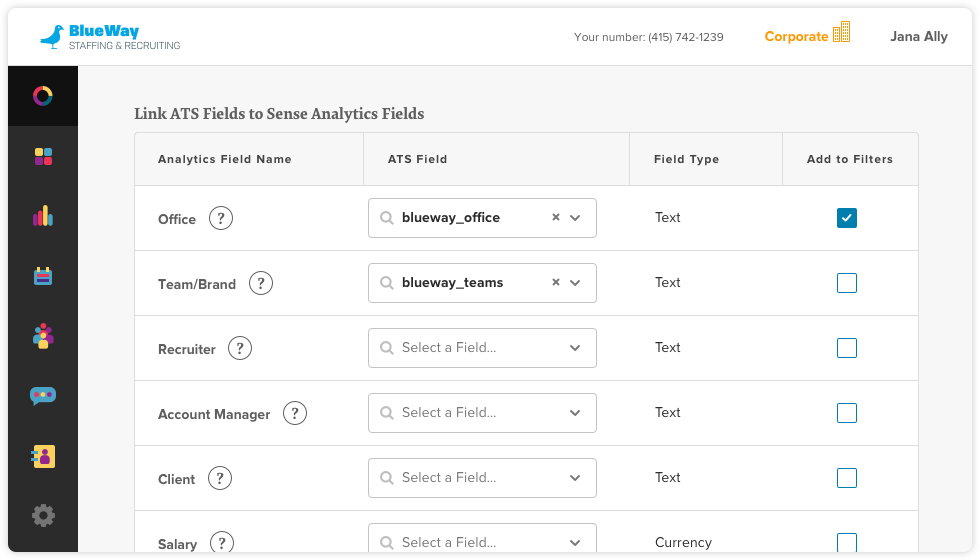 IT Avalon for example used Sense's automation to keep their outreach as personalized as possible while maintaining an efficient workflow. April Starlight, Director of Vendor Managed Programs, IT Avalon said, "I immediately saw the benefit of having automated check-ins and reminders that go out based on actions within our ATS."
Paired with the platform the Work tech startup also recently launched a messaging app called, Sense Messaging. Sense's SMS solution allows recruiters to personalize interactions throughout the employment cycle, from before the contractor's first interview to their redeployment.  It can also be synced with the company's ATS.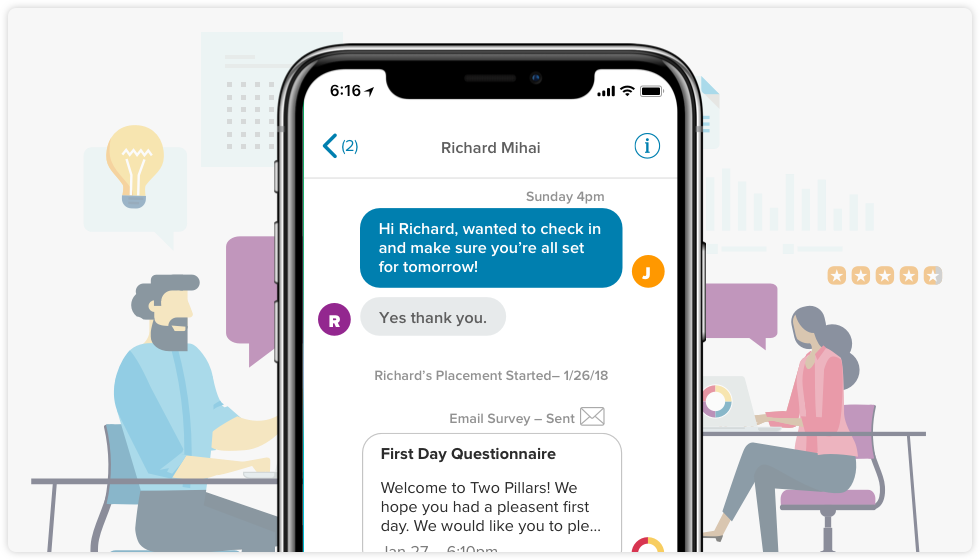 The Future: Accelerating investment in R&D & exploring other geographies
Recently, Sense also raised $13.5 Mn in funding led by Google Ventures, which also saw the participation from Accel and brought total funding of the startup to $23.5 Mn. 
Anil shares, "This funding injection was important for us as we are accelerating our investment in R&D and sales to support our rapidly growing customer base."
Sense is also expanding globally with customers already in Australia, Canada, and the UK. But they don't plan to stop here. With over 200 customers globally and over 20 million candidates in the United States, Anil has ambitious goals for the startup's future. Having worked with staffing firms like Adecco, Apex Systems, and the Staffmark Group, Sense will now explore opportunities in more countries and seek to expand its customer base.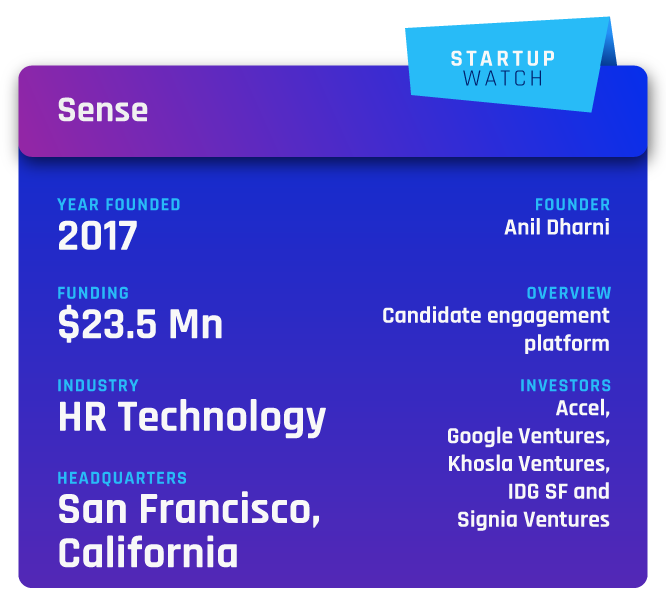 As the gig workforce continues to increase, the need for engagement tools like Sense will also increase among the staffing firms. But Sense is not the only one in the space. Many players will soon realize the opportunities the market holds and more such solutions will emerge in the near future.  
Amidst the competition, Sense has to ensure it keeps its offerings as unique as possible. 
Staying ahead of the curve in the rapidly growing Work tech space
Commenting on the competition in the market, Anil says, "We consider other contractor engagement platforms as our indirect competitors, however, there are not many companies that are approaching the industry like we are."
The solution that Sense provides benefits staffing agencies by providing them with real-time insight into their talent pools which allows them to further engage with their contractors more effectively. Using Sense's automation contractors are given the individualized attention they desire and are better matched to jobs that are best suited for them. Satisfied contractors eventually yield more loyalty to the staffing agency.
While the overall Work tech space is growing rapidly across the globe, the recruitment tech space, in particular, seems to form the maximum share of it. Candidate engagement, in particular, has gained a lot of popularity in recent times and has become the top priority for companies. Many startups like Zoho Recruit, GetApp and BreezyHR are also helping staffing firms and companies engage better with candidates. Amidst such competition, Anil and the entire team of Sense have to continuously work towards keeping their solutions unique to ensure that they always stay ahead of the curve. 
Anil remains optimistic about the future of both Sense and the entire work tech space as he envisions more staffing firms adopt tech-driven solutions. 
"As more staffing firms see their competitors reaping the rewards of tech-driven processes they will search for their own solutions," said Anil. 
Image Credits: Blue Horn