A Brand Reachout Initiative
Technology
Jobs of the future: Where are they headed?
TechHR Singapore 2019 Read similar articles
Governments and organizations have started waking up to the reality that jobs are going to change in the future. What remains to be seen however is how fast will they be able to adapt and reskill the workforce.
Take a look at the following jobs-
1 mobile app developer 
2 social media manager 
3 Uber driver 
4 cloud computing specialist 
5 driverless car engineer 
6 data scientist 
7 drone operator
8 Sustainability manager
9 YouTube content creator
10 Millenial generational expert
While many of these jobs seem pretty familiar to us, these are actually pretty recent. These are those few jobs that did not exist 10 years ago. The future appears to be coming on to us at a much faster rate than ever before. While we still debate AI and whether or not it will create more jobs, the world around is changing faster. As per the latest report 'Future Of Jobs' by the World Economic Forum, take a look at this timeline of when machines can achieve human-like capabilities: 
2024: translating languages 
2025: assembling LEGO
2026: writing high school essays 
2027: autonomous trucks
2029: run a 5K race against people 
2030: customer service in retail
So what exactly is the future of our jobs? And more importantly, are we prepared for it?
A cluster of emerging roles will gain significantly in importance over the coming years
As per the report, a cluster of emerging roles will gain significantly in importance over the coming years, while another cluster of job profiles are set to become increasingly redundant. Across all industries, by 2022, the cluster of emerging professions is set to increase its share of employment from 16% to 27% of the total employee base of the company respondents which participated in the survey (representing over 15 million workers in total), whereas the employment share of declining roles is set to decrease from currently 31% to 21%.
About half of today's core jobs—making up the bulk of employment across industries—will remain somewhat stable in the period up to 2022.
Within the set of companies surveyed, representing over 15 million workers in total, current estimates would suggest a decline of 0.98 million jobs and a gain of 1.74 million jobs. Extrapolating these trends across those employed by large firms in the global (non-agricultural) workforce, it is estimated that upto 2022, 75 million jobs may be displaced while 133 million new roles may emerge that are more adapted to the new division of labour between humans, machines and algorithms.
So which jobs are set to become redundant?
Across the industries surveyed, jobs expected to become increasingly redundant over the 2018–2022 period are routine-based, middle-skilled white-collar roles—such as Data Entry Clerks, Accounting and Payroll Clerks, Secretaries, Auditors, Bank Tellers, and Cashiers. There are jobs that are susceptible to advances in new technologies and process automation.
Meanwhile jobs such as Data Analysts and scientists, AI and Machine Learning specialists, software and application developers and analysts are expected to increase is demand.
Similarly, when it comes to the skills in demand, those like analytical thinking and innovation, active learning, creativity, technology design, and programming will tide over skills like manual dexterity, memory and spatial abilities, and technology installation and maintenance.
Factors affecting the future of jobs
As per the global employers surveyed for this report, four specific technological advances—high-speed mobile internet, artificial intelligence, widespread adoption of big data analytics, and cloud technology—are the positive drivers which will dominate the 2018–2022, affecting business growth positively. These are flanked by a range of socio-economic trends driving business opportunities in sync with the spread of new technologies, such as national economic growth trajectories; expansion of education and the middle classes, in particular in developing economies; and the move towards a greener global economy through advances in new energy technologies. 
Meanwhile, technological and social trends expected to negatively impact business growth include increasing protectionism, cyber threats, shifts in government policies, the effects of climate change; and increasingly aging societies.
Also accelerated technology adoption, changing geography of production, distribution and value chains, and reskilling imperatives will shape the future of jobs.
By 2022, according to the stated investment intentions of companies surveyed for this report, 85% of respondents are likely or very likely to have expanded their adoption of user and entity big data analytics. Similarly, large proportions of companies are likely or very likely to have expanded their adoption of technologies such as the internet of things and app- and web-enabled markets, and to make extensive use of cloud computing.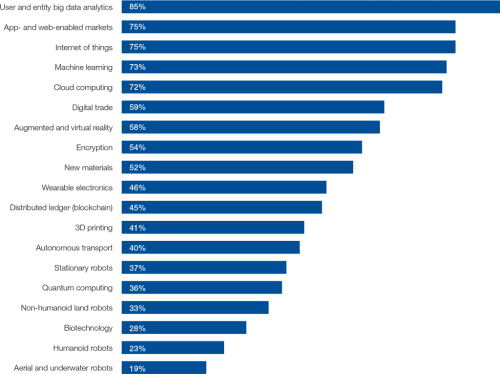 Preparing for the future
Governments and organizations across the globe have started waking up to the looming changes ahead and realizing that reskilling imperatives need to be at the forefront to prepare for the future. 
In September, Udom Kachinthorn, Deputy Minister of Education, Thailand, stated that by 2030, 72% of university graduates in Thailand could be either unemployed or working in a job that does not require a bachelor's degree as their jobs will have been taken away by artificial intelligence and robots. The Minister stressed on the fact that digital transformation will totally redefine the way people work, live and learn. He urged that Thai universities must embrace change by employing digital technology to make content more lively and relevant. 
Similar initiatives are being undertaken across various organizations in Singapore. Last month, Singapore's National Trades Union Congress (NTUC) has partnered with Singapore Polytechnic (SP) to equip more than 1000 workers for the future of manufacturing. The NTUC hopes to impart knowledge about smart technologies and new manufacturing techniques to the existing workforce through this initiative. The main aim of the partnership is to prepare companies for Industry 4.0 and create a skilled human resource pool. 
Singapore is seeing several such partnerships between trade unions, government entities, and higher education institutes. Earlier in July, Singapore Polytechnic was a part of the cluster that launched SAP Skills University Singapore to develop training programmes that would help Singaporeans to build skills in the ICT sector. 
Back home, in India, too, organizations are waking up to this challenge and investing in development initiatives. For instance, this July, National Thermal Power Corporation Limited (NTPC) has rolled out a slew of L&D initiatives as it seeks to align its people strategy with the changing business environment. The organization is focusing on learning and development through experiential learning and custom-made management development programmes.
Last month, Indian Prime Minister Narendra Modi allayed fears of job loss due to technological development, stating that the '4th Industrial Revolution' will change the nature of jobs and provide more opportunities. Speaking at the launch of the Centre for the Fourth Industrial Revolution, he said artificial intelligence, machine learning, Internet of Things, Blockchain and big data hold the potential to take India to new heights. The WEF's new Centre for the Fourth Industrial Revolution in India would endeavor to bring together the government and business leaders to pilot emerging technology policies.
Thus, the silver lining is that governments and organizations have started waking up to the reality that jobs are going to change in the future. What remains to be seen however is that as technological advancements pose challenges to existing business models and practices and change them, how fast will we be able to adapt and reskill the workforce to this changing future. Along with a bold leadership, it also requires an agile mindset of lifelong learning from employees.
If you wish to learn further about the future of jobs, join us for People Matters TechHR Conference on 28th February 2019 at Marina Bay Sands, Singapore. Register now!