Technology
Point solutions in HR tech - newer categories
Noticeboard and Beqom are two companies which have shown that there is a lot of room for innovation in the HR technology space. Read on to know more.
Most HR tech solutions are broadly categorized either as HRMS or point solutions. HRMS would typically address multiple areas within HR while point solutions look to specialize in one particular aspect like performance management, reward & recognition, Talent acquisition, Talent assessment and many other such categories.
Employee communication is one category which is getting attention and many HRMS solutions are looking to include communication-related aspects in their solution. Most solutions in this space are either collaboration tools or reward & recognition solutions which also have a communication aspect, however very few focus on internal communication alone & look to improve the process.
While looking to solve the communication problem, companies need to consider mobile phone as the user interface. If you are asking why, consider this: in a country of 1.3 billion people, India already has about 1.2 billion mobile phones in use. The total number of unique users is about 616 million, the 2nd largest in the world. India is also the 2nd largest smartphone market with about 275 million smart phone users. The decision to move from feature phone to smart phone is of convenience and economics. With more and more technology coming in the lives of consumers; organizations geared to deliver to these consumers are bringing technology to their last mile guys. So it's highly likely that the last mile person will encounter smart phone at work first before he or she switches over to it in his or her personal life. After all, we all were introduced to Blackberry phones primarily at work.
These are the facts that play in favor of Noticeboard. A Bangalore based company started in 2016 by 3 technocrats who are looking to make the organizational communication more inclusive. The problem Noticeboard is looking to solve is an interesting one and the fact that they recently got USD 1.2 million funding from Stellaris Venture Partners and other angel investors; indicate the investor interest in this space.
Alok Goyal, Partner at Stellaris Venture Partners sums it up when he says "Despite nearly three decades of email and, thereafter, a variety of communication tools for the desk workers, enterprise communication eludes the frontline staff. With over 300 Mn such workers in India and 2 Bn globally, we believe that this is a massive opportunity and one that should naturally come from India"
The solution will hopefully also help companies ensure that the interaction with frontline staff is interactive, engaging, fun and secure. Many companies today use Whatsapp group to share internal company information but once the information is on Whatsapp it can easily be sent to anyone else outside the network. Companies looking to strengthen their internal communication aspects and especially companies in retail, education, hospitality and other similar sectors would find a great use case for this solution.
The other interesting category apart from internal communication is Compensation Management. Typically in large enterprises; compensation and benefits (CnB)is a specialized function within HR which looks at designing and reviewing CnB plans.
The CnB group is typically focused on following key objectives – keep compensation competitive with respect to market, ensure compensation is compliant with all applicable legislation, review compensation annually, identify and align benefits to legislation and market requirements apart from others.
Within the compensation category, sales compensation has always been treated separately because this function will allocate sales quotas and work out commission rates which could be different based on geography and product category or both. Essentially compensation management in general and sales compensation management, in particular, have been regarded as specialist roles within the organization.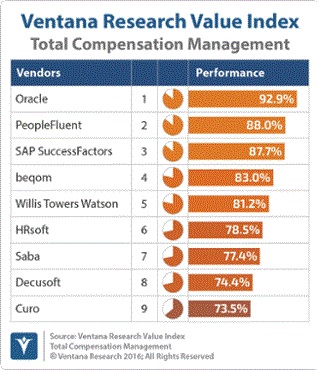 If you look at the G2Crowd report on sales compensation management you would find almost 2 dozen solutions including some which are part of a larger HRMS or HCM suite like Oracle, but largely these are point solutions. The same site then lists a lot more player under the category of benefits administration thus indicating almost 4 times more player in benefits administration than sales compensation management. The other noteworthy fact is most players in benefits administration do not have a sales compensation management solution and vice versa.
As per Ventana Research, Total Compensation Management software does not integrate with talent management applications while some vendors have started to address this gap. Their total compensation management value index evaluated 9 vendors whose products address key elements of total compensation management. The result is captured below.
One company –
beqom
– is an interesting story here. With their total compensation SaaS solution, they are one of the few companies out there who offer both sales compensation management and overall compensation management. This is one solution which is very clearly focused on large enterprise global organizations and has some 'A' list customers across geographies and sectors.
beqom has recently secured a funding of USD 35million from Goldman Sachs. While explaining the rationale for this investment Chris Resch, Executive Director, Private Capital Investing at Goldman Sachs said "We initially spotted beqom because we had identified the market they are in as a strong opportunity for growth. When we later met with beqom, we saw a unique solution with an impressive customer list and a very experienced team"
Founded in 2009 with 5 out of 8 senior leaders coming from SAP, beqom's team is of largely technocrats who have worked with large enterprise solution providers like SAP, Microsoft, and CornerStone. They all seem to have come together at beqom to solve this problem which probably was apparent to them while they worked in these large organizations and may have experienced it from both sides of the table.
Both Noticeboard and beqom indicate that there is a lot of room for innovation within the HR Tech space. Companies need to continue to look for expertise, experience and then combine that with credible user interaction data to finally convert it into a compelling and engaging solution. It is critical that companies do this entire process well because if you leave one of this half baked, you could lose all the hard work done in the previous stages.
With such new categories of point solutions getting interested from investor communities it is clear that HR Tech space is ripe for action and we will continue to see a lot of innovation and consolidation in this space over next few years.