Technology
Where does 'Startup India Standup India' stand now?
The whole premise of the Startup India movement was to make India a startup nation. As the BJP led NDA government completes its four years, its time to look at all those promises made and evaluate-has India actually become a startup nation?
It was on 16 January 2016 that Prime Minister Modi unveiled his 'Startup India, Standup India' Plan, in front of the 1500 rapt representatives of the startup community. It was probably the first time that the government went ahead and engaged with a section of society, which was not represented by any powerful industry or lobby groups or business families but rather a breed of entrepreneurs, the majority of whom set foot in those august corridors for the first time in their lives.
The idea was simple-simplify compliance and roll out an action plan for giving a fillip to innovation and entrepreneurship in the country. In this direction, the government announced measures such as compliance based on self-certification, a mobile app to provide on-the-go accessibility for registering startups with relevant agencies of the Government, creation of a Startup India hub, legal support and fast-tracking patent examination at lower costs, tax exemption for startups, providing funding support through a Fund of Funds with a Corpus of Rs 10,000 Cr, and launching of Atal Innovation Mission among many other initiatives.
The whole premise of the government was to make India a startup nation. As the BJP government completes its four years, it's time to look at all those promises made and evaluate-has India actually become a startup nation? Have things eased out for entrepreneurs who want to take a plunge in entrepreneurship? How much support has the government been able to provide as far as the funding problem for startups is concerned?
Funding for startups-where does it stand?
In line with the Startup India Action Plan unveiled by Government in January 2016, the Union Cabinet approved the establishment of "Fund of Funds for Startups" (FFS) in June 2016 at the Small Industries Development Bank of India (SIDBI) for contribution to various Alternative Investment Funds (AIF), registered with Securities and Exchange Board of India (SEBI) which would extend funding support to startups.
The corpus of FFS was set at Rs.10,000 Cr to be built up over the 14th and 15th Finance Commission cycles subject to progress of the scheme and availability of funds. The fund was expected to generate employment for 18 lakh persons on full deployment.
How much of this fund has been disbursed to further the cause of startups?
As per a media report, SIDBI has so far committed Rs 1,285 Cr to 27 local venture capital funds under the FFS scheme, of which Rs 141 crore —only about 11% has been disbursed to these funds till April 2018. The funds are then expected to route the money to startups.
What happens under the FFS is that money is routed to startup entities via participating AIFs. SIDBI makes contributions to AIFs that vary between 10%-20% of the target corpus of each AIF while the balance 80%-90% funds are raised from other contributors for investing in equity and equity-linked instruments of startups.
As per the report, of the above-mentioned Rs 141 Cr, disbursed to early-stage ventures till the end of April, around 124 startups have been reported as beneficiaries.
These include startups such as Truebil, Loanzen, Earlysalary, Inc42, Fitternity, InnerChef, Zenatix, among others. Here's a look at some others-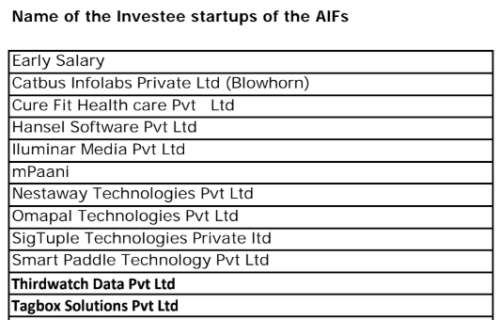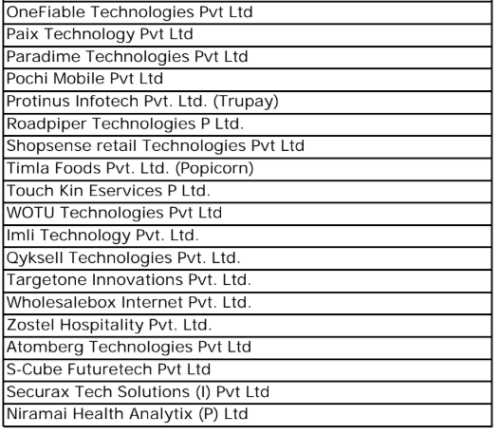 So far, Rs 600 Cr has been released by the Department of Industrial Policy and Promotion (DIPP) to SIDBI, of which Rs 500 Cr was released in FY16 and Rs 100 Cr in FY17. But DIPP is not impressed by the low disbursement of funds under the scheme and is learnt to have undertaken before a Parliamentary panel that it will not make any releases to SIDBI during FY18 and FY19. The reason being cited is "unspent balance".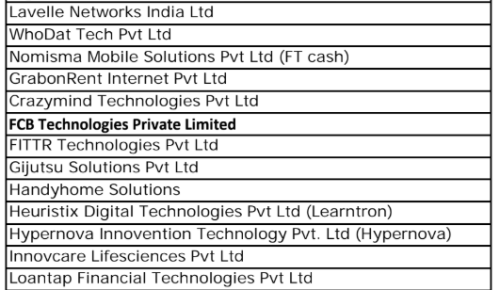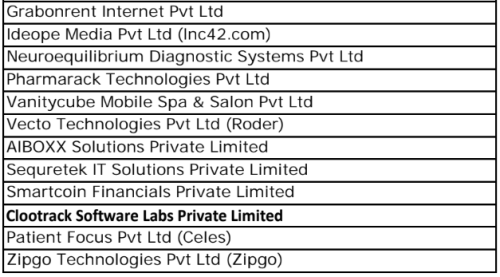 On the slow disbursement of funds, SIDBI added that the funding dynamics of venture capital industry is very much different from the normal lending. An AIF normally takes 1-2 years to raise the targeted corpus of the fund and after that has a window of 4-5 years to find support-worthy startups and to make investments in them. Therefore, the actual flow of funds from AIFs to startups may take up to 3-5 years from the time they start raising funds.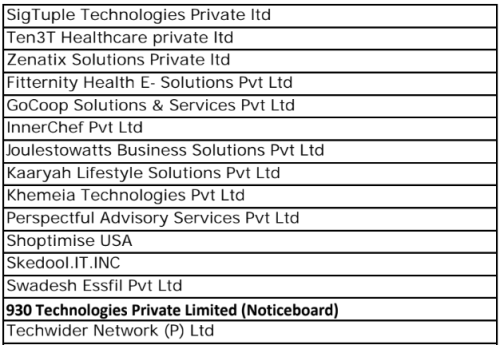 Despite the slow disbursement, SIDBI is confident of making total commitments of Rs 2,200 Cr to AIFs by the end of FY19 which is in line with the target of Rs 1,000 Cr per year.
Will it be able to? Given the fact that only 124 startups have made the cut yet, the next FY will be crucial to watch out for if the fund is able to meet its disbursal target.
The 10,000 startups for 2500 scalable businesses-where are they?
One of the major ideas behind setting up the dedicated FFS for startups was to drive entrepreneurship and business creation through startups, which is crucial for large-scale employment generation.
An expert committee on Venture Capital (VC) has opined that "India has the potential to build about 2,500 highly scalable businesses in the next 10 years, and given the probability of entrepreneurial success that means 10,000 startups will need to be spawned to get 2,500 large scale businesses".
It is with this in mind that in 2013, the National Association of Software and Services Companies (NASSCOM) started its '10,000 Startups' initiative, to aid the growth of 10,000 startups in the country over the next 10 years.
The number of startups in the country has been steadily rising.
As per the NASSCOM Startup Report released in November 2017, the total number of technology startups stood at nearly 5,200. While the number of startups has been growing, but the pace of growth has declined over the years.
According to data from research firm Tracxn, the number of new startups has now dropped steeply for two years in a row, with only a 1,000 startups added last year. Similarly, volume of deals and investments has also seen a drop last year after the euphoria of 2015 and 2016 though on the positive side, foreign PE and VC firms investing out of their global/Asia funds in Indian startups have increased 96% to $16,728 Mn in 2017 compared to $8,497 Mn in 2016.
The Flipkart-Walmart deal is a validation for the Indian e-commerce and Internet startups but still many will have to innovate and find scalable business models. The mushrooming of SaaS and fintech startups that have stronger filters for user adoption and revenue generation and funding compared to hyperlocal and delivery startups is a welcome sign in this direction.
To startup or not to startup?
It cannot be denied that the present Modi government has cut through many of the procedural bottlenecks which enabled India to jump 30 places in the World Bank's Ease of Doing Business rankings to break into the top 100 nations.
Even on the startup front, it has taken steps to ease out the red tape maze for startups. For instance, the National Portal of India facilitates a single window access to information and services provided by the government for startups.

Click on the image to enlarge
Similarly, the Startup India Online Hub is another platform where all stakeholders of the Indian entrepreneurial ecosystem can connect and engage with each other. Then there is eBiz portal launched this year which enables Indian startups to get various licenses and approvals hassle free.
Friendly policies have played a key role in increasing foreign investments in Indian startups as mentioned above. Foreign venture capital and private equity funds are making their way into India more and more, especially from Japan, Europe, and West Asia. This is on account of the startup-friendly policies and tax relief measures from the government.
Upasana Taku, co-founder, MobiKwik told PeopleMatters, "The Modi Government's biggest achievement is promoting the culture of digital transactions and transparency in operations. Demonetization and GST have played a pivotal role in the digital transformation of a nation that was predominantly dependent on cash. Big-ticket initiatives like 'Startup India', 'Make in India' and initiatives aimed at boosting the 'Ease of Doing Business' have helped create a conducive environment for entrepreneurs."
But the government still remains silent on the dreaded angel tax reforms, whose blatant imposition remains a bone of contention and acts as a deterrent to the inflow of investment in startups.
Will startups create the projected 1.8 Mn jobs?
The job creation card is one of the most important planks which were the basis of the Startup India movement. PM Modi stated at its launch that the nation is nurturing its youngsters to be job creators and not job seekers.
A significant onus of this has been put on lies on startups. Hence the government set an ambitious target of creating 1.8 Mn jobs by 2020 under the Startup India action plan. But a reality check will show that at the moment, this plan is but a moonshot.
As per reports, the 5,000+ DIPP recognized startups have been able to create some 80,000 jobs only.
As per an IBM-Oxford report, over 90% of Indian startups shut down in the first five years. India's startup ecosystem is still a maturing one and cannot be expected to become a major job creator overnight. It took decades for Silicon Valley to be what it is today. Similarly, the Indian IT industry took almost three decades to become the $150 Bn industry it is today, hiring over 3.7 Mn people directly.
Hence PM Modi's wish for these startups to create large-scale job creation will have to wait. What this government has been able to achieve is to make the conversation about startups mainstream. But many key policy initiatives such as angel tax reform are needed before startups actually begin contributing significantly to the mainstream economy in terms of jobs and GDP.
(As BJP Government is completing its 4th year of governance, this is the last article of the five parts series that discusses the current scenario of the Indian government and how impactful they have been.)