Technology
WhistleDrive's CEO on enhancing employee transportation experience with tech
WhistleDrive uses AI for dynamic optimization and blockchain for data transparency, which Rakesh Munnanooru, Founder & CEO, WhistleDrive believes gives them an edge over other competitors in employee transportation space.
For many organizations, ferrying their employees from door-step to office and dropping them back is indeed a very challenging task. It requires careful planning, advanced technology support, timely action and periodic analysis. The solution lies in the integration of traditional transportation models and technology. With technologies like AI, ML and blockchain, organizations can have more efficient employee transportation solutions and ensure safe and convenient travel for their employees, and enhance their experience. 
Ridesharing services have witnessed an unprecedented growth in recent years. With convenient transport and safety as priorities, many individuals demanded for such services and created more demand for companies like Uber and Ola. While the B2C tech-based ridesharing services gained traction swiftly, such services in employee transport operations still lack behind. 
But there are some emerging companies like MoveInSync, WhistleDrive, and Routematic, which are leveraging technology and helping organizations move away from traditional employee transportation models and making them adopt more efficient and data-driven process. 
We interacted with the Founder & CEO, of one of these startups WhistleDrive, Rakesh Munnanooru, who shared how with the help of  technology organizations can enhance employees' transportation experience.
While the trend for ridesharing services and employee transportation has increased over time, has the adoption by corporates been in tandem with this trend? If not, where do you think are they lagging in terms of adoption?
Technology adoption in personal transportation has moved quite ahead. However, corporates are catching up to the wave and are increasingly looking at solutions that will enhance employee convenience and safety. 
With 'High Productivity Workplaces' being the new trend, corporates are super focused on absorbing technology at every level to increase efficiency and attract good talent.
For employees, office commute is how their day starts and ends. So, transportation experience plays a crucial role in their productivity. Unlike B2C, B2B transportation has a diverse set of challenges that varies from one organization to another. Naturally, the adoption of technology would be slower. Until a few years back, technology solutions for employee transportation existed independent of Transportation Vendors. But this trend is now changing as corporates look out for an integrated solution, TAAS - Transportation as a service compared to SAAS which is exactly where WhistleDrive fits in.   
As you mentioned, corporate employee transportation is complex in terms of operation and requirements. How are you tackling this challenge and helping organizations overcome it as well?
Corporations are increasingly looking for automated data-driven solutions to ease the process of transportation. The idea is to bring in significant improvement in operational efficiency and achieve overall cost minimization. 
The major challenge was to address inefficiencies in the current traditional model and help transition the industry to adopt a data-driven process. Hence, we founded WhistleDrive and came up with an integrated cabs + software model which helps organizations adopt the transition with much ease. 
Powered by AI-driven analytics, WhistleDrive provides an end to end automated employee transportation solution. With our software, we strive to fully reduce manual intervention and ensure significant cost savings for the user. Further, timely service leads to high employee satisfaction. Our live tracking dashboard enables an eagle eye real-time location view of all the cabs to the employer's staff on an interactive map to ensure efficient coordination and high employee security and safety. With Uber like Apps for both Employees and Drivers, we give access to real-time tracking, ETA and trip updates.
How does tech come to play in improving employee transportation? What all technologies are you using in particular?
With the help of software, we can have a holistic view of the entire operations flow. We get alerts for any of the important metrics like cab delay, cab over speeding, cabs away from the network, and /or if any cab is crossing the geo-fence and other metrics. Every alert will be shown on the live tracking dashboard and so that the transportation team can take swift action.
For the employee app, apart from the live tracking, SOS is a feature that is specially integrated for women's safety. When they feel unsafe/ uncomfortable in the cab, they can tap on the SOS button and it immediately sends an alert to the client-side transportation team, our team and a message will be sent to their emergency contacts along with the tracking link. This feature makes employees and clients feel safer.
We have leveraged Artificial Intelligence for the entire process from route optimisation to billing. For the client data integrity and data safety, we started to use blockchain to ensure data transparency. 
Additionally, the software also powers women employees with more safety with the help of the features like SOS. 
The whole process has no human intervention to manipulate the data and blockchain secures the data; the billing is totally accurate and clients can view the entire activity anytime they want for a proof check.
Software also helps the clients with significant data. It gives a detailed report of the transportation on the dashboard and shows the possibilities/suggestions like route optimization, seat optimization, cost optimization, change of vehicle (from a 4 seater to 7 seaters) etc., along with other key metrics.
How do you foresee the industry to evolve in the next two years? What all new technologies do you think might emerge in the future? Or how do you think companies will be able to leverage the current technologies better in the future?
Since the entire industry is moving towards technology and data-driven processes for efficient and transparent employee transportation, the next two years are going to be a transition period for all the existing organizations to adopt software into their systems. And soon we will see fleet + software becoming a common practice in the entire employee transportation space.
Thanks to the state and central governments for driving an ecosystem where more electric cars might soon be out there in the market. Currently, at a nascent stage, there is a huge revolution around the corner. Electric vehicles will slowly replace the existing vehicles and companies will surely pick the trend. 
For us, the emergence of electric vehicles, would be something to watch out for.
What are your plans for the future, in terms of product and geographical expansion? 
We are expecting to raise around $10 Mn in Series B in Q4 this year. With a presence in Hyderabad, Bangalore and Chennai, we shall look to expand in Pune as well. Post funding, we will focus on expansion and vertically scaling in all the four cities. 
We are also working on Predictive AI which can look at metrics like traffic, weather conditions and alerts the teams and driver-partners to send out dynamic recommendations for optimization. Lastly, we are  building a transportation ecosystem where our technology should enable companies in solving inefficiencies in Inter & Intra City Logistics particularly in E-Commerce & FMCG channels.
Who are your closest competitors? How do you ensure you stay ahead of the curve amidst such competition?
In terms of technology, our closest competitors include MoveInSync, Safetrax, and Routematic and in Fleet, we have competitors region-wide.
With robust in house technology and expert operations team with rich industry experience, what we offer is a seamless transportation experience not just for employers but also employees and drivers. We use AI for dynamic optimization and blockchain for data transparency which gives us an edge over other competitors.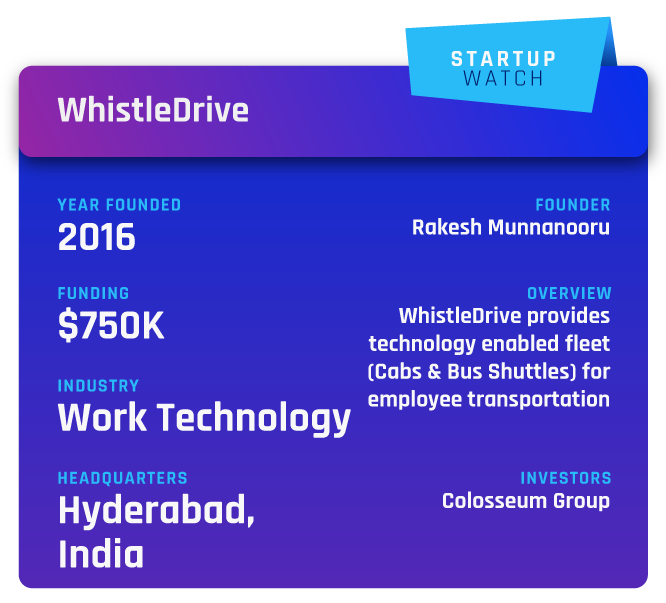 Image credit: Shiv Nadar University