A Brand Reachout Initiative
Technology
Workplace 4.0 – Here's how machine learning is transforming HR

HR Tech that Matters Read similar articles
Here's how machine learning is re-defining the experience at work and revolutionizing the HR function.
Change is the only constant. And it is technology that is at the forefront of driving change at the modern day workplace.
Although machine learning seems like a recent buzzword in technology, did you know it was first coined in 1959 at IBM? At that time, machine learning was defined as a way to give "computers the ability to learn without being explicitly programmed." Nowadays its potential is understood by "watching the performance of a computer program. As it iterates, one can quantify its improvement, and state whether the system is learning or not."  
But what does this mean for HR?
Historical data is increasingly being used to identify trends and patterns. And the most repetitive and mundane tasks can be easily streamlined, automated and efficiently managed.  Here's how ML is impacting the processes in HR across the employee lifecycle.
Recruitment:
Imagine a system recommends at least three candidates with an 80-85% chance of getting hired, it significantly reduces a recruiter's effort. Hiring managers no longer have to manually source, screen applicants from hundreds of candidates. Instead, they can rely on machine learning to offer intelligent recommendations which can suggest candidates sourcing them from multiple sources including Job boards, Social Media, etc., It is especially useful to scout for passive talent and can support employee referral programs too.
Machine learning algorithms can also help in crafting a job description – it can recommend relevant skillsets required for the job, it can provide recruiters with market data on competitive jobs, skills, and salary information. 
Once a candidate is identified, assisted video/audio technologies can support interviews and NLP, image recognition can accelerate the process of identifying the right match.
Onboarding:
Artificial Intelligence coupled with machine learning can significantly improve your employee onboarding process. It can be used to facilitate a regular touch point with a new candidate joining the company. Using conversational Chatbots like Jinie, machine learning interfaces can send reminders for documents or form submissions, it can auto-fill fields in long forms and engage a prospective employee by answering basic questions.
Learning and Development:
HR in collaboration with managers often decide the learning roadmap of employees.  Using machine learning tools, based on historical data, employees can be recommended as the best learning courses. The advantage of using tools here is the capacity to personalize learning based on a person's profile, job experience, past learning patterns and skills needed to succeed in the job.
Managing attendance, time and leave:   
Imagine a workspace where employees on sick leave are assisted with details of doctors and comparisons of insurance policies, machine learning tools are making this possible. Machine learning tools are also assisting companies to understand the trends of leave with respect to the performance of employees.  
Recording attendance has moved from manual register to biometrics, to mobile apps to even CCTV based interfaces – where facial recognition is used to capture time and attendance. Technology tools like PeopleStrong Alt Worklife mobile application use an automated notification enabled approval thereby easing the experience for both employees as well as managers. Companies using such technologies have seen significant time savings. One player in BFSI reportedly saved 400 hours simply by moving away from attendance tracking using biometrics (1-3 minutes) to switching to multiple logins via app-based systems (17-20 seconds).
Employee Engagement:
Machine learning can measure and understand the engagement at the workforce. The insights can prove indispensable in accelerating the productivity and reducing the staff attrition rates. Using pulse polls and engagement tools, machine learning systems measure, analyze and report on employee engagement and general feelings related to their work. 
There are a range of functions that these tools can be put to use. Helping employees with personalized investment plans when they are submitting their investment declaration. It can also support employees in making decisions based on past choices. 
Employee Turnover:
On the basis of available data of employees like age, education, department, last promotion, job satisfaction etc.  ML tools can help predict the reasons behind employee turnover.  It will allow the managers and HR department to understand the critical factors of employee turnover better and use the information to enhance the work environment and reduce attrition. Companies like Indigo, HDFC Life, etc. who have already implemented these solutions, agree that they have been able to make a visible business impact.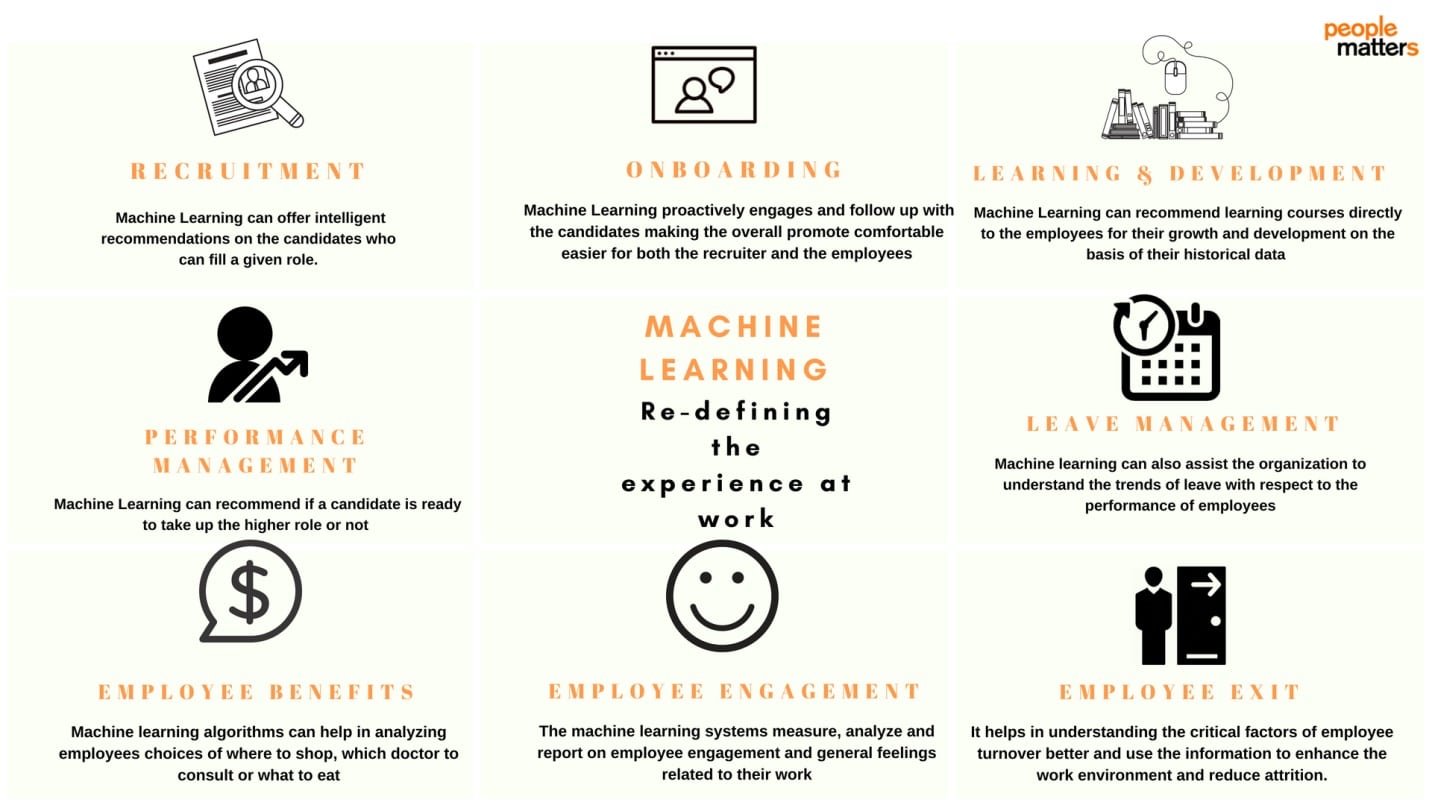 Click on the image to enlarge
The machine learning solutions cover critical aspects like excellent employee experience and releasing non-strategic bandwidth to focus more on strategic work. A number of organizations are already harvesting the benefits of machine learning.
The overall size of global markets for machine learning based solutions is still largely limited. With increasing multiplication of essential data analysis into the artificial intelligence and machine learning procedures, HCM Products will get smarter and able to perform in a better manner. 
This article is a part of our campaign #HRTechThatMatters in partnership with PeopleStrong. Click here to read other articles in this series.