A Brand Reachout Initiative
Learning & Development
74% Learning leaders agree that L&D has become more cross-functional: LinkedIn Workplace Learning Report

One HR Read similar articles
As learning becomes a key priority for organisations to adapt to the demands of the Great Reshuffle and digital transformation, LinkedIn's 2022 Workplace Learning Report reveals critical insights for Learning leaders to leverage L&D budget and drive business impact.
Skills have always been at the heart of career progress and business growth - more so in the past two years. And with the pervasive Great Reshuffle revamping workforce needs and priorities, organizations are investing in stronger L&D offerings to unlock business growth and resilience in these unpredictable times. Taking cue, the sixth edition of our LinkedIn Workplace Learning Report has gathered insights from 1,444 L&D professionals across 27 countries to help the business landscape curate meaningful learning journeys that can future-proof their organizations and accelerate HR transformation.
Working remotely through a troubled economic and social climate for nearly two years has prompted individuals to prioritize flexibility and find purpose in their jobs today. As professionals sought jobs that quenched their thirst for flexi-working, our report shows that the share of members on Linkedin changing roles was up by 25% in October 2021, compared to October 2019, globally.
Digging deeper, our report showed us that the workers' plea for greater flexibility did not go unheard by employers. According to our report, 81% of executives change their workplace policies to offer greater flexibility to their workforce - a strong move to improve retention and win employee trust in the thick of the Great Reshuffle. Ergo, this war for talent has only ensured that upskilling becomes a must-have in this era of rapid transformation, especially as we expect a 40% skills change by 2025 of Linkedin members in the same occupation. 
L&D is key to reimagining the future of work
We have found that 87% of L&D leaders affirm L&D had some to a great deal of involvement in helping their organisation adapt to change. When it comes to rebuilding and reshaping the organisation this year, 62% of our respondents acknowledged the vital role the L&D function will come to play. This can be directly linked to the 94% increase in demand for L&D specialists in July-September 2021 compared to April-June 2021. As a result, there is a 15% increase in promotions of L&D professionals this year compared to their HR counterparts. Given that L&D plays a critical role in the adaptability quotient of any organisation in the disruptive world of work, these statistics are not surprising and are an indicator of how learning is linked with growth and innovation. 
Given the rising demand for learning, L&D leaders expect a 48% rise in the budget this year.  The Asia-Pacific (APAC) region will see the highest increase at 57%, opening doors to explore and innovate skill-building strategies.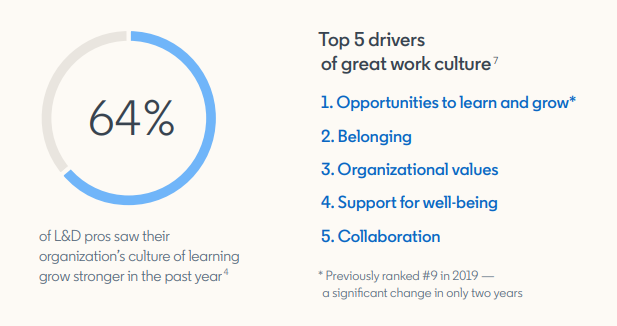 Learning fundamentally impacts the work culture and your employees' drive to innovate, delight customers, and beat the competition. But while this is the more significant focus, each region has a different set of L&D priorities in line with its specific business context. 
In  APAC, 60% of L&D leaders are focused on upskilling and reskilling employees in the following skills: 
49% on leadership and management training
30% on digital upskilling; and 
24% on employee performance support
As a result of the tightening grip of L&D in organizational growth and sustenance, L&D leaders are set to cover several business functions and become busier than ever. This is a testament to the rising cross-functional role of L&D leaders, which will now support several business functions while ensuring desirable outcomes in the HR strategy domain, from talent retention to strengthening DEI and enhancing wellbeing.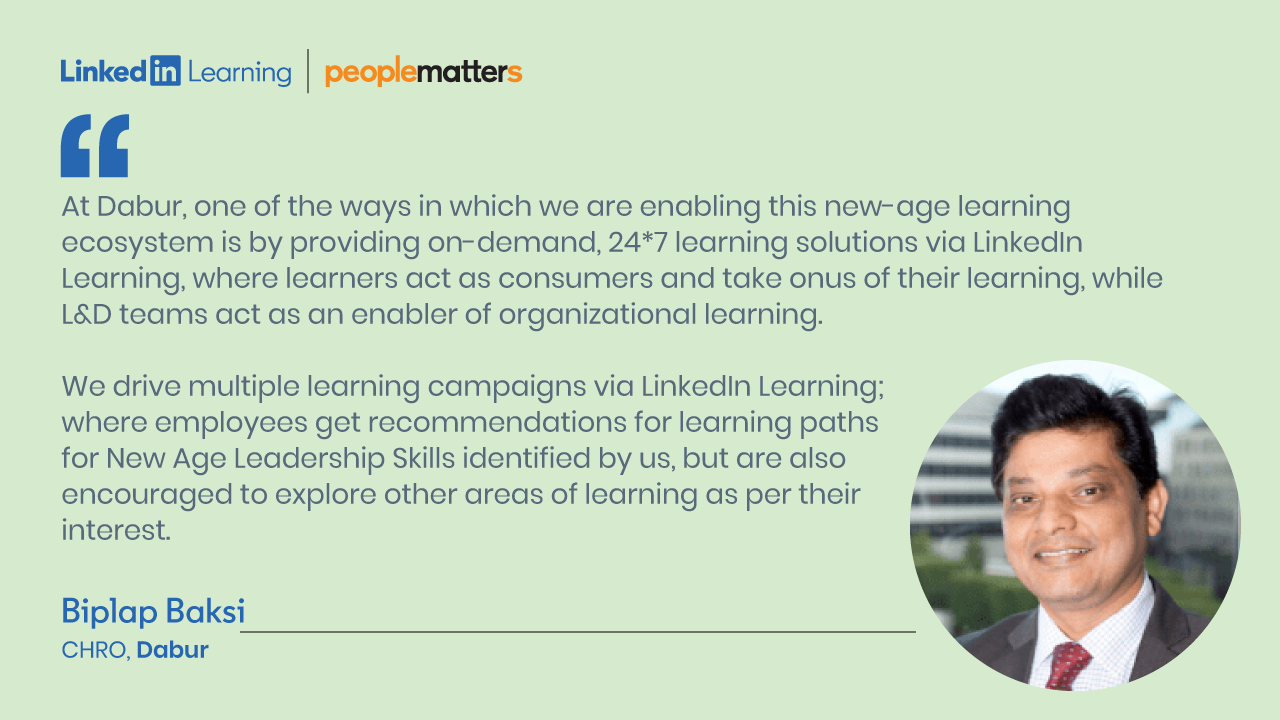 L&D evolves to accelerate HR transformation: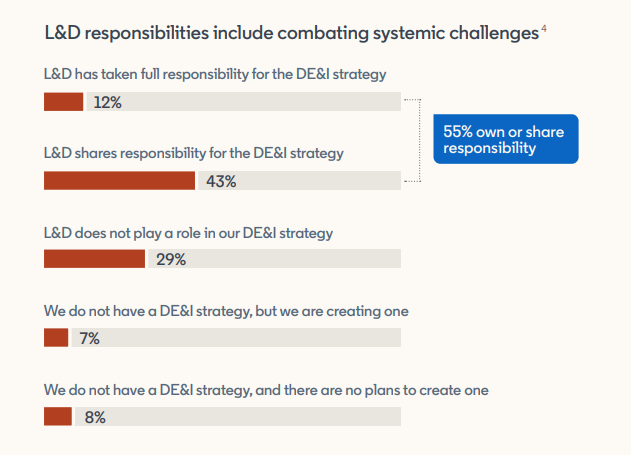 Learning teams today are leading the educational charge for diversity, equity, and inclusion (DEI), with some taking full ownership of the DEI strategy in response to rising inequities in health, wealth and opportunities. Additionally, L&D professionals are adding to their skill sets to up their game and design more efficient and efficient plans of action. The top five skills which were most likely to be added to their LinkedIn Profiles last year as compared to the year before include:
54% rise in skills in operations
38% rise in corporate training
29% rise in HR Management
24% increase in people development
23% in training and development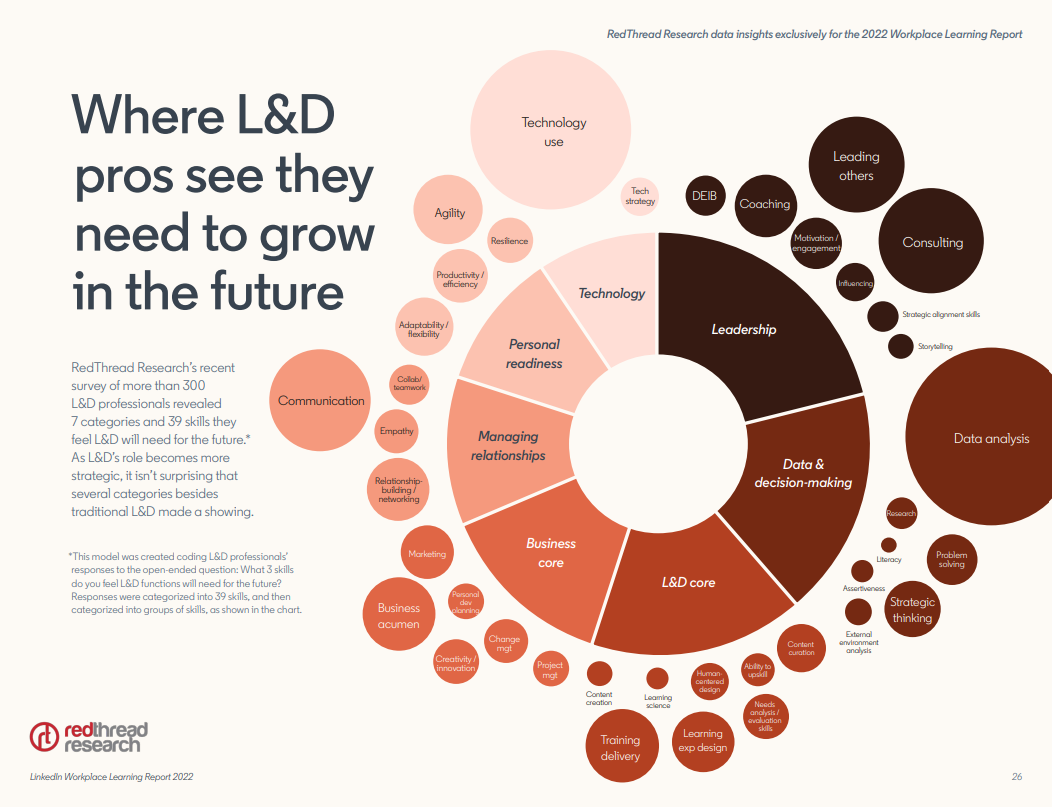 Upskilling, internal mobility and retention can save hiring costs:
Skill-building and skills-based planning have always been critical in making progress amidst big changes in the business landscape. The Workplace Learning Report also unveils that 79% of L&D professionals agree it's less expensive to reskill a current employee than hire, and 54% believe that internal mobility has become a priority since COVID-19.
But what will make employees stay back?
The reality is that employees who feel their skills are not being put to good use in their current job are 10 times more likely to be looking for a new job. So, there is a correlation between upskilling and internal mobility to ensure your employees grow, develop and are retained. One cannot ignore the potential of the right learning culture in securing the best talent at your workplace and unlocking their potential to lead business growth and excellence.

Organisations must prioritise their employees' success through career development if they want more significant retention numbers. Learning leaders must create more robust, sustainable learning programs by connecting skill-building to career journeys, internal mobility, and retention to truly impact business. Additionally, when personalisation becomes a key element of career progress through custom-built learning pathways, there is increased learner engagement which is essential to build that desirable learner experience and culture at an organisational level.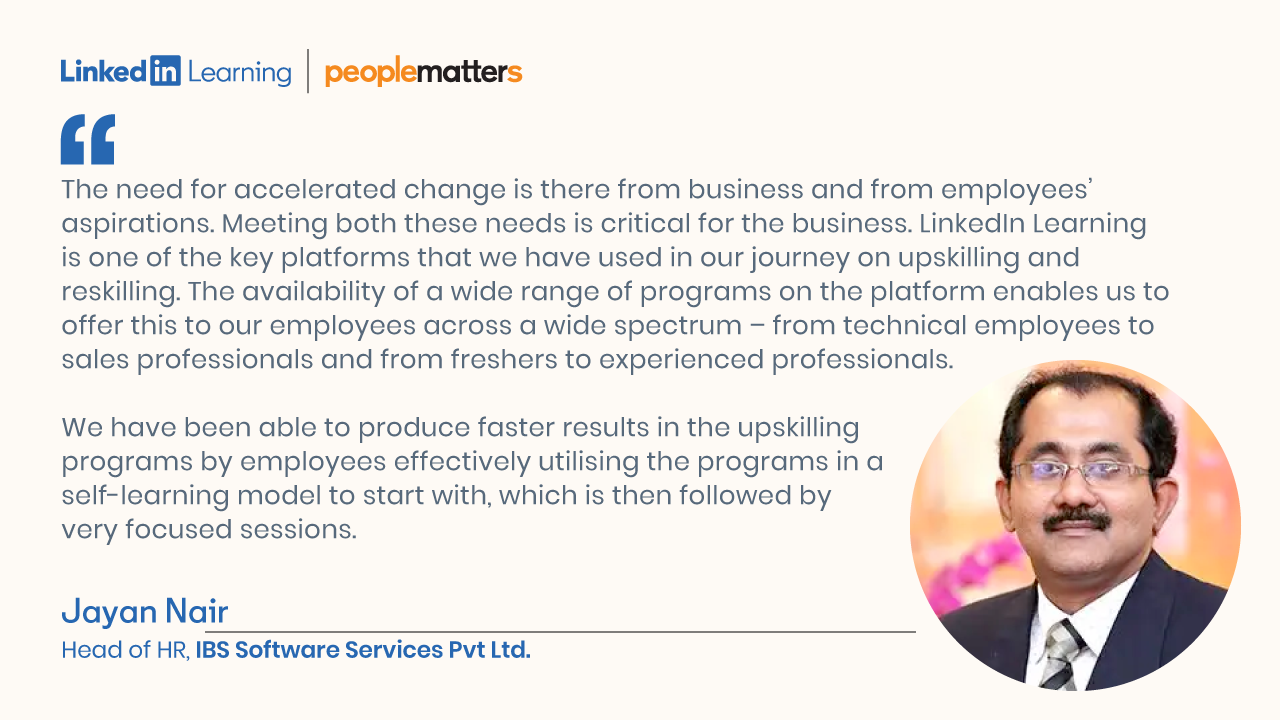 As we strive to balance employee and business needs skilfully, it is high time for learning programs to be tied to business impact by focusing on critical organisational priorities. While 59% of L&D professionals have seen CEOs become champions for L&D, that leaves us with an opportunity to transform the remaining 41% of CEOs into stronger advocates.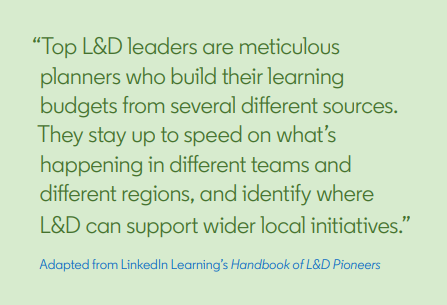 With L&D having found a seat at the executive table today, it's time to go big with the budget and capitalise on the benefits of a cross-functional L&D strategy. The writing is on the wall – Organisations that prize constant learning will be at the forefront of progress, resilience, and success as the world of work prepares for the new normal. 
All Images  (excluding Leader quotes) are sourced from LinkedIn's 2022 Workplace Learning Report.