Learning & Development
Aon launches Next Generation HR Hub for early-career HR professionals
Aon HR Learning Center, with a mission to provide real learning to help HR impact business outcomes, is launching Next Generation HR Hub: an ecosystem for early-career HR professionals to sharpen role impact, access cutting-edge insights, and showcase skills.
The gap between skills demand and supply continues to exist. As per Alight Solution and People Matters' annual State of HR transformation Study, 'upskilling HR capabilities' has remained the top priority in all the last three years. Now when the present and future of work gets more complex in the wake of the pandemic, the need for HR professionals to upskill themselves is more than ever. 
Among the skills holding HR professionals back are lack of business acumen, analytical orientation, strategic thinking, and facilitating change. 
The future is as uncertain as it could get. Business models are getting disrupted rapidly. The early-career HR professionals have a lot of challenges on the way forward. But if they along with the business leaders invest in their learning and development now, both the professionals and the businesses will be better equipped to face the unprecedented future of work. But what are the skills they need to build? How can they acquire the relevant knowledge to enable business relevant people outcomes? How can they play a more strategic role and impact the business bottom line?
Aon HR Learning Center's (AHLC) latest initiative is here to help aspiring and early-career HR professionals accelerate their learning curve and be more future-ready. With its Next Generation HR Hub, AHLC brings an ecosystem to sharpen role impact, access cutting-edge insights, and showcase skills.
AHLC is here to bridge the skills gap for HR professionals
Aon HR Learning Center has been empowering HR professionals across functions and levels impact business outcomes. Spread across 15 countries in Asia, Pacific and the Middle East it has so far helped more than 12,000 professionals impact business results. With 22 flagship learning journeys across roles it has enabled HR capability at over 1500 organizations. Continuing its endeavor to empower the HR community, it is here with its latest initiative Next Generation HR Hub.
"We are on a mission to curate an ecosystem for aspiring and early-career HR professionals to prepare with learning content, assess for readiness and brand for credentialing," says Pritish Gandhi, Practice Leader, Aon HR Learning Center, Asia and Middle East.
Be a part of the Next Generation HR Hub
Typically, the four entry level roles in the field of HR include Rewards, Talent Acquisition, HRBP, and Learning. For young professionals and students, the Next Generation HR Hub by AHLC acts as a gateway into these segments.
Formal education often falls short of the industry perspective and the AHLC program will fill those gaps and provide the students the right exposure. 
Talking about the Next Generation HR Hub, Pritish says, "Our vision is to positively impact early-career HR maturity on the levers of technical expertise, effective partnership and business acumen at India Inc."
Here are the key features of the Next Generation HR Hub:
Functional Learning: Role readiness for Business Partnership, Learning & Development, Talent Acquisition, and Rewards
Insight Series: Get a business outlook impact on HR paradigms & prepare for disruptions in the employee lifecycle
HR Quotient: Assess yourself or your team on lenses of knowledge, cognition, and personality & get certified scores accessible through secure and verifiable digital platform
With over 250 hours of self-paced HR content, the learner will decide how and when they want to learn with e-learning, recorded virtual sessions, case work and live webinars.
The program is designed for new HR managers, early-career HR generalists, early-career HR specialists, and students pursuing HR.
The Eligibility Criteria is: Under 6 years of HR experience as of 1st October 2020. 
The time to invest in preparing the next generation of HR is now! So, join AHLC in the journey.
Let's dive deep into some of the key features of AHLC's Next Generation HR Hub:
Building functional learning & enhancing critical skills
Business existence is gravitating towards agility, speed, and innovation. The workforce of today is best defined in the contours of a consumer with demands of experience, transparency and a higher purpose. While broad-based HR education and specific process experience is still useful, deep technical expertise is the need of the hour for high role impact.
Understanding the early-career roles:
Business Partnership: Without the right orientation, HR generalists quickly get sucked into daily execution. What suffers is the ability to deliver seamlessly on cross-functional talent outcomes which enable business results. 
Learning and Development: As changes triggered by business models, trade shifts and digital transformation have accelerated, learning has acquired even more importance. Strong business-aligned learning initiatives are often differentiators between talent success and failure. With organizational capability development as top priority, HR professionals themselves need to upskill to deliver better learning outcomes. 
Rewards: Increasingly, talent is emerging as the only sustainability differentiation for organizations. The trend is going to be more prevalent in the new reality of work. Managing rewards is no longer possible based on traditional concepts alone. There is a need to understand how reward professionals can not only optimize wage-bills, but also enable a higher return on employee retention, productivity, and performance.
Talent Acquisition: Digital disruption has demanded confluence between technical skills, domain expertise, and business knowledge – raising the expectations of what organizations need from their talent. Talent acquisition teams strive to succeed in this environment.
In addition to functional learning, the AHLC Next Generation HR Hub will also help all learners enhance critical skills relevant across all HR roles:
Analytics: Today, HR needs analytics to drive decisions, rather than being a bystander to disruption. Combining data and deriving insights from talent management, high performance, and HR service delivery helps to link business outcomes with human capital investments.
Assessments: Adding assessments to any hiring and development process establishes a science-based foundation that supports selection choices, determines role and culture fit, and guides talent for success. Assessing talent leads to tangible business impact.
Performance management: A high-performance culture is increasingly fundamental to financial success. Building trust-based relationships and promoting organizational values are another two key capabilities expected across HR roles. 
All the learners of the program will be able to build all these relevant horizontal skills and also prepare for at least one of the entry level roles in the field of HR.
Gaining insights & expanding awareness with access to mega trends
Successful preparation for the future world of work does not require us to predict the future. Rather it requires us to accept the fact that change is inevitable and planning with more awareness for the challenges ahead is the best way to get ahead of the curve. For HR professionals, it includes looking at specific disruptions in the employee lifecycle.
The AHLC Next Generation HR Hub, hence, provides industry-specific awareness of mega trends and policy changes; it provides a solid foundation to drive talent and rewards imperatives. Learners of the program will engage with specific Aon research on HR paradigms for different industry verticals.
Showcasing role-readiness & staying ahead of the curve
Aon endeavors to create a barometer for early-career HR talent in India. Aon's HR Quotient will assess young professionals through the broad competency clusters of technical expertise, effective partnership and business acumen. Furthermore, it will provide competency scores in areas such as Talent Acquisition and Rewards which can be used to showcase role readiness.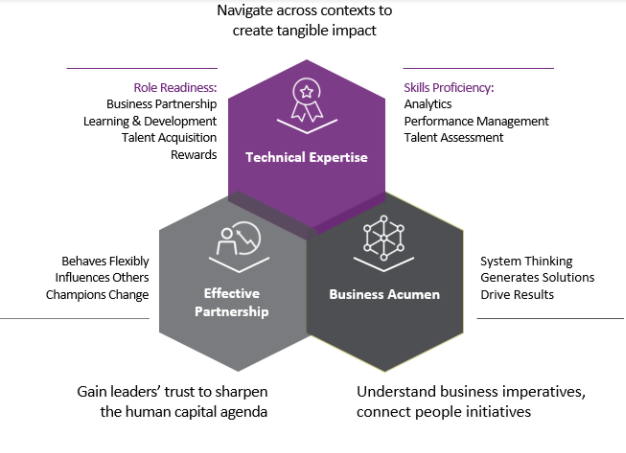 With all the critical skills built, the role-readiness enhanced, and better business acumen, the early-career HR professionals will be able to build more effective relationships and create better business impact. They will not only gain leaders' trust but also navigate across contexts and challenges to make tangible and meaningful impact. The AHLC Next Generation Hub will enable HR managers, students of HR, and all early-career HR professionals understand business imperatives, connect them with people initiatives, and build high-performance organization. 
So if you are: 
A new manager in HR: Then join to drive cross-functional outcomes across HR workstreams.
An early-career HR professional: Then join and get a holistic view of different HR roles and analyze talent needs.
A student pursuing HRM: Then join to increase your job readiness for early-career roles in the HR function.
A business leader or a decision maker: Then enroll your team and provide them with a learning ecosystem for sharper business impact. 
Click here to know more about AHLC's Next Generation HR Hub.