Learning & Development
Businesses are embracing Design Thinking to be more innovative
Application of Design Thinking or a problem-solving approach allows managers to achieve desired business results. Let's take a look at what it is all about
Businesses are embracing Design Thinking because it helps them be more innovative, better differentiate their brands, and bring their products and services to market faster
Design Thinking tests the business environment's capacity to take risks and experiment with previously unknown models
Design Thinking has caught attention in the recent years as some innovative companies have been differentiating their products or service offerings by demonstrating the use of this approach and bringing it into limelight. Akin to the common overuse of terms such as "Designer" and "Innovation", we must fear that the term "Design Thinking" too could go that path; hence it is important for decision makers to understand the meaning of the term and prevent its misunderstanding while reaping benefits from its value.
Design Thinking broadly refers to the application of design methodology to management science. It involves the use of both the left brain (logic) and the right brain (creativity) to seek connections for problem identification, ideation and solution.
Traditionally, designers focused their attention on improving the look and functionality of products and that is where organizations preferred them to focus. Today, however, organizations need to broaden their approach, and leverage the mindset and thinking methodology of designers in creating entire systems to deliver products and services.
Design Thinking tools enable thinking beyond limits and challenging existing conventions to create paradigm shifting solutions. It also tests the business environment's capacity to take risks and experiment with previously unknown models. It gets the business closer to the consumer. The success stories of Uber, Ola cabs etc. are a good example of how the entire process of hailing a taxi can be redesigned through disruptive innovation to gain a competitive edge.
Design Thinking incorporates constituent or consumer insights in depth and rapid prototyping, all aimed at getting beyond the assumptions that block effective solutions. Design Thinking—inherently optimistic, constructive, and experiential—addresses the needs of the people who consume a product or service and the infrastructure that enables it. Businesses are embracing Design Thinking because it helps them be more innovative, better differentiate their brands, and bring their products and services to market faster. By working closely with the clients and consumers, it allows high-impact solutions to bubble up from below rather than being imposed from the top. Nonprofits are beginning to use Design Thinking as well to develop better solutions to social problems as this methodology crosses the traditional boundaries between public, for-profit, and nonprofit sectors.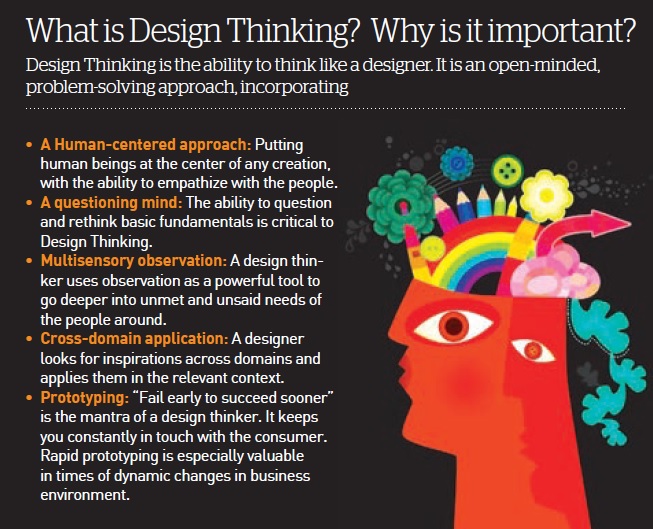 While the common and basic application of Design Thinking is for product innovation, many service innovations can be designed by Design Thinking. The present e-tailing wave in digital media has taken service design to another level. Design Thinking methodology and its unique value can be harnessed through the understanding of people and user behavior. However, when one seeks to redesign the user experience, research tools to understand, it would differ too. Thus even the methods of research to apply Design Thinking vary; from journey mapping, ethnography, visualization and many more; to allow us to note the softer and intangible aspects of the user behavior and their future requirements.
How do you Design Think?
One may ask how the same is done. How does banking or say, an agro sector company, which is not associated with mainstream creative industries, benefit from Design Thinking? Is there scope for a sector unrelated to design to adopt a Design Thinking framework?
How do some corporate, entry-level to mid-level managers, apply Design Thinking?
Methodology of Research:
To assess the application of this unique tool and gauge its impact, an anonymous online survey titled "Application of Design Thinking by Managers" was designed. The structure of the questionnaire was designed to study aspects of personal profile, work profile and creativity profile. Multiple choice questions as well as open-ended questions to allow qualitative comments were structured. WeSchool's Business Design Program alumni passing out from 2008 to the year 2014 were taken as a sample group and the link was circulated to all 300+ alumni. Majority of the alumni had a role as manager/assistant manager in various sectors in companies based in India or abroad and had between one and seven years of experience. The fact that they had been sensitized to Design Thinking in their curriculum contributed to make it an ideal sample selection.
Some of our findings are as follows:
Most Alumni consider Google, Apple and HUL as the most innovative company in India.
"Design Thinking tools" and "Pain-Points identification" for Management left maximum impact on the Alumni and they expressed using tools such as "Mind maps" in their routine work.
In the qualitative comments, "Nurturing a questioning mind" was aptly stated as one of the answers to the questions "Give examples of how you have used Design Thinking or an Innovative Approach for problem solving in your organization?" and "Which topic covered in the Business Design program left the maximum impact on you?". When asked "Is there a head of innovation in your organization? If yes, what is their function?" Those who answered "yes" referred mainly to roles in the research and development function, in the technical sphere, highlighting that Design Thinking and innovation were still considered a part of the product development function.
However, the range of application of Design Thinking varied from "for problem identification" to "multiple methods of problem solution." The human-centric approach allowed the alumni to find application in an individual role as well as fitting well into corporate environment already practicing Design Thinking for innovation. This stresses the role of corporate seeking to create innovations, to also create an environment conducive to the application of Design Thinking as part of the work culture. The entire process of business management, from using tools to generate ideas and seek connections i.e. "Conception of new product offerings", to "techniques to expand into an untapped market; designing consumer promotions based on a purely user-centred approach"; illustrated the wide scope of application of Design Thinking.
Design Thinking is also practiced in various sectors and alumni used the approach in product management by "Designing a lot of innovative technical products..." to applications across functions including "operations management", "change management" and even finance/accounting, as one alumni found its application "in the current revenue accounting approach". Design Thinking is being used to not only build on product innovations but also to enhance user experience, both within and outside of the organization.
Learning Outcome
Design Thinking can be used across sectors, functions and different roles.
A formal Design Thinking role has not been defined by the industry and the role of the Design Thinking & Innovation Manager is still evolving.
Use of Design Thinking approach in an organization may be happening insilos without a conscious environment to nurture it or adapt it to the larger whole.
Companies which have integrated Design Thinking into their work culture tend to benefit more and faster from employees who are trained in this approach.