Learning & Development
Creating an immersive learning experience: Aditya Birla Case Study
The case study highlights how a global conglomerate planned an off-site for its 360 HR and business leaders that resulted in a case for agility & productivity.
...From early morning until late into the night, we talked through key challenges and opportunities we were facing. After three days of brainstorming, multiple discussions, fun-activities, and team-building exercises, we emerged with a list of challenges and meaningful priorities for an upcoming quarter...
The above scenario describes any regular corporate retreat that companies host to take a step away from their day-to-day work, build team spirit, and devise future strategies.
Unfortunately, most of these off-sites turn out to be ineffective, or worse. The challenges, priorities and action points are left back at the destination and lost somewhere in the drafts.
However, what if we tell you that off-sites can serve a greater purpose — so much more than team building games and activities? Samik Basu, CHRO – Hindalco and also the Convener of the 5th ABG Global HR Summit shares, "At our Summit in Singapore this year, around 360 of us went through a series of experiential learning interventions where we learnt from the outside world, shared amongst ourselves and together developed prototypes for solutions to some of the most pressing HR issues facing us in different parts of the Aditya Birla Group. By using 'Agile' methodology in a 'Hackathon', we were able to engage and pick the brains of all participants in working through these issues and coming up with prototypes of bold and new solutions. Post the Summit, we are now working to take forward a host of these prototypes and apply them to our businesses and people." 
In this case study, we highlight how the Aditya Birla Group (ABG), a $45 Billion conglomerate with a presence in 34 countries, anchored by an extraordinary force of 120,000 employees, hosted an off-site at the city of the future – Singapore, which offered an immersive learning experience to its HR Business Partners that proved instrumental in building agile and effective talent strategies.

Agility & Productivity: The two engines of ABG's success
We are living in the world of 'Disrupt or get disrupted'. 
The era driven by advancing technologies, ever-changing customer needs, preferences and uncertain markets has brought a lot of disruption to the ways in which the businesses function. Our traditional linear approaches to business no longer seem to work. 
A lingering question engulfs the business leaders - How can firms prepare to disrupt first before they get disrupted? 
The solution lies in being 'Agile & Productive' simultaneously and this is a key focus area for ABG's businesses across the world. The Aditya Birla Group felt the need to define and redefine its solutions to many HR issues and practices and current ways-of-working to stay abreast with the rapidly changing world of work which is being dramatically reshaped by the moment.
In short, making HR more agile.
However, the challenge was, Driving agility beyond paper and board.
The Aditya Birla Gsroup wanted to drive agility in its HR function with around 360 of its HR and business leaders from across the world by asking them to 'Seize Tomorrow, Today'. The challenge was making all these leaders respond rapidly to business changes and dynamic customer needs, through and immediately after the learning sessions.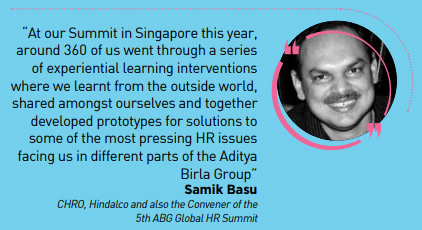 Agile learning: Immersive & Experiential
ABG HR Summit: The inception
The HR Summit of the Aditya Birla Group is an institutionalized forum held once every two years. The purpose of the Summit is to engage with the larger HR Community across varied businesses of the Group through knowledge sharing, collaborative problem solving and recognition of HR Excellence at a team and individual level. The Summit brings together HR leaders from diverse business and cultural contexts across varied nationalities and geographies. Each Summit focuses on a contemporary business theme which anchors the entire design and content of the Summit. The high point of the Summit is the engagement with the Chairman, Mr KM Birla, who invests his time in stating his expectations from HR leaders and accords recognition through HR Excellence Awards. In addition, select business leaders and line leaders also actively participate in the Summit. To bring in an outside-in view, the Summit also invites senior business leaders and HR leaders from cutting-edge organizations outside the Aditya Birla Group. Each Summit also culminates in post Summit actions and commitments. For example, in the last Summit held in Bangkok, the Chairman gave five key challenges. These challenges were addressed by various task forces who put together an action plan; implementation of which is in progress.
The 2019 Summit: Design
Key inputs to design the Summit were chosen from business focus areas defined by the Chairman of the Group, key focus areas for HR for the Group as articulated in HR Strategy 2017-2020 and recently concluded HR Survey feedback from internal customers.
Chandrashekhar Chavan, CHRO, Aditya Birla Fashion & Retail Ltd. shares, "Given our tangible and intangible investments in our business and people, business productivity and particularly white collar productivity has emerged as a key focus area for HR. We also felt that we needed to be more agile in our thoughts, action and re-engineer our mindset, approach, actions and systems/processes to do so."
The summit design team which included Samik Basu, CHRO, Hindalco as the Convener and Chandrashekhar Chavan, CHRO, Aditya Birla Fashion & Retail Ltd. as the Co-Convener formed a team and a project plan was put together which was reviewed for progress in the weekly reviews. After evaluation of several options, key partners such as People Matters, Korn Ferry, and Wanderers were roped in. 
The team while designing the Summit chose several design principles. The key question that was addressed to design the Summit was: What would make most sense to the participants in the Summit? The idea was to design a Summit that brings in freshness in its content and delivery.
Rather than an overdose of speakers at the Summit, the team selected a mix of activities- from immersion visits to thought leadership sessions by internal, external and leading consultants, solving real and key problems through Hackathon, and exposure to the HR start-up world. To make it more engaging, ABG recognized outstanding work in HR through the HR Excellence Awards.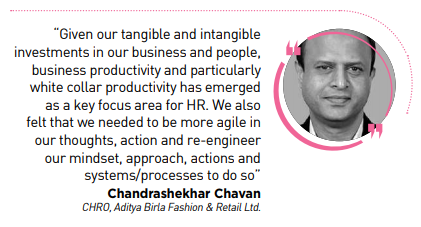 The 2019 Summit: Delivery
The Aditya Birla Group partnered with People Matters, a niche media organization in the arena of people and work, and Korn Ferry, a global management consulting firm to offer an immersive and experiential learning to its HR fraternity. 
The theme of the program was - Progility!
Through the twin themes of Productivity and Agility aka "Progility", ABG wanted to leverage multiple elements running across all its diverse businesses, and wanted its existing practices to be viewed through myriad lenses. As a concept, through the 'Progility' journey, they wanted participants to learn from a combination of experiences and engaging talks. The objective was to get the ABG HR fraternity to closely review the prevalent approaches to Productivity of HR processes/teams and of business, along with understanding 'Agile', Agile HR Practices and Organizational Agility with different perspective and business contexts.
The overall learning program was divided into three phases:
Phase 1. Reflect: 
On the first day of the Summit, Dr. Santrupt Misra, CEO Carbon Black, Director Chemicals Business and Director Group HR, of the Aditya Birla Group, kickstarted the event by addressing the entire ABG HR fraternity wherein he shared his thoughts on the evolving business context, how HR needs to step up to stay in tune with the times and the plans for the Summit. 
The conference was designed in a manner wherein participants would learn and practice new ways of working in the ever-evolving HR function, understand the 'Future of Work', become equipped to apply the latest techniques and methodologies to solve real-life problems, build actual live scalable business prototypes, share HR & Business problems across ABG's global landscape and align the HR community on the must-win areas and allocate resources as per priority.
The conference enabled ABG's HR team to listen to some of the most powerful leaders of today's time from academia, public service and corporate; and provided diverse perspectives and approaches as practiced by the best in the world. This was followed up with showcasing 19 ingenious HR start-ups from Singapore, South East Asia and India, with the aim of introducing the participants to contemporary cutting-edge HR solutions and nimble working.
This was an eye-opening experience for most of the participants who witnessed how application of technology and artificial intelligence was molding the HR marketplace to solve people problems and to enable organizations in providing a much richer employee experience.
Phase 2. Learn:
Have you ever experienced the "Forgetting Curve?"
The phenomenon was hypothesized by a German psychologist, Hermann Ebbinghaus. The Forgetting Curve explains, how within one hour, people will have forgotten an average of 50 percent of the information presented. Within 24 hours, they would have forgotten an average of 70 percent of new information, and within a month, 90 percent of it.
So, does it mean that no matter how much you invest in training, all the learning content will just vanish in your learners' brain?
ABG had the same challenge - making learning impactful and lasting!
The Summit had two interactive sessions of Best Practices Expo which provided an enriching learning opportunity for all participants. One consisted of Best Practices in HR by internal ABG businesses and the other having 19 external organizations and start-ups from South East Asia and India, showcasing the latest trends in HR including AI-supported staffing, game-based learning, IOT, interactive PMS, data analytics and HRMS. One of the participants said, "To a budding HR professional, the Expos were like semesters of learning packed in 20-odd stalls and to a seasoned HR practitioner, it was a potent array of impressive HR work, so much to learn and pick up from, with years of design and implementation experience available at one place!"
The Group through its partnership with People Matters arranged for Study Tours which provided an outside-in immersive learning opportunity to participants through efficient learning levers to optimize retention. The program was based on two premises:
Immersive: A learning which is "learning through reflection on doing"
Exposure to global practices: Learn and reflect from global and diverse organizations on how they are approaching various facets of talent dimensions.
The team at People Matters arranged this immersive experience which was focused on giving structured experiential learning opportunities to delegates by visiting some of the most progressive organizations and academic institutions across Singapore to experience best practices and latest research and delve deeper into deliberations focusing on finding solutions to various talent challenges.
The agenda of study tour was curated with the thought of breaking the group of 360 into smaller groups. Each of these groups were diverse in nature to ensure team bonding across geographies, businesses and levels.
Ester Martinez, CEO & Editor-in Chief, People Matters shares, "Getting exposed outside of the walls of your own organization is critical to be able to think differently about the business problems you are trying to solve. Leaders are often constrained by their own limited experiences and find it difficult to venture into new ways of thinking. People Matters Study Tours aims to add more "dots", more "experiences" and learning so that leaders can look at the same talent challenges and bring new ways of solving them."
The participants from ABG got the opportunity to visit organizations like Facebook, GE, Unilever, Boeing, OCBC Bank, DuPont, National University of Singapore, Singapore Management University and learn how these organizations were approaching various dimensions of talent management like- Hiring, Performance Management, Learning & Development, Entrepreneurship & Intrapreneurship, Engagement, and Diversity & Inclusion.
Phase 3. Refocus:
The summit concluded with a 'Hackathon' which was a five-step iterative prototyping process. 
Embedding 'agile' within a behemoth like ABG is an ambitious objective requiring equally ambitious means of getting there. With this end in mind, ABG partnered with Korn Ferry India to build agility within the HR community by designing and facilitating one of the world's largest HR Hackathons under one roof.
Nishith Mohanty, Client Partner, Korn Ferry India, shares, "When we first heard the theme of the Summit was Agility & Productivity, our response was that in order to understand Agile, you need to experience it. Instead of teaching and discussing, we decided to use the collective wisdom of 360 of ABG's best talent to 'hack' the biggest challenges ABG is facing today."
The two underlying principles of the Hackathon were that participants were challenged to solve 'wicked' problems that ABG faces today in a time-constrained process, and create real prototypes of ideas which solve these challenges from a user's perspective. The former required the teams to roll up their sleeves and get straight to design thinking and rapid prototyping, as well as stepping out of their 'expertise' shoes and actually walking in the shoes of their employees. 
Nishith adds, "We spend all our time discussing solutions, but how many times do we even understand what we're solving for? We therefore forced participants to spend the first two days to focus only on articulating the problems to solve, and the 'hack' there was to deeply understand their 'users' first. The team identified 60 'personas' of users across these challenges, and they spent time empathizing with them. Further, the startup immersion organized on day 1 of the Summit provided perhaps the best inspiration for participants to learn empathy and design thinking from."
The process enabled the participants to create 60 working solutions which advanced ABG's priorities – this, in turn, demonstrated to the participants the power of Agile. "When was the last time you created 60 solutions that your users love, solutions that actually work, and all this with just 6 hours of work? Now that's what I call 10x," adds Nishith.
Immersion into the Art of Possible
The 5th edition of the ABG Global HR Summit was conceived as an immersion into the Art of Possible. 
Samik shares, "The success of the entire initiative bears significance from the fact that it enabled participants to experience the power of 'Agility' to drive organizational and HR Velocity, Productivity and Impact. The offsite also helped the participants to build creative confidence amongst the HR fraternity to 'hack' the most critical problems for business using Agile principles."
Using a design thinking approach, a global and diverse conglomerate like ABG with around 1,20,000 employees was able to unlearn, re-learn and act to real life HR problems. The HR retreat was a great learning experience for the Business & Leaders. While debriefing the learnings from this experience, the conference conveners Samik Basu, Chandrashekhar Chavan and design lead Gurucharan Singh Gandhi, Head HR, Lifestyle Brands, Aditya Birla Fashion and Retail, felt that the bold bet they took with this design worked like a charm. Not only did it demonstrate a new way of thinking and problem solving to the group, it did so in a way that was fun, engaging and meaningful for the participants. 
Reflecting on the success of the Summit, Shekhar shares, "It was delightful and heartening to receive an overwhelmingly positive response to the Summit design, experience and takeaways. It vindicated the commitment to this HR Summit by all of us at the Aditya Birla Group. Two highlights of Immersive Learning through on-site visits and agile thinking and actions through the hackathon and design thinking principles really stood out for all of us. We are now focused on carrying the work forward beyond the Summit and make this a part of our everyday life."