Learning & Development
From a personal blog to digital skilling provider: Simplilearn's journey through the learntech space
How did Simplilearn evolve from a personal blog to a global digital skilling provider and a formidable player in the learntech space? Here's a quick look at its journey along with the growth of India's learntech sector.
What started as a simple personal project in 2009-a blog to give advice to professionals looking for career advice to prepare for PMP certification exams-has now grown to a global business which has helped over two million professionals and 2000 corporate training organizations in over 150 countries to achieve their career and business goals. And just recently, private equity major Blackstone acquired a majority stake in Simplilearn and invested $250 Mn, thus becoming Blackstone's first private equity investment in Asia in a consumer technology company.
The endorsement is not alone for Simplilearn but for the entire learntech sector which as per CEO and Founder Krishna Kumar is on its way from the sidelines to become a mainstay industry.
"When we started out in 2010, edtech was not popular. In fact I feel, what's happening in edtech today should ideally have happened 5-6 years back! But it has taken time and a pandemic to supercharge this area which is now witnessing so much action," shares Krishna. 
And the trajectory of Simplilearn's growth over the years is a testimony to the evolution of the learntech industry over the years. 
From a personal blog to a global player in digital skills training
While the business was started in 2009 as a personal project, by early 2010, Krishna realized it was time to turn his passion for training into a mission to reach, train and benefit many more people across the globe. Thus it became a company in 2010, which started helping people to prepare for PMP exams. A lot of learners from across the globe started taking the PMP certification course. Overtime, more programs and courses were added. 
In 2012, investor interest also poured in with IndoUS Venture Partners (now called Kalaari Capital) seeing value in the business model and investing in it. This was followed by more investment by Helion Venture Partners and Kalaari in 2103, enabling it to diversify its product offerings, moving beyond PMP training, and hiring a strong team to serve its expanding geographic markets. In 2015, it raised another $15Mn, led by US-based tech investor Mayfield to set up the company's US operations.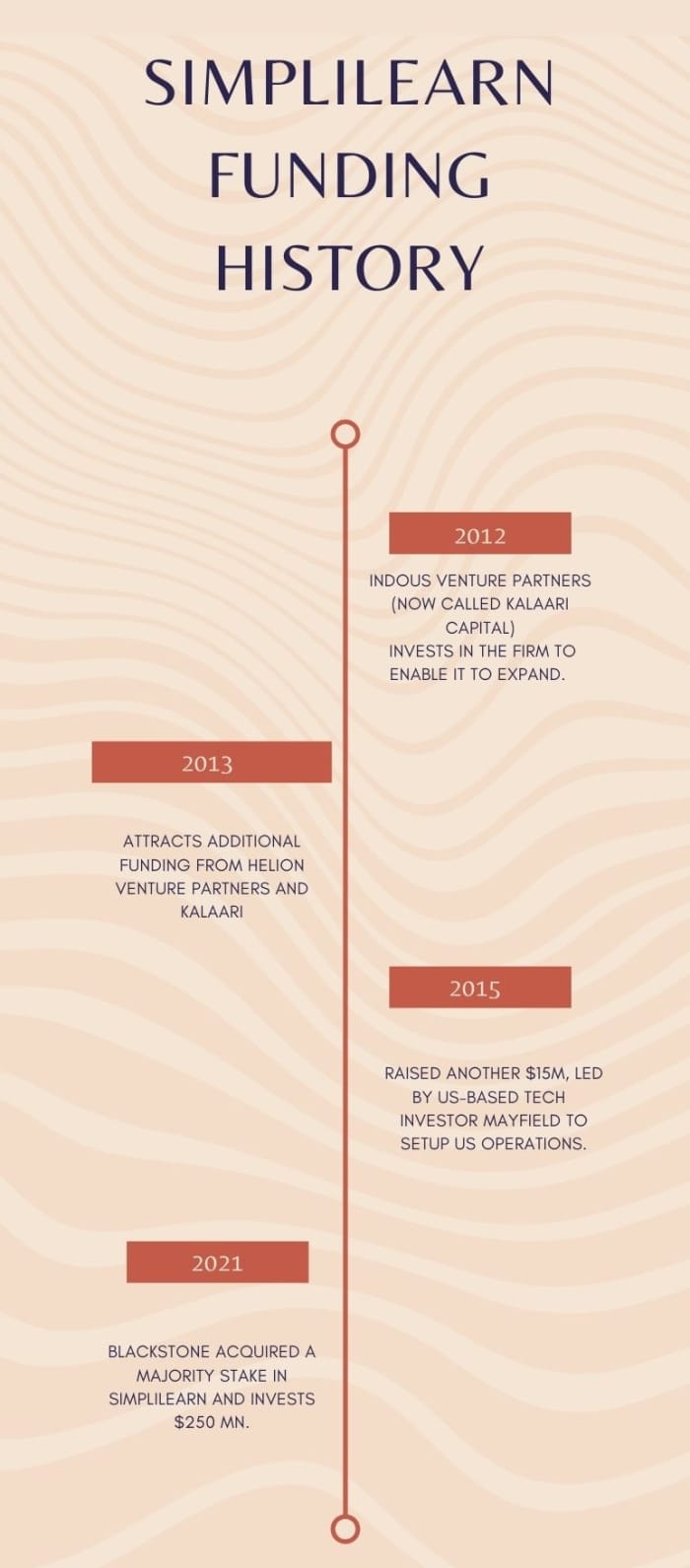 Talking about the growth phase from 2010 to 2016, Krishna reveals, "2010 to 2016 was one phase where edtech was not popular, and we were one of the few companies that was visible because we had also raised some money from investors. In 2016, the edtech space started getting hot with newer players coming in, raising money and targeting sectors we were not present in. We were mostly in the higher education skilling space, others started targeting K-12, test prep and so on."
However, this early growth does not mean that the company did not face its share fare of challenges.
Building a measured growth company over the last decade 
Krishna reveals, "When we started, from 2010 to 2106, we got more traction from outside India. People outside India were keen to take up more online courses-finding the quality of our courses and the value proposition much stronger. This is because we had an instructor led model where instructors would come and teach online. So learning from the convenience of their homes from instructors was what attracted global learners."
In India, people were slow to adopt on account of the bias that learning can only happen in an actual classroom. Or that it can't be as effective as a classroom, it can be a supplemental study, but can't be the mainstay.
Another challenge the startup faced was attracting good talent as edtech was not an established sector. 
"People shied away from working in a training-led business. The edtech word was not very popular in the startup space at that time." reminisces Krishna. 
However, the startup's good growth, repeat customers, and repeat traction helped it attract its initial set of customers. 
"Our initial investors were excited that it could really be a good business. Basically, Kalaari Capital took a bet on something that became a reality now," he adds.
When it comes to growth, it has never been a challenge for Simplilearn. The company focused on measured growth, never making out of the world claims. It has worked intensively to build expertise on the courses it offers and the supporting ecosystem around it. This is what explains its loyal customer base that keeps coming back to it for more courses and even refers their family and friends. What adds to this trust also is the credibility of the partners it works with such as MIT Schwarzman College of Computing, Jagdish Sheth School of Management and IIT Kanpur and companies such as IBM, Microsoft, Amazon, Facebook and KPMG. The program curriculum is designed in a way so that what it teaches in Data Science, or Business Analytics or Cyber Security is what you have to do when you join these companies.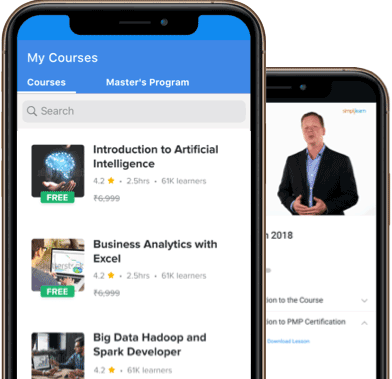 The Pandemic Pump for Learntech
When the pandemic hit, the startup was worried that corporate learning would take a hit. 
"We were expecting them to cut budgets but we were very surprised that it has actually increased after the pandemic. Because corporates are not doing learning just for enhancing their skill sets but it has also become an engagement tool for them so that people don't feel left out," reveals Krishna.
With rising attrition, it becomes more imperative for companies to upskill people to retain them. And hence, despite the pandemic, corporate learning has only increased.
And as they say, necessity is the mother of invention. Because everything had to be shifted online in the pandemic, people realized that it's not that difficult to learn online.
"If the teacher is good, the platform is good, and the support provided is good, it does not make a difference. Now you can do a complete course from Harvard or Wharton online," adds Krishna.
This is exactly why the learntech space is witnessing most of its action in the pandemic. Be it upskilling platform Degreed's $153 Mn funding or upGrad's US$120 Mn funding from Temasek or Unacadmey's $ 150 Mn round from SoftBank, or Skillsoft's acquisition of Global Knowledge, learntech or edtech's evolution has shifted to a completely different level after the pandemic.
"Learntech globally will become a mainstay. Before this, it was supplementing schools and colleges and the education system, but it will become very, very mainstream. It's the same as how advertising which was earlier focused on TV and radio flipped over to the internet! So in the future, people might actually think of doing a program online rather than attend university," reveals Krishna.
Further, the space will see a consolidation among the three four large players in the market. And one already sees that kind of action already happening. Just last month, Indian edtech startup Vedantu acquired a majority stake in AI-enabled personalized learning platform Pedagogy while edtech startup Byju's acquired Great Learning, an upskilling platform for professionals and those in higher education, and after-school learning app Toppr, in a cash and stock deal.  Meanwhile in 2020, global digital learning Skillsoft acquired Global Knowledge and listed on the New York Stock Exchange.
Meanwhile, most Indian players are also harboring global aspirations now, looking at the entire globe as a market. 
Adds Krishna, "Data science or digital marketing is the same everywhere. So more and more Indian companies will become more global than staying local. And you already see that happening."
This is also the thought process behind partnering with Blackstone. Blackstone will enable Simplilearn to become a bigger global business. With this partnership, Simplilearn will also be doubling down on its global markets. Right now, it has paying customers from more than 150 countries. But it's only India and the US, where it has employees on the ground. So going forward, it might even look at building its teams in other markets as well. 
Meanwhile in India, there are plans of launching more programs and more degree courses. It aims to onboard five million learners in the next two years on it's free learning platform SkillUp, which was launched last November to offer learners short-term skilling programs and enable learning continuity during the ongoing pandemic.
For entrepreneurs wanting to enter the 'now hot' learntech space, Krishna's piece of advice is to enter it only if you have real interest in it.
"Right now, learntech is very popular, so everyone wants to do something in it. I don't think that it's a good idea. Today it is popular, tomorrow it may not be. You should enter this area if you really want to do something that makes people better and will make a difference in their lives. Only when you have real interest, will you have the capacity to stay in the startup world for a very long time. It looks rosy from outside, but just like any domain, it has a thousand failure stories for one success story."
But for Simplilearn, which started out from being a personal blog to now raring to become the largest digital skilling provider in the world, the future at the moment, both from outside and inside, looks rosy.