A Brand Reachout Initiative
Learning & Development
How learning impacts performance and productivity
A well-defined learning strategy in place for effective performance management will also help in increasing workplace productivity and talent retention.
Employees are the gear that can take a company in the profitable direction if oiled regularly with the right knowledge and skills. With the rising competition and challenges, a skilled workforce has become the need of the hour in the business world. Mere hiring employees with the right skills won't help a business survive and thrive in a competitive market. Skills are changing at an unprecedented pace. Therefore companies need to nurture the skills to drive performance and productivity by providing continuous learning opportunities. Learning and development not only boost workplace efficiency but also helps improve retention.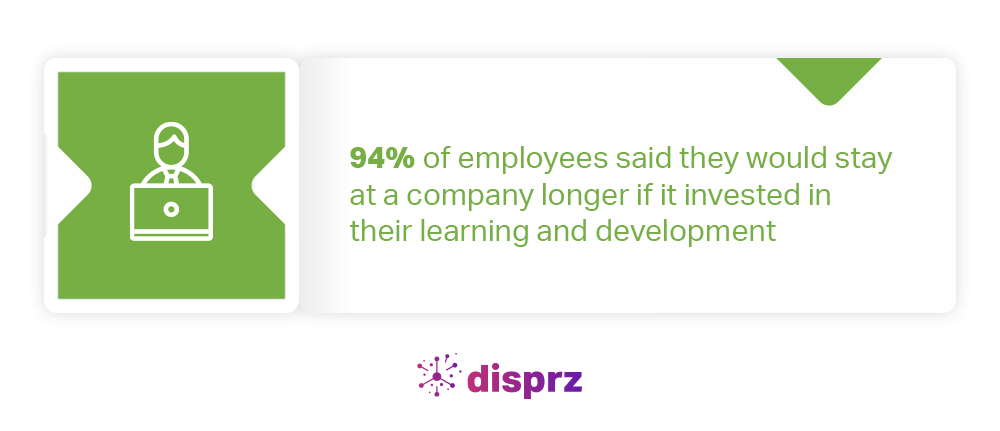 The direct relationship between L&D and employee performance 
Unsatisfactory employee performance can jeopardise the company's performance. Moreover, poor performance might even affect the reputation of the organization as the modern clients immediately hop on to business review sites like G2crowd, TrustRadius, Capterra, etc. to write negative feedback. Hence it is crucial to have a well-defined learning strategy in place for effective performance management to provide utmost satisfaction to the client.
98% of business believe performance management is important, but only 64% say they have an effective approach. 
The right learning opportunities not only fills the performance gaps but also helps expand the employee skillset to manage unforeseen challenges. Learning opportunities that align with business goals boosts employee productivity and positively impact the bottom line of a company. L&D and performance are interlinked. If there are gaps in L&D, it will affect employee performance. On the contrary, if the learning and development is effective, it will help employees build on strength and attain the goals. 
The impact of learning on employee performance and productivity 
L&D is a powerful tool to build competencies and make employees more efficient to achieve desired business objectives. Let's delve into the impact learning and development can have on employee performance and productivity:
Learning helps employees get job-ready from the first day
Learning commences the minute a new hire commits to the job. Effective onboarding helps transform a new hire into a productive employee of the company. 
Organisations with a structured onboarding process experience 50% greater new hire productivity.
If you want to improve the performance of your new employee quickly, then a well-structured onboarding can do the magic. The experience of joining a new company can get overwhelming and confusing at times, as the new hires have a lot on their plate. They need to connect with a new team, understand the procedures and policies of the company, learn new concepts, understand the product, its functionalities and USPs,  jump on the ongoing project, etc. Therefore a well-designed onboarding is essential to give the new hire access to the information,  learnings, and opportunities the employee needs to get to speed quickly. When employees properly understand the company's product, processes, and culture, they feel comfortable working and tend to stick with a company for a longer time.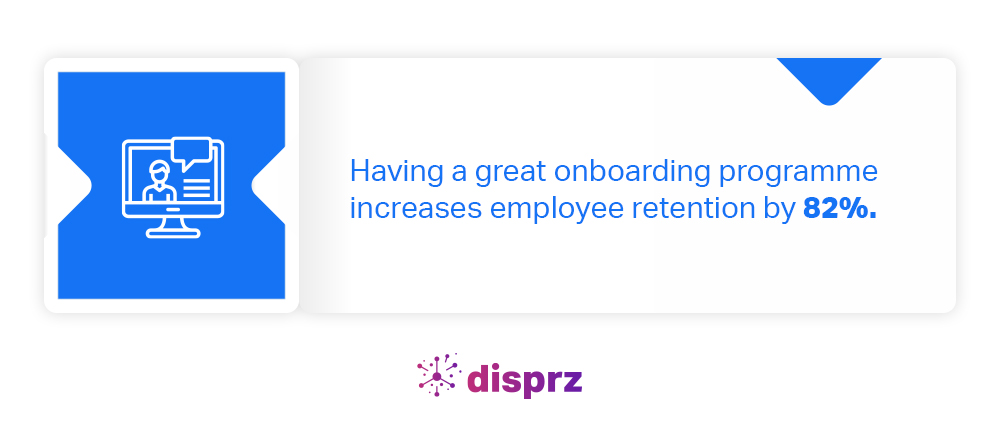 Skill-building helps manage disruption
The digital disruption accelerated by the pandemic has widened employees' skill gaps. Without the right skills and capabilities, employees seem lost in the wilderness of the digital-first world. Continuous skill-building can help employees tackle disruption and deliver the performance needed to offer a satisfactory experience to prospective buyers and customers. 
Only 64.5% of companies feel positive about their ability to adapt to technological disruption .
Companies need to cautiously create the entire skilling journey, starting from identifying the trending digital skills from each role to assessing the gaps and then creating the right courses for making employees digital-ready. Digital disruption might seem like a challenge, but it offers many opportunities to serve the client better. All you need to do is prepare the employees for this radical change with well-planned L&D tactics and turn disruption into a winning strategy for your company. 
Reduces errors and helps  save more time
Learning and development help build the missing skills to reduce the errors that hinder business growth and even affect customer experiences.
However, generic learning initiatives won't help mitigate the errors that lead to poor performance.The errors differ from employee to employee; hence learning should be personalised to help each employee reduce errors.
Personalised learning fits each employee's strengths, improvement areas, and interests. When employees have the right knowledge, they are less prone to making errors that lead to a waste of time. Moreover, they can complete more tasks efficiently in less time. 
Nowadays, with a modern learning tool like LXP, you can effortlessly personalise learning and address the employees' unique learning needs for boosting performance. Disprz's Learning Experience Platform is powered with  AI that offers recommendations based on learners' past learning behaviour and interest. This helps increase learning adoption and improves skills minimising errors. 
93% of top-performing organisations agreed personalized learning supports an employee in reaching professional goals more efficiently.
Boosts employee confidence and self-esteem 
Mastering a skill to perform the task exceptionally well raises confidence and makes the employees enthusiastic. They are able to deliver satisfactory output that boosts self-esteem and motivates them to work harder. Hence making learning a part of an employee's flow of work can expand skill capabilities and create a positive mindset that can translate into productivity. Skilled employees are more capable of meeting the organisation's expectations and leading it in a profitable direction. So continuously nurture your employee skill and knowledge that benefits their professional development.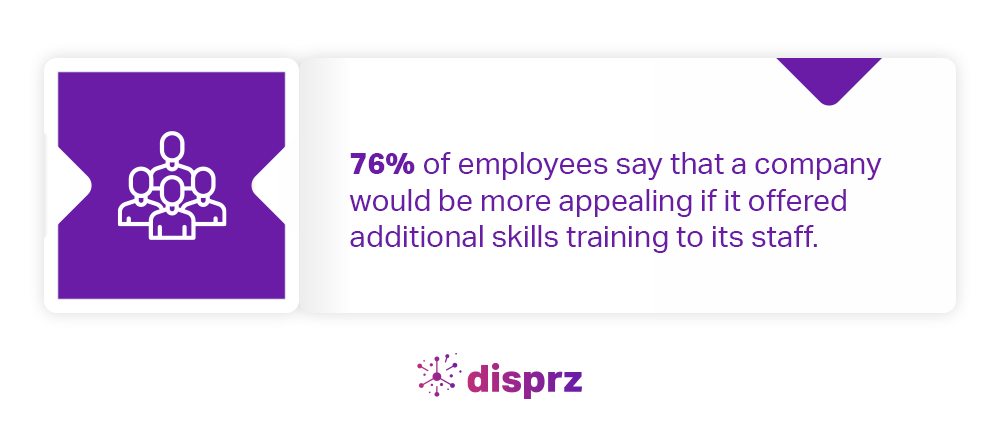 The success of any organisation depends on the employee's performance, and learning has the power to boost both performance and productivity. So create a learning-oriented environment in your organisation. Assess your organisation's learning maturity to ensure the L&D is headed in the right direction to fuel performance and productivity. You can take the Disprz Learning Maturity Survey to evaluate the effectiveness of your learning process and take real-time action to make your L&D more effective.