Training & Development
Why corporate training is a must in the VUCA world
These four challenges pose a tremendous challenge on organization for strategy making. In this unpredictable environment, organizations cannot rely on the traditional way of strategic planning, forecasting & analysis.
Our world is fast approaching a new phase of global cooperation: Globalization 4.0, where cutting edge technological developments and progress in science have made our environment more perspicacious and interconnected than ever. In this transmogrified environment we came across four distinct types of challenges refer to volatility, uncertainty, complexity and ambiguity that demand constructive types of responses. Volatility – refer to the nature & dynamics of change. The more volatile the world is, the more & faster things change. Uncertainty means lack of predictability. The more uncertain the world is, the harder it is to predict. Complexity indicates any situation has many interconnected parts & variables. The more complex the world is, the harder it is to analyse. Ambiguity denotes lack of clarity about how to interpret cause-and-effect. The more ambiguous the world is, the harder it is to elucidate. 
These four challenges pose a tremendous challenge on organization for strategy making. In this unpredictable environment, organizations cannot rely on the traditional way of strategic planning, forecasting & analysis. The change is so rapid; to understand & harness the change, organization needs to pick up the right signals. Actually, this is a paradigm shift from a digital savvy environment to a new era where knowledge is power and innovation is the driver of growth. 
To stay ahead of the competition, organization often felt the need to use innovative & advanced technology to lower the cost & to increase quality and efficiency. Do they really give a second thought, that to gain a competitive edge, only leveraging in new technologies are not enough they also need to make the system more resilient where responsive decision making and learning can thrive. And for achieving this goal, human capital is the greatest asset and the biggest key. As each organization has a unique set of workforces, which is an intellectual capital of an organization and organization can create value through its people's competence. It means a vibrant workforce is required so that an organization can use its employees' energy as a driving force to fulfil the organization dream & goals. Because every personality differs widely in abilities, aptitude & intelligence but it is necessary to take particular care in fitting the right people to the right jobs and giving them the right training. That is why corporate training is of utmost important, to upgrade and invest in their skills set to stay relevant and also continue to attract very high calibre people to maintain competitive advantage. Even an effective module of corporate training has power to keep the attrition rates at bay. However, digital penetration & growing technological interdependence has transform the way of delivering the training but the basic principle of corporate training has not changed much.
We know that advance technology & automation is taking over thousands of routine tasks & eliminating many low skill jobs but a same time, technology is creating opportunities. Many jobs in near future will require a combination of technological innovation & advance cognitive skills, because jobs that rely on interpersonal interaction will not be easily replaced by machines. For organization to benefit from the potential that technology offers, they need to redesign their traditional way of working with an innovative & creative way of doing work along with a large investment in human resources. Yet there are plenty of ways to improvement but corporate trainings are the better method to upgrade existing skills, knowledge and for providing new skill sets to their employees. But before imparting training, organization should understand the today's changing demand of skill set at workplace, accordingly they can design their training modules. As the corporate training provide opportunities for an individual to re-skilling, up skilling and acquire higher order cognitive skills that are so important to the changing nature of work. These trainings are the next venue for employees to accumulate knowledge and acquire innovative skills after their school & university, but such opportunities are relatively rare to see as every organization is busy in hoarding the latest technology and they are overlooking the unique asset they are having in the form of human capital. 
How corporate trainings act as a synergist for an organization:
It prepares the workforce for career advancement
It helps to improve performance in real-world workplace
It develops holistic perspective to problem solving & skill development
Training programs provide conceptual and empirical grounding in planning and development
Generate higher employees' satisfaction & retention
Provide opportunity to employees to think beyond their established work routines
Develop better decision making & ownership of responsibilities
It tries to integrated individual goals with the organization goals
Help to develop inter-personal trust, support and cooperation among employees
Help to understand the difference between responsibility and accountability
Prepare for alternative options and challenges 
It helps employees to open for new behaviour or opinions and willing to adapt or discard
It also assists to achieve healthy work-life balance 
4's Circle of training
Training is a continuous & circular process that helps employees & organization to develop & processes self-empowerment. It provides an opportunity to measure the correlation between training & improved growth of an organization. It also helpful for new employees to quickly integrated into the culture of an organization.  
How it helps to improve an individual performance: It helps an individual to achieve empowered existence through the discovery of their true potential and hidden capabilities. It also provides complete self-reflection of an individual.
How it encourages individual & organization's Performance: Training is a tool to give an employee an insight about the skills, abilities & knowledge to stay tune with the present and future environment. It helps in developing the career of an individual and the prosperous growth of the organization. Its formalized employee's career, it given the opportunity to learn new skills or qualification within their field of work. Indirectly it aids an organization in their strategy making and structural development. 
Ultimately it lends a hand toward organizational growth: Training narrows down & prepares the skilled employees who are right for the company. And their increased efficiency at workplace will ensure success which in turn will help to achieve a unique value position in the competitive market place with their distinctive capabilities.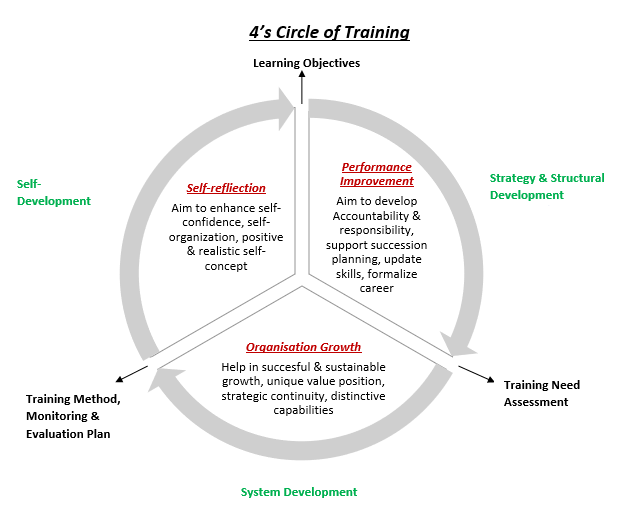 World Bank's "World development report 2019" has also emphasized on specific skills to meet the requirements of near future jobs that are as under:
Advanced cognitive skills
Complex problem solving
Critical thinking
Greater adaptability
Socio- behavioural skills
Advance communication
Emotional intelligence 
Soft skills – Perseverance, collaboration and empathy
Digital learning 
If any organization wants to compete in this VUCA world can relate these above mentioned skills to their organization and their training assessment needs and try to revolve their training programs around these skills. Moreover, on the basis of training needs, learning objective can be established for training sessions. Finally, after imparting training, an effective feedback is essential to analyze training efficiency, whether this training program has the competency to change the environment, skills, behaviour and performance of individual as per desired level. It will also help to identify areas that could be improved during future training sessions.