Watercooler
Queer Icons: Part II
In the second part of our two-part series on Queer Icons, we recognize some of the most inspiring onscreen LGBTQ+ characters who have driven and enabled a shift in the outlook towards the LGBTQ+ community.
While there are real life change-agents who have led the transformation in the living and thriving conditions of the LGBTQ+ community, the recent years have witnessed an evolution in the portrayal of LGBTQ+ characters on screen. 
Amid the decades long movement to bring about impactful change in the lives of queer individuals, several broadcast media characters too have contributed in sensitizing the wider population not just towards LGBTQ+ issues, but also in breaking myths and stereotypes often associated with being LGBTQ+.
In part one of our two-part series on Queer Icons, we celebrated the work, life and accomplishments of some of the most inspiring real life trailblazers from across the globe who have been walking the talk on owning their identity, enabling change, and empowering many more in their journey. In part two, we take a peek at some of the most path breaking LGBTQ+ characters in broadcast media who made their way into the hearts of many and normalized having an LGBTQ+ colleague, family member, and friend.
David Rose - Schitt's Creek
"I like the wine and not the label." That's all it took David Rose to break down the walls of being LGBTQ+. His sophisticated and mind my own business take on life makes him one of the most beloved characters on Schitt's Creek, a show conceptualized by him and his father, who also play the father-son duo on the show. 
The riches to rags storyline of the Roses brings the family to a small town where they not only try to make ends meet, but rediscover themselves as individuals. In this journey of rediscovery, David Rose, the flamboyant son, not only delivers a beautiful character growth for his role, but beyond accepting and celebrating himself, he helps his friend Patrick (who eventually becomes his husband) come to terms with his own identity and very gracefully helps break the ice with his parents as well. David not only is encouraging of his partner in his journey, but stays open to overcoming his own past traumas and embracing the new found goodness in life.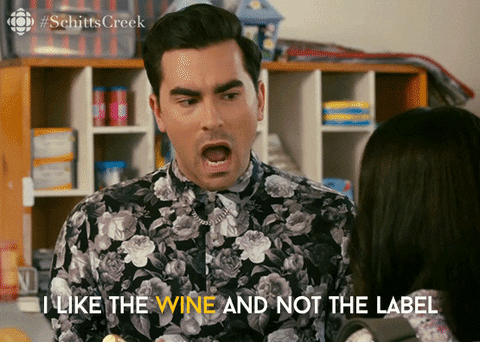 Ramchandra Siras - Aligarh 
Ramchandra Siras, a gay professor at Aligarh Muslim University. The role played by Manoj Bajpayee is based on the real life story of Professor Siras, a homosexual who was suspended for just that, his sexuality. Bajpayee's portrayal of Siras while signifying human rights, equality and right to privacy, is also a reminder that freedom of choice can never be less important. 
Another fascinating aspect to Siras' character is his disagreement with the label of his sexual orientation. He shares that his feelings are too complex to be coined under three letters- "koi meri feelings ko teen aksharon mein kaise samajh sakta hai?" (How can someone understand my feelings in three letters?).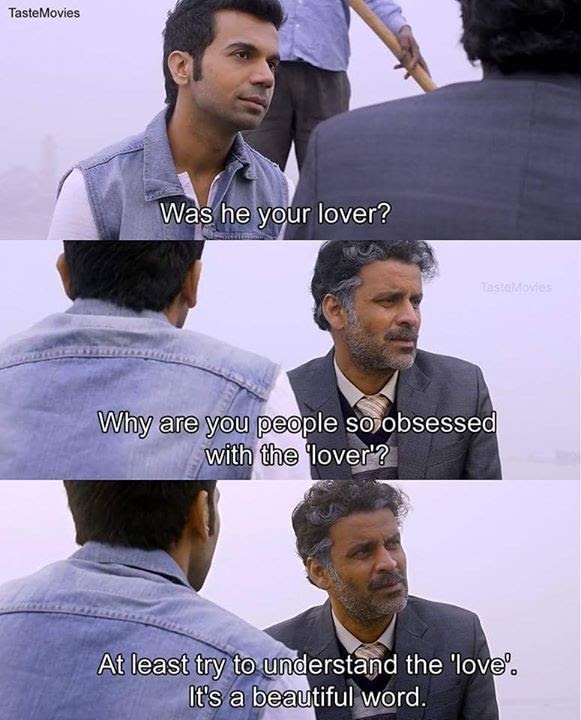 Eric - Sex Education
Eric is one of the best characters on the show who faces numerous issues due to his sexuality, but ultimately overcomes them and refuses to be cowed. While Eric offers us comedic relief with his witty one liners, he also experiences a great deal of adversity and trauma. He struggles with his identity, questions his faith and also changes his appearance following a traumatic incident. However, he eventually manages to rise above and shines through with his uniqueness. His relationship with his family, especially his father is a beautiful portrayal of how all it takes is support from one person for you to own your individuality.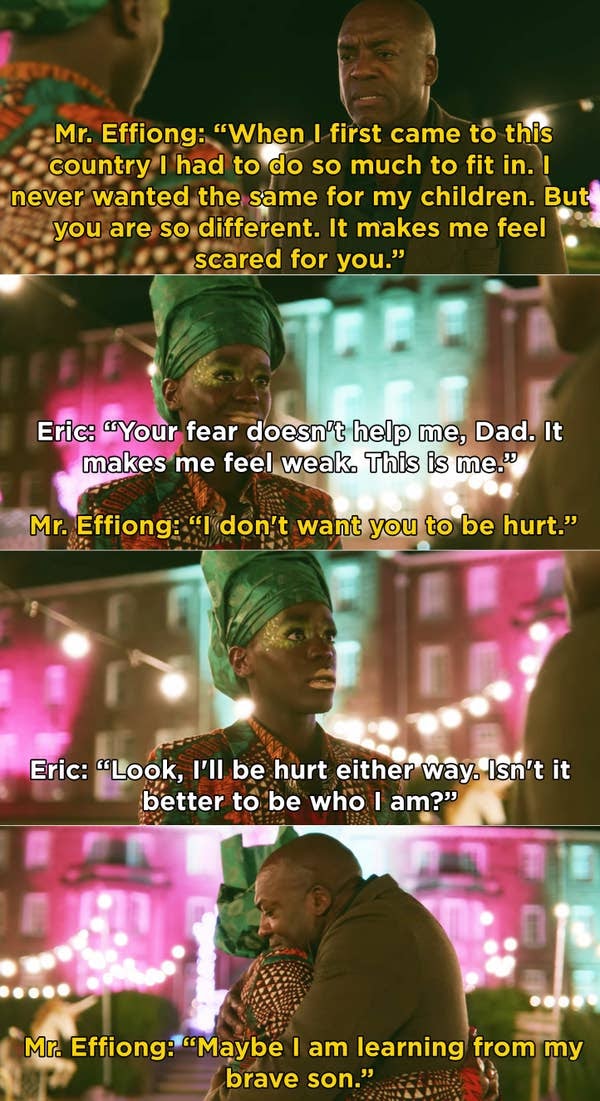 Image source: Buzzfeed
Raymond Holt - Brooklyn 99
A no-nonsense leader of Brooklyn's 99th precinct, or '99' as the taskforce calls it, Raymond Hold is very first out and proud black gay captain of the police force in Brooklyn. His appetite for drama and bigotry are on the down-low. On the other hand, his charisma and leadership skills are on the higher end. He not only successfully leads a team of ammateur and sometimes conflicted and self-doubting cops, he raises them to believe in themselves and be the best version of themselves. 
Married to a professor, and father to a smart and sly Corgi, Cheddar, Captain Holt is a breath of fresh air who consistently defies the age-old stereotypical portrayals of LGBTQ+ individuals.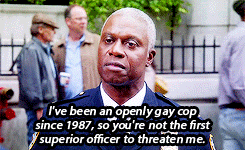 Dr. Callie Torres - Grey's Anatomy
Callie is a force to reckon with. Be it in the operating theatre or embracing her identity and living it up, Callie's character brings forth the ability of an individual to be both vulnerable and strong, to be compassionate and yet, put up a fight for herself.
Callie is an orthopaedic surgeon, who not only fixes bones, but is an incredible and loyal friend who helps her circle of people overcome the emotional and psychological barriers that hold them back from being themselves. Her journey is one of betrayal, awareness and growth. Her ability to adapt to her true self and take a stand for herself even when her family tries to tell her marrying someone from the same sex is against their religious beliefs, is truly inspiring. While many individuals in their journey of coming out struggle with their family, Callie was one who had this realization at a relatively later age and it stirred up her loving equation with her father. Yet, with patience and grace, she allows him the time to accept and love her for who she is.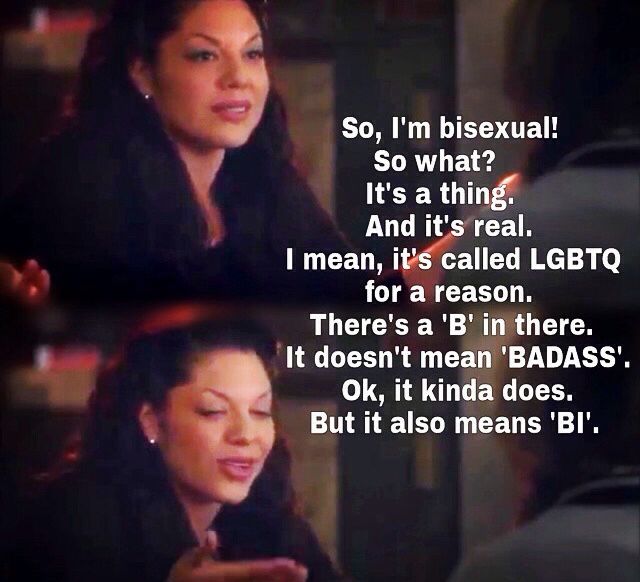 Sophia Burset - Orange is the New Black 
Sophia Burset, the sassy transgender hairdresser really stands out amongts the walls of the Litchfield Penitentiary in Orange Is The New Black which houses and represents LGBTQ+ characters extensively.  Sophia is one of the first trans characters represented on screen and it being played by black, transgender activist Laverne Cox is definitely a highlight. Sophia's character is always just and humane but is also a fierce advocate for intersectionality and a stark representation of LGBTQ+ inmates in prisons.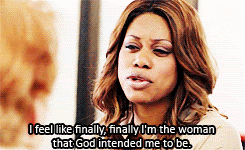 Simon Spiers - Love, Simon 
Simon Spiers in Love, Simon is a teenager who is aware of his sexuality but is struggling to come out. While Simon is growing up in a liberal and very progressive environment with supportive parents, the character wonderfully portrays that coming out is likely to always be a complicated process for young people which makes his character extremely relatable. 
When he finally does come out, Simon's mother says, "the last few years, it's like you've been holding in your breath, and now you can finally breathe again."  And well, everyone should be able to breathe without the fear of others' judgements. 

Laila - Margarita, with a Straw 
Margarita, with a Straw revolves around Laila, a teen who has cerebral palsy, uses a wheelchair for mobility and is on a quest to study creative writing in the USA. While that sounds pretty straightforward, the movie does a lot more than that, it is a wonderful, liberating and empowering film in its portrayal of disability, sexuality and queerness.
Laila does not face any discrimination in her family and while you witness multiple layers of it created by the intersection of gender, disability and queerness, Laila eventually overcomes all the obstacles, empowered by her mother who is the matriarch of the family. What truly stands out is that the movie's aim is not to make the audience sympathize with Laila, but to be sensitive towards Laila as a woman and her sexual desires and not Laila as a sexless disabled person. It is a great coming of age tale of finding your own identity and love that breaks all boundaries of the society's perception of 'normal'.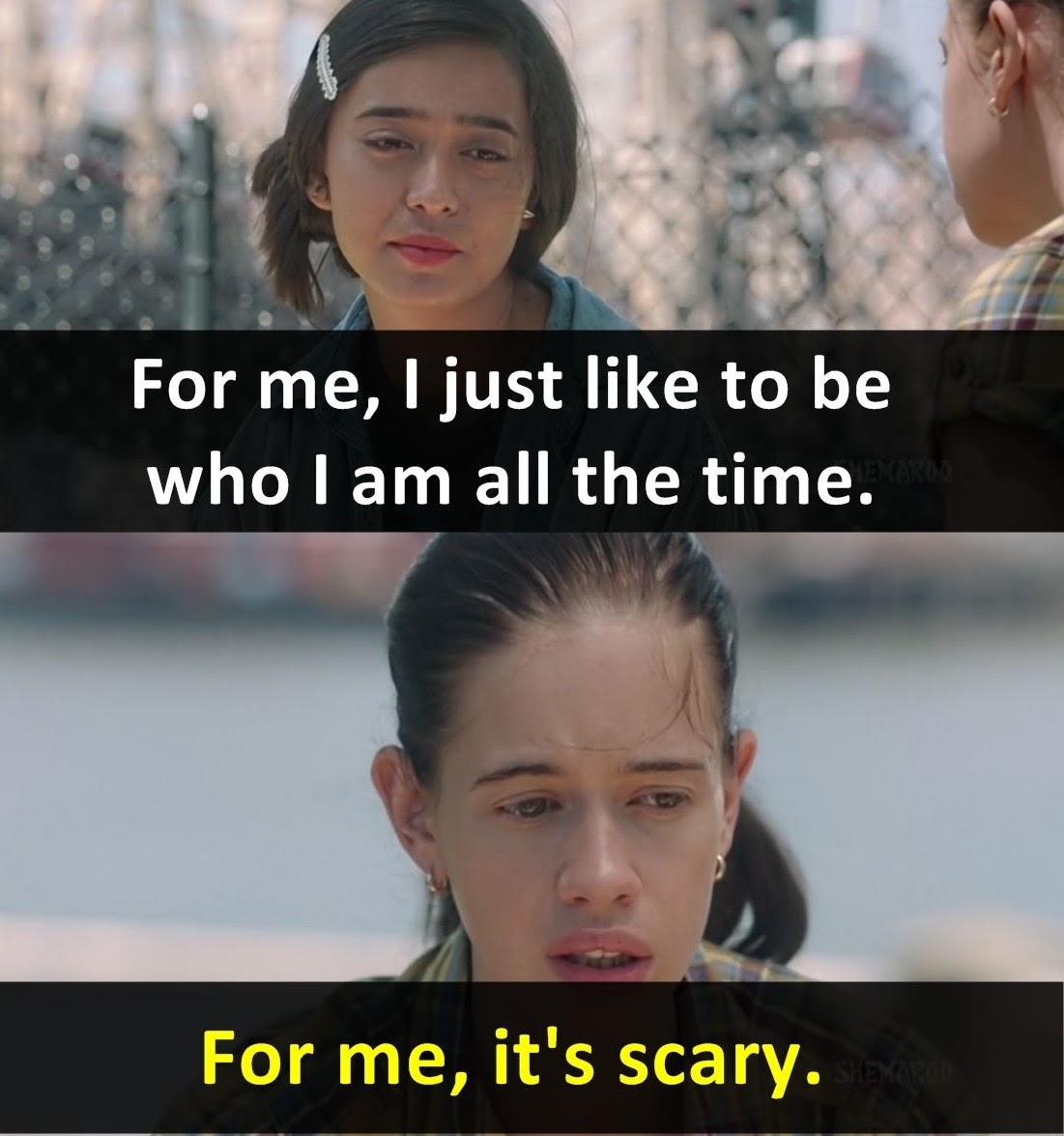 Mitchell Pritchett and Cameron Tucker - Modern Family
The lovable and warm couple made their way into our hearts long ago. While Mitch and Cam might not have strong statements to make about being LGBTQ+, they portray what being LGBTQ+ would harbour in the long run - acceptance, love, growth - that's it. The show very subtly eases them into their roles, and what makes them stand out is not being different because they are gay, but because they can be as clumsy and demanding as the other straight characters. 
The transition for Mitch from being a son who's father feels embarrassed about him being gay, to being a proud father himself, along with his partner Cam, of their adopted Asian daughter is beautiful. Mitch doesn't let his father's disregard for his true identity hold him back, in fact gives his father the time to accept him and his partner. The journey for the father too isn't an easy one, but with some time and their eventual wedding once gay marriages were legalized, the journey of acceptance is a heartwarming one. Mitch and Cam beautifully normalize what needs to be normalized, while celebrating together and supporting each other through the various ups and downs of life. Further, they switch the role of caregivers as equal partners as and when the need arises.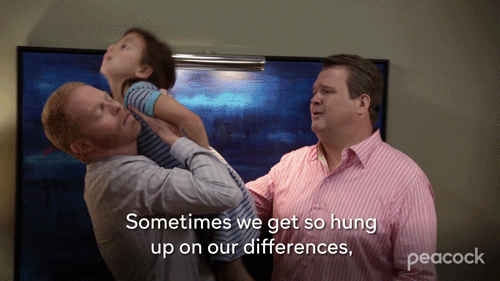 The 18 queer icons we have identified in our two-part series are just some among the army of queer icons who are changing the reality for many others, one family, one job and one company at a time. 
Here's wishing every single one of you a very Happy Pride Month!