A Brand Reachout Initiative
Corporate Wellness Programs
6 key factors to design a future ready wellness strategy
Wellness Wins Read similar articles
Engagement, sustainability and ROI being roadblocks in designing wellness strategies, People Matters and Sanofi Pasteur hosted a Round Table discussion with leaders across industries to identify key factors in designing a future ready wellness strategy.
People Matters with Sanofi Pasteur conducted a survey in 2019 on wellness practices and trends across industries which saw participation from 223 companies, majority being from IT/ITES, Services and BFSI. Healthcare, Manufacturing, Retail and Telecom were among other sectors that participated.
Focused on sharing the survey's findings on current wellness trends, addressing common concerns and brainstorming for the future of wellness, People Matters and Sanofi Pasteur hosted a Round Table discussion with over 30 talent leaders leading the Comp & Ben, Employee Experience as well as Diversity and Inclusion divisions across IT/ITES, Consulting and Retail organizations.                
Sharing the findings of the survey and enabling a discussion on the same for building a healthier workforce, Mrugesh Dholakia, Head - Bien-etre, Sanofi highlighted the current wellness trends and common roadblocks as well as encouraged a shift in mindset by moving from reactive care to preventive care in designing wellness strategies. The session was moderated by Ashish Saxena, India Head - Total Rewards, Ericsson.
Observing how gym memberships at workplaces witness a significant fall in memberships within 6 months of being offered, Mrugesh raised a thought provoking question around the long term value add of some of the most commonly implemented wellness programs ranging Yoga and Zumba classes, stress management workshops and health check-ups, bringing to light what appeared to be a common concern in the value addition, sustainability and engagement of these programs. Mrugesh further added that with insurance costs rising every year, working on specific, measurable wellness plans will help companies manage their insurance costs. 
Findings of the survey highlighted the following trends in current wellness practices: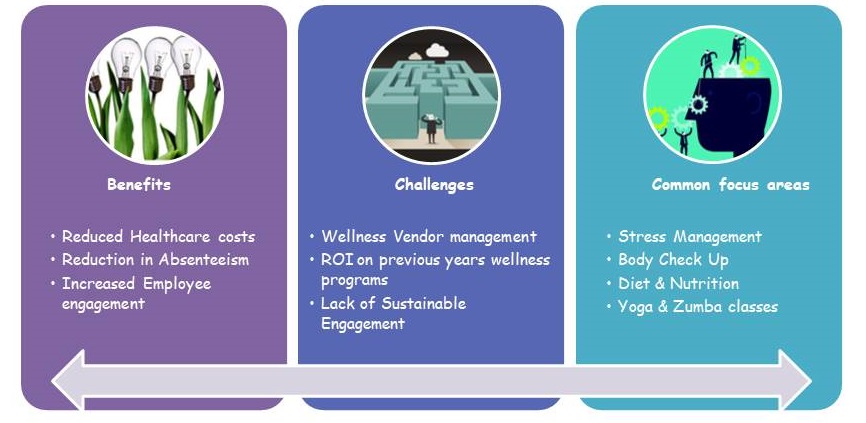 Microsoft's Wellness Philosophy
Microsoft's Head Compensation & Benefits, Rishi Khandelwal brought to light some thought provoking wellness philosophies adopted by Microsoft that are key to shaping behaviours and creating a culture of wellness within the organization. He said, "Organization's benefits and health & wellness strategy plays a very important role in building a healthy, productive and engaged workforce." 
He further added that these strategies can help in shaping desired behaviours which ultimately become a habit and these collective habits become an important part of organizational culture." With a belief that health and wellness is critical as it aligns with the Microsoft mission to enable every person on the planet to achieve more, Microsoft has made a shift from the traditional approach of one size fits all to a more evolved wellness program with personalized experiences for all. Additional, focus is on holistic well-being rather than just physical wellbeing. Global branding and communication, leadership engagement and sponsorship and leveraging wellness ambassadors to infuse the culture of wellbeing is an integral part of Microsoft's wellness strategy.
In their effort to focus on holistic wellness, Microsoft focuses on physical, social / emotional and financial wellness. To assess the success of their wellness programs, Microsoft evaluates awareness, adoption, results and advocacy of their initiatives.  
Unorthodox approach to wellness strategies 
While the majority of the wellness strategies revolve around healthcare costs, disease outbreaks and ROI, several companies across industries are taking an unorthodox approach to address today's wellness concerns with employee well-being at the core.
By launching WNS Sports, Adil Nargolwala, Corporate VP HR - Head Talent Acquisition Group at WNS, brought about long term changes in employees habits and lifestyle. Under the Sports initiative the organization encourages employees to participate in sports taking place outside the organization and reimburses the expenses (within a reasonable amount) incurred by employees for participating in the events. Employees across locations voluntarily lead the sports initiative and organize events both within the organization as well as publicize events that happen outside. In the last year nearly 40% of the WNS workforce in India took part in events across badminton, table tennis, marathons and more. This initiative helped WNS build a healthier workforce with employees actively taking part in sports and sharing how this has resulted in a positive impact on their health with weight loss, reduced sugar levels, etc. 
Seema Ajwani, Managing Director - Employee Relations at Accenture shared Accenture's journey in improving the mental well-being of their employees. Ajwani mentioned how they linked their wellness program to a core value and then worked backwards. With their core value being "truly human", the focus was on heart, body, mind and soul. "With a core value defined, HR can go to the business and discuss what they plan to do, aligned to these core values" said Ajwani. Accenture is now in a position to measure the success of their efforts with the following outcomes:
The level of escalations that came because of the environment around came down significantly
Utilization of EAP increased by a significant percentage in the last two years
The employee engagement survey indicated how employees feel more respected as an individual in the organization and feel they can bring their authentic selves to work
Accenture also initiated a program called Habits Rally where employees get to choose two areas from heart, body, mind and soul, and the organization helps them develop healthy habits in those areas by assigning a buddy and creating a plan to imbibe healthy habits within a specified time period enabling a results-oriented wellness program.
Bhawana Hiremath, Senior Manager - Comp & Ben at Kohler shared how they leveraged a fitness app to organize an 8 week fitness challenge for their sales teams. With sales team generally competing to achieve their targets, the fitness challenge created a healthy competition. Kohler measured the success of the challenge with employees coming to them at the end of the challenge sharing how they were happy to have lost weight during the challenge, and that they felt fitter now when they stepped out in the field.
Sharing how CITI moved from an ROI driven model to a "unique adoption rate", Siddhant Mathur, Compensation & Benefits Specialist at CITI added how CITI measures employee participation in fitness activities sponsored by the organization with the focus being on the usage of services and not cost. Another program they organized was a fitness challenge wherein when an employee would reach a certain set target on the designated fitness app, CITI would contribute to a charity on the employee's behalf, linking an external stimulus to drive the change in behaviour.
Megha Gupta, Director HR at Fiserv emphasized on the criticality of enforcing wellness programs highlighting how an organization's wellness strategy is part of the values that differentiate it from another organization.
A considerable number of opportunities today are concentrated in Tier - 1/2 cities requiring individuals to relocate and live by themselves, or in nuclear family setups with  relatively lesser family support structure at home. At the same time, organizational strategies of achieving greater productivity with lesser resources has resulted in individuals working for longer hours on a sustained basis. This concoction of societal and economic forces has led to a situation where the employees in today's era are dealing with considerable mental and emotional stress without awareness of or access to suitable coping mechanisms. 
Highlighting such employee needs Saxena added, "It is imperative for organizations to design holistic & integrated wellness strategies / frameworks that contribute to enhanced physical, mental, emotional, financial & social well-being of their employees and to ensure awareness of & ease of access to the wellness portfolio at individual employee level".
Future of Wellness Strategies
Wellness strategies are imperative to improve productivity and to build a healthier workforce. Companies need to design their wellness programs keeping employee wellbeing at the core. While measuring ROI continues to be a grey area, organizations need to relook at their wellness strategies with an open mindset considering cost incurred in implementing wellness programs as an investment in the long run that contributes in increasing employee productivity and creating a healthy culture.
Parameters to consider for designing the future wellness strategy:
Keep it simple: Lack of engagement and low participation often keeps companies from investing more time, money and effort in creating a wellness strategy. The focus should be on crafting simple programs that are relevant and contribute to an employee's wellbeing rather than designing big budget strategies for mere existence of a wellness program.
Nature of Business: There are roles that require employees to perform under stressful deadlines, stretch their working hours, work in night shifts, work on holidays, etc. While in most of these cases employees might be mentally prepared to take up such demanding roles, it is an organization's responsibility to take care of the employee's well-being by providing required interventions and suitable complementary benefits.
Accessibility: A considerable percentage of the workforce today is either mobile, or works from a remote location or based out of client site, etc. Location and time being a constraint, it might not always be feasible for them to travel and avail wellness services. In such cases companies can leverage technology and use health apps or even tie-up with local vendors to create an accessible healthy ecosystem.
Communication of availability: Prior and timely communication of facilities enables employees to plan their work better and avail services, addressing the issue of participation.
Personalized experience: Health and Wellness initiatives need to consider the demographics. They need to be customized as per different segments including gender and age group among others. 
Tech-enabled services: Wellness programs backed up by technology help in tracking utilization and effectiveness. By using the latest technologies like Artificial Intelligence, organizations can design strategies suitable to their nature of business and employee well-being, differentiating themselves from their competition.
To sum up, as stated by Ashish Saxena, "Wellness initiatives need to be embedded into the organization's culture and need to be measured and tracked. While there are pioneers who have done superlative work in wellness, most of us are at a basic evolution of wellness as of today. Realize the importance of wellness for what it stands, customize wellness programs and think about how you can make the accessibility universal to all employees."
(The session is based on the roundtable session organized by People Matters and Sanofi Pasteur on the theme, 'Design a future-ready wellness strategy - The missing piece of preventive healthcare' at Gurgaon.)