A Brand Reachout Initiative
Corporate Wellness Programs
How to design a future-ready wellness strategy
Wellness Wins Read similar articles
In a round table held in partnership with Sanofi on designing a future ready wellness strategy, leaders from various industries spoke on ways to fix that missing piece of preventive healthcare.
As more and organizations around the globe focus on building strategies that should continue to make sense not just for today but times to come as well, it is but natural that their wellness strategies also need to be future ready. 
While the core aspect of any wellness strategy revolves around productivity, insurance claims, and engagement, but can wellness play an important role in retention as well? Do we have the capability to develop such wellness strategies which are not only relevant for the millennial who is 20 days old versus a senior guy who has spent years in the firm? With this thought-provoking question, Mrugesh Dholakia, Head - Bien-etre, Sanofi, threw open the conversation in the roundtable on the topic of 'Designing a future-ready wellness strategy-The missing piece of preventive healthcare.'
Sharing insights from the research - Contemporary Trends & Challenges Of Workplace Wellness Programs In India 2019, Mrugesh revealed that vendor management, ROI, and sustainable engagement are some of the challenges faces by organizations when it comes to designing a wellness program. Stressing that most organizations today focus only on reactive care, he emphasized the need to focus instead on preventive care, given the rising health costs borne by organizations.
How can organizations move the needle from reactive care to preventive care? This is what was dwelled upon by Venka Reddy, HR Business Partner, Infosys who presented a case study on 'Organizational Employee Wellness Strategy.'
Wellness is holistic and multi-dimensional
Venka started off by stating that health and wellness is projected to be the next trillion dollar industry. Wellness includes all dimensions-body, mind and spirit. It is holistic and multi-dimensional and not uni-dimensional. It is not organizational motivated but is perceptual, perpetual, and self-motivated. Organizations can simply create a platform for people to promote wellness. The basic purpose of any wellness journey is being proactive and preventive, which is where a person's behavior needs to be corrected.
A well rounded or multi-dimensional wellness strategy should address eight elements-mental, intellectual, financial, environmental, physical, social, occupational, and emotional. Hence a wellness strategy needs to take care of all these elements.
Today poor lifestyle choices are posing the biggest challenge to the wellness of employees. While the financial well-being of corporates has gone up in the last decades, there has been a surge in health risk of employees. Almost 14% of annual work days are lost due to employee sickness. Even a 1% reduction in health risk will increase productivity by 9% and also reduce absenteeism by 2%. This is why it becomes important for organizations to look at wellness seriously to increase engagement. More so specially, when almost 85% of the private sector employees suffer from lifestyle diseases compared to 8% of government employees.
So what are some of the wellness offerings being provided by organizations today? Flu shots seem to top the list, with 87% of the top companies offering them. This is followed by employee assistance programs, followed by web-based resources for healthy living, and others such as gym membership discounts, on-site exercise facilities, wellness newsletters, lifestyle and behavioral coaching, and weight loss programs.
Venka shared his experience how organizations can adopt the principles of positive life where they can encourage employees to hydrate, make diet changes to eat right and feel right; encourage physical activity by emphasizing on clocking 10,000 steps or trying a new workout; encourage developing a positive mindset through mediation and me-time, and urge people to share and care, volunteer for a cause, practice forgiveness and gratitude. 
Venka also added that lack of buy-in from the management, a stale or isolated wellness program which is not well rounded, inability to report results, or perceiving wellness program as a distraction, not knowing where to start and not putting proper thought behind a wellness program, are some of the challenges which organizations might face in designing a wellness program.
Focusing on preventive healthcare for wellness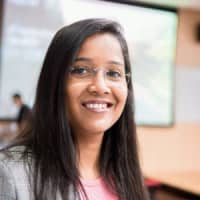 Taking the discussion further on how can organizations focus on preventive healthcare for wellness, Mimansa Manaswini, C&B Consultant, Microsoft, stated that while organizations recognize the significance of health and wellness, where do they make a start is the question. She added that wellness is not about the physical body alone but it is also about the sense of purpose and the thoughts that we have. She then threw the floor open to delegates to share their insights on what wellness means for them and how do they connect it to the larger people strategy at their organizations. 
Murali Madhav, Compensation & Benefits Analyst, Wells Fargo, stated that the vision statement of Wells Fargo is to give sound financial services to the customer of the banks. Tying that to the benefits strategy, in order for employees of Wells Fargo to do this, employees also have to be in the right frame of the mind. With that vision in mind, the organization came up with the questions-who does what for whom. 'Who' here refers to Wells Fargo, 'does what' refers to come up with a portfolio of benefits and wellness programs, and 'whom' refers to its employees. The outcome of this vision is to empower their employees in their overall wellbeing and put in place programs for the same to give the same experience globally to all employees. This is how the organization has tied up the vision with the overall benefits strategy.
Another approach shared by Sitesh Mohanty, AVP HR, Bank of America, was that wellness should not be just caring about employee's wellness at the workplace but also caring for his social, financial, and emotional wellness, which would include his dependents also.
Franklin Jayakar, Associate Director, JDA Software shared that the organization's wellness strategy is tied to employee engagement. In that direction, it conducts webinars and has seen a healthy response as employees post anonymous questions about healthcare. The company also conducts wellness camps in house as well has earmarked a dedicated wellness week to encourage and engage employees with wellness. Making employees a part of designing the wellness program increases engagement.
Similarly, Dell has also instituted a program called ABC- A for Achievement, B for Balance, and C for Connect. The connected workplace philosophy allows people to balance their lives and wellness. Dell aims to make 50% of its employees work from remote, ultimately helping them balance family and health, and drive engagement.
Cognizant also instituted a unique approach for the wellness of its employees, especially those who work in shifts. It took feedback from them as to what will help them in those shifts to take care of their health. Based on the survey, it instituted tai-chi sessions for the late night shift. It has also set up healthy food counters to take care of night hunger pangs. It also brings in dieticians to advise them to take care of their health better while they change their bio-clock.  
The next step ahead: Making wellness a part of an employee's goals
V Jayashree, Sr Manager, HR, TCS, spoke about how wellness programs have evolved in phases. Starting with basic health insurance plans, needs and expectations have changed and now strategies are being designed to encourage people to understand where they are in terms of health. What is important here is to help employees identify their purpose, which TCS tries to help its employees to identify. In this direction, it has instituted programs such as fit for life, not limiting to employees but extending to their families and society as well.
However, despite the good intention of organizations, wellness is still a broken piece, averred Pragathi Kumar Achanta, Director HR, AT&T GBS India. While a company uses multiple vendors for wellness, they are not speaking to each other and nothing is being done with the data being collected. Lack of integration is missing in these systems and partners are unable to offer bundled offerings as a result. What's needed is one employee interface, one health portal which can address the health and wellness needs through multiple vendors.
Hence piecemeal, stand-alone initiatives which do not tie into any long term strategy need to be discarded and organizations need to relook at their wellness strategies differently and tie their systems and processes together.
Another approach, he averred was also to instate a health goal in an employee's professional goals to help him participate meaningfully in the wellness programs designed for him. 
Ultimately, to create engagement of employees, organizations need to go deeper at a human level to tie wellness with what the employees want to achieve in their lives. So when organizations are able to help employees at a much deeper level, they are able to forge a deeper connect and bring in more engagement and participation voluntarily.
The ultimate idea is to instill the need for wellness in an employee-it should not be the mandate of HR or CEO alone. 
(The session is based on the roundtable session organized by People Matters and Sanofi Pasteur on the theme, 'Design a future-ready wellness strategy - The missing piece of preventive healthcare' at Hyderabad.)