Corporate Wellness Programs
The Big Billion well-being: Caring for employees during festive season
From laughter yoga to stand up comedy, ecommerce firms go to great lengths to ensure the well being of their employees during the crucial festive season sales.
The festive season saw the launch of Flipkart's Big Billion Days and Amazon India's Great Indian Festival Sale this month. While millions of Indians went on a shopping spree for millions of things, ecommerce players were on another kind of spree-a hiring spree to service the festive season demand.
Flipkart added 30,000 direct jobs in its supply chain and logistics arm and estimated its seller partners to have added an estimated 5 lakh plus indirect jobs at their locations. Meanwhile, Amazon India also expanded its teams and makes way for over 50,000 seasonal employees. The seasonal jobs have been created for all its network of fulfillment centers, sortation centers, delivery stations and customer service sites in cities like Mumbai, Delhi, Hyderabad, Chennai, Bengaluru, Ahmedabad, Pune, and others.
Keeping the fervor high and the enthusiasm up in those high-pressure days is not an easy task for these organizations. How do they motivate and energize their employee during these crucial days to keep up the momentum during these crucial days?
Flipkart becomes a second home to its employees during Big Billion Days
While the new staff gets trained in supply-chain processes, in line with the government's National Skill Development Mission, for Flipkart and its sellers, the Big Billion Days mean extensive preparation, seller trainings, infrastructure scale-ups and hiring, raising flex warehouses and checking system resilience for peak traffic hours. 
For the older thousands of employees, Flipkart's Bengaluru headquarters becomes a second home to its employees. Because those five days entail hundreds of hours put in, sleepless nights at spontaneous war rooms, and long brainstorm sessions. The best way to keep the momentum going is to ensure that everyone is well taken care of, well fed, and well rested.

Since the sheer scale of an event like this means round-the-clock work for many at Flipkart, Flipkart goes the extra mile to ensure the well-being of its employees. 
Midnight snacks to Standup comedy-all @office
 In such high-pressure days, food should be the last thing people worry about. Flipkart arranges for 24x7 tuckshops across the three buildings of its headquarters and breakfast, lunch and dinner is on the house. Late night cravings for a biscuit or a much-needed caffeine boost-midnight snacks are there to help with both. Not only this, to celebrate victories and make memories, cake, and wine are also on the house through the days.
 From bedding to bunker rooms, the ecommerce giant also takes care of the sleep requirements of its employees. Those in need of stress-busting can choose between massage chairs, Zumba, gaming zones, or a quick pick-up game of basketball on the roof. Flipkart even arranged for a stand-up comedy session from Vaibhav Sethia, along with cotton candy and live music. In addition, employees can even participate in on-the-floor games to unwind a little.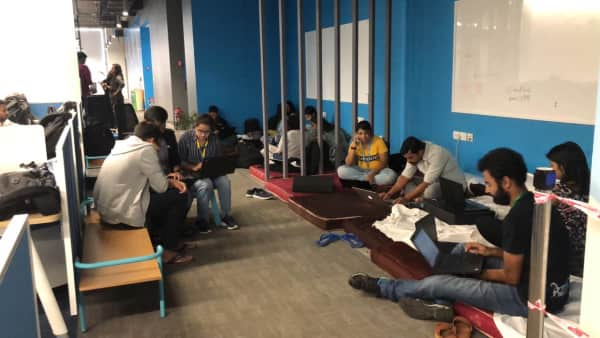 Meanwhile, to ensure employees' safety during this crucial and high-pressure time, there are ambulances on site at all times along with organized late night drops, security guards and escorts for female employees.
 For the organizations, the Big Billion Days bring out the best of working at Flipkart.
Kalyan Krishnamurthy, CEO Flipkart aptly sums this up, "We work and come together like a family for these five days, deal with challenges together, lean-in while ensuring everything goes smoothly. There are times when it feels like a big party and times when it feels like a high-level strategic meeting, but we're all in it together, with the same goal."
 For Amazon, associate experience is the key
 For Amazon, which has created more than 50,000 seasonal positions across its India network of fulfillment centers, sortation centers, delivery stations and customer service sites this festive season, the associate experience is key to Amazon. Which is why it emphasizes on recognizing and appreciating their work in enabling a great experience to our customers.
 Hiring is done basis a thorough-check of the candidate's background, while also ensuring that the candidates hired are 18 years and above. To train the seasonal associates, the ecommerce giant conducts a day-long classroom training program that focuses on helping them develop requisite operational skills that help them perform their role better. Amazon employs a plethora of tools to train its associates spread across the country, which includes content and videos in regional languages focusing on formal customer interaction etiquettes, grooming, safety and overall delivering a positive customer experience.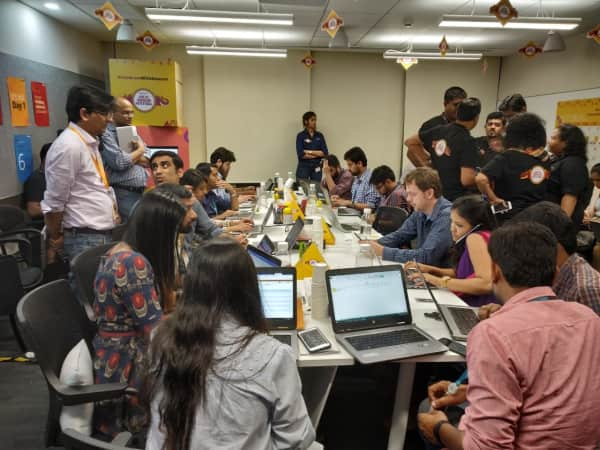 Just as through the year, it has customized recognition programs at its fulfilment centres, sortation centres and delivery stations recognizing its associates and their contributions to the delivery experience, similarly during the busy festive season, there are a number of engagement programs for the associates that keep the energy high and enable them to have fun while at work. These could be games, music and entertainment, poster making competitions, face painting, and thank you cards to name a few.
 Laughter yoga to the rescue
With employees putting in extra efforts during Great Indian Festival, the company makes sure there is no compromise on health. In order to do this, recreation activities such as Desk Yoga, Pranayama and Laughter Yoga are extensively promoted. These are specifically designed to act as stress busters and help employees keep their body and mind healthy. Employees are also encouraged to do head to toe stretches that can be done while being on the desk itself that instantly helps release the tension built in the muscles and joints because of lack of physical movement throughout the day.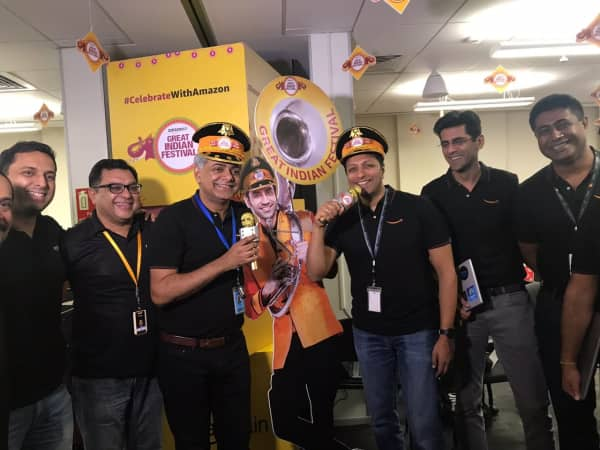 With an intense and busy environment all around the workplace, Amazon motivates its employees to stay happy and free their mind of unnecessary stress through Laughter Yoga. During these stressful days, Amazon falls back on these age old practices to ensure productivity and maintain an employee friendly environment. So while the two giants rough it out in the battlefield to delight their million customers, they also ensure that they take care of their thousands of employees in the festive season.
With the onset of festival season, People Matters brings you a series of articles based on massive hiring in ecommerce. Stay tuned for the next article in this series.