Employee Engagement
Driving engagement and retention in tech-led learning programs - A guide that works
A job well begun is a job half done - and this couldn't be more true for self-learning / tech-enabled learning initiatives.
Technology is changing the L&D landscape by providing tools that can help training managers in automating, scaling and truly personalizing the learning experience for their workforce.
While self-learning comes with several merits - making learning location and time agnostic, personalizing for each user's pace and use case, making the results measurable, and of-course scaling across the geographically dispersed workforce; there are also challenges around engagement and adoption that most L&D managers cite.
Hello English is an award-winning, mobile-first self learning app that helps learners hone their English and job relevant communication skills. In our experience in working with over 50+ large organizations across sectors, and over 50 Million+ learners, a few trends emerge - practices that address these challenges and truly help in unlocking the full potential of tech interventions and maximizing ROI. 
A. Introduce with a bang - a 360 flag off communication 
A job well begun is a job half done - and this couldn't be more true for self-learning / tech-enabled learning initiatives. A strong flag off from senior management goes a long way in overcoming the first hurdle - that of adoption. Self learning or app-based learning products cannot prove much efficacy if the adoption process itself is broken.
Checkoffs for a strong flag off:
1. The person flagging off should be a part of the senior management team (CEO / MD/ CHRO or the likes)
2. The trainees should be made aware of how this program would benefit them - not just on the job at the present organization, but in their professional lives, in general.
3. The immediate managers of the trainees should also be a part of this flag off announcement (whether virtual/ in person). As we'd elaborate in another section, it's critical for immediate managers to take up the role of mentors/ champions to drive the training program to success. 
4. Follow a 360 flag off communication approach:
● Communication across all levels: starting with a leadership flag off, trickle to middle management championing the roll out 
● Communication through all media: leverage email, internal notice boards, chat forums, WhatsApp and SMS to spread the word. With geographically dispersed workforce, this becomes even more critical. Often, non-official channels like WhatsApp come in helpful to get the word out. 
For instance, when a leading pharmaceutical company launched Hello English for 2500+ employees across 23 divisions, they followed a structured top-down communication plan to raise awareness and create a buzz. It started with a flag-off email from the CEO to all the users, which was followed by detailed action plan emails by Head of Human Resources and respective verticals - resulting in quick onboarding of users and higher engagement over time.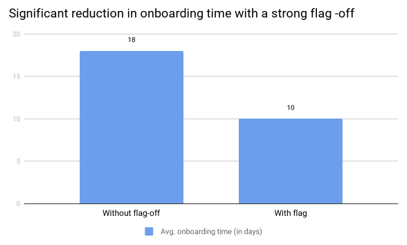 B. Reinforce internally through low touch blended approach
In any self/ app based learning program, there is a natural engagement decline over time, especially among the lower performing cohorts. Low touch blended approaches can bring together high and low performers and also act as a regular 'reminder' to continue to engage with the platform. 
A multinational retail chain rolled out Hello English learning app to train store employees in English and customer-centric communication skills - across 25+ locations in India. To nurture confidence and ensure higher knowledge retention, the organization conducted short daily morning huddles to engage users in various spoken English practice exercises suggested within the training program - such as Just-A-Minute sessions, roleplays, news discussion etc. These low touch activities boosted user's engagement and performance on the app by 2 times.  
C. Engage through gamification
Gamification goes a long way in boosting engagement, retention and completion rates of self learning / app based learning programs. 
Choose a platform that rewards micro-achievements as learners consume more content and perform better. Gamification can be at two levels: improving own 'status' and competing against peers
For instance, Hello English has virtual coins rewarded to users, and ranks that users achieve.
It also has leaderboards for healthy peer competition where users can compare and learn with others within their team/ company. It also gives organizations the ability to conduct multi-player tournaments - these are an ideal choice half way through the training programs where interest may start to dwindle. 
For instance, Hello English organized a multi-level mid-term championship for 500+ learners across 30+ properties of a leading hospitality chain in India. Divided into 3 levels, the championship comprised multiplayer tournaments, spoken English tests, and mobile-based assessments. The event led to a sharp spike in the usage of Hello English platform by 30% as both users and L&D team went above and beyond to become champions. The central L&D Team recognized the top-performing learners and hotels. 
D. Incentivize through Rewards and Recognitions 
Who doesn't like rewards? In these times, when trainings are still considered to be boring mandatory tasks, some organizations instill excitement by recognizing the top performers with monetary and non-monetary incentives. A leading financial services organization set a lucrative monetary reward for users who successfully completed Hello English training program and cleared their post-training assessments - thereby motivating them further.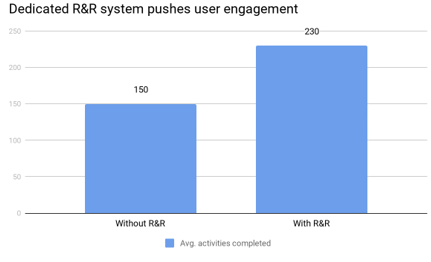 E. Integrate with employee KPIs
Many organizations integrate self-learning programs as one of the key metrics for employee's performance appraisal. This ensures that learning/upskilling becomes an integral component of an employee's career path. 
For instance, the country's leading e-commerce chain has integrated Hello English training program in its career growth plan for employees eligible for promotion. Therefore, successful completion of Hello English training, along with other pre-requisites, could land them a promotion interview. Some organizations take a step further by evaluating the manager's performance basis his/her team's engagement on self-learning platforms. 
F. Appoint team champions
While a strong announcement from the leadership creates a buzz amongst the learners, it is the push from immediate supervisors that drive engagement on self-learning platforms. Therefore, it becomes imperative to communicate the training plan, benefits and expected outcome to the entire organization hierarchy, and appoint mid-management champions who would drive this initiative in their teams. For instance, a client with a large geographically dispersed user base (across 1000+ centers) had a very involved top management but the communication broke beyond the HQ. As a result, the immediate managers of the learners were not aware of the program and often discouraged users to use the platform during work hours. This led to a below average engagement and adoption.