Employee Engagement
The dilemma of whether to learn or labour as an intern
With the increasing number of applicants for one job opening, the redundant nature of the educational system and a need for financial security, every student is considering internships, anywhere, anyhow, to stand apart and gain exposure. Now that it is mainstream, should we be discussing work ethics and fair treatment all over again, in the context of interns?
The protagonist in Sophie Kinsella's novel, My Not So Perfect Life, Katie Brenner, decides to return to her home in the countryside after finding that each firm she approached for a job told her to be an applicant as an intern, unpaid intern, even after having substantial time of experience. One wonders why an internship and not a job when the concerned person already knows the industry through and through. 
Internship, as we see it in modern times, is a taste of the practical world of work. Exposure is the word often used to describe its purpose. Initially limited to the medical field, companies are now open to hiring interns in almost all sectors. This has made students from every field to access, experience and carry forward the real-life application of whatever has been taught to them theoretically in the classrooms.
However, in recent times, the conversations about interns and the treatment they receive from the biggest and most profitable firms, let alone startups, have been the topic of hot debate. The adrenaline rush to be part of a larger system, working with tangible processes and outcomes and guided by people so successful in their careers that one already starts seeing a role model in them - all of this shine often blinds them into boundless gratitude. However, with social media in hand, the dissent has arisen addressing the identity crisis felt as an intern.
Am I here to learn? Try my hand at as many segments as I want to? Receive feedback? Take up exciting projects? Get recognised? Or am I here as a substitute for a full-time employee? A recruit to carry out menial tasks? A cheap, docile labour?
Sometimes, not even cheap. Unpaid. Unrecognised.
Today, most internships have tended to become entry-level jobs. Under the umbrella term of 'intern', they are strategically hired to fulfil a certain role throughout their tenure. The learning, which is what the whole idea of internship roots in, does come well, in some cases, in the initial days. However, with the same, repetitive task allotted, this learning quickly transforms into monotony. 
It is important to note that more often than not these tasks are also left-overs. When there is too much responsibility on one shoulder, instead of hiring a proper employee to carry forth the task, an intern is preferred. This is done to avoid the expenditure of a standard package of salary and other benefits. The answer seems quite clear, now. Katie was not getting hired on a full-time basis because companies want to get away from these commitments while also enjoying the timely completion of work.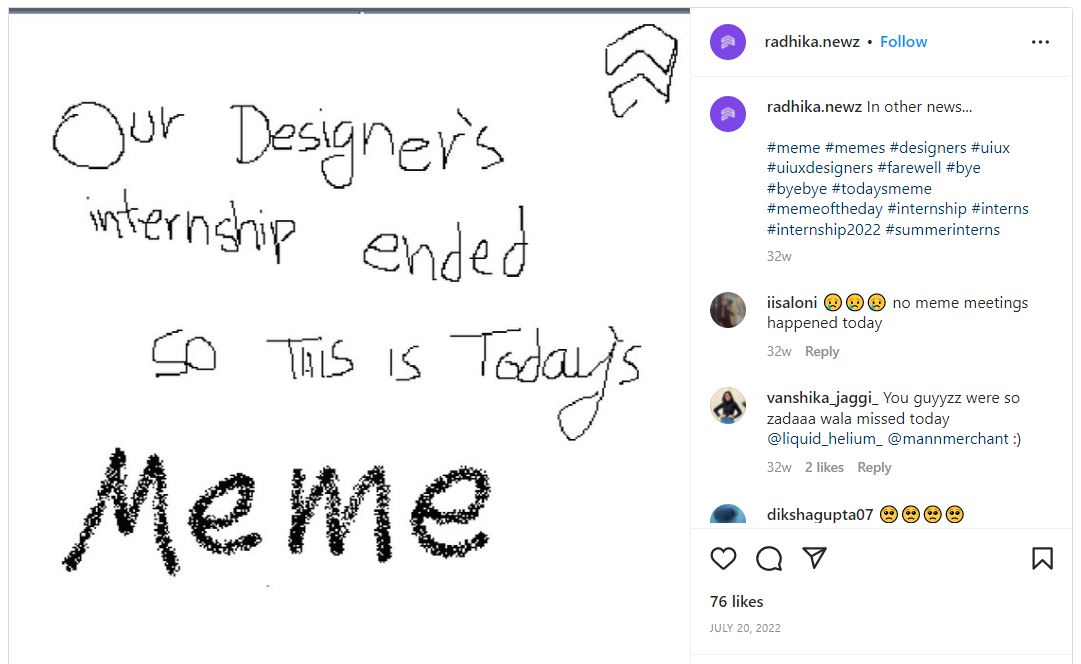 This post on Instagram is an ironic statement on how an intern is bestowed with the responsibility of the whole page so much so that, after their leaving, the designs become naive.
The whole conception of interns not as learners but as cheap labour has reached a state where conversations expressing their frustration on not even letting the weekend off are emerging. A metaphor of a squeeze ball comes to mind. It is as if the employers wish to take out as much work as possible from the intern. Who is this internship about then?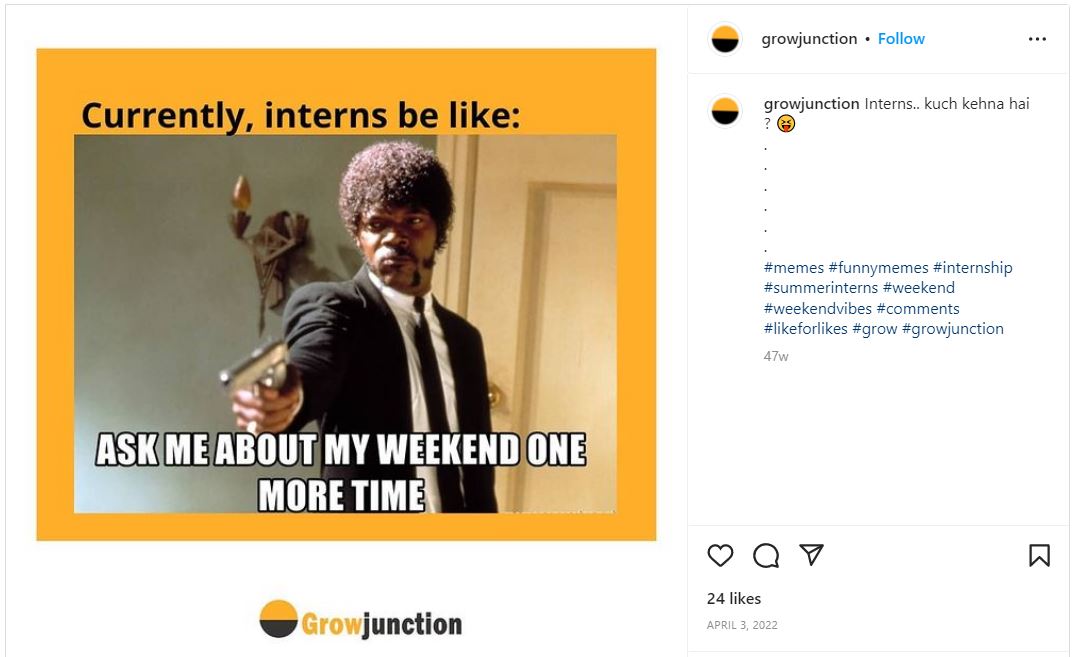 This meme on instagram shows the sheer distress.
Apart from being devoid of learning in its approach on the organisation's part and lack of agency with respect to the work allotted on the intern's part, it is common to find the latter sidelined and neglected especially when they grow a little from their identity of solely being cheap labour. 
"Interns are not given the same platform to put up their thoughts openly. In fact, there are chances of getting collectively targeted for being opinionated. The ego clashes between the full-time employees and the interns are very real. This leaves a dreadful mark on the minds of interns about the corporate", says Rishika Jolly who has interned with more than two renowned organisations.
Workplace culture and office politics can spoil an internship
Even though this article has been employing the term "intern" for all, it is not a homogeneous category. A lot of factors go behind the politics of the kind of treatment one receives at the workplace as an intern.
"If you have come through a reference or belong to a top-notch college, the people in the organisation might go an extra mile to focus on the learning aspect. On the other hand, if you have gotten in through the normal procedure, it is most-likely that they won't care to invest in the same", says Bhavya Bhalla who has interned with one of the leading MNCs. 
The distress of the Spotify intern who never got the recognition she deserved for the Spotify Wrapped idea increasing its audience massively is part of a bigger fight in a world where interns are denied basic opportunities for exploration, learning and minimum wages.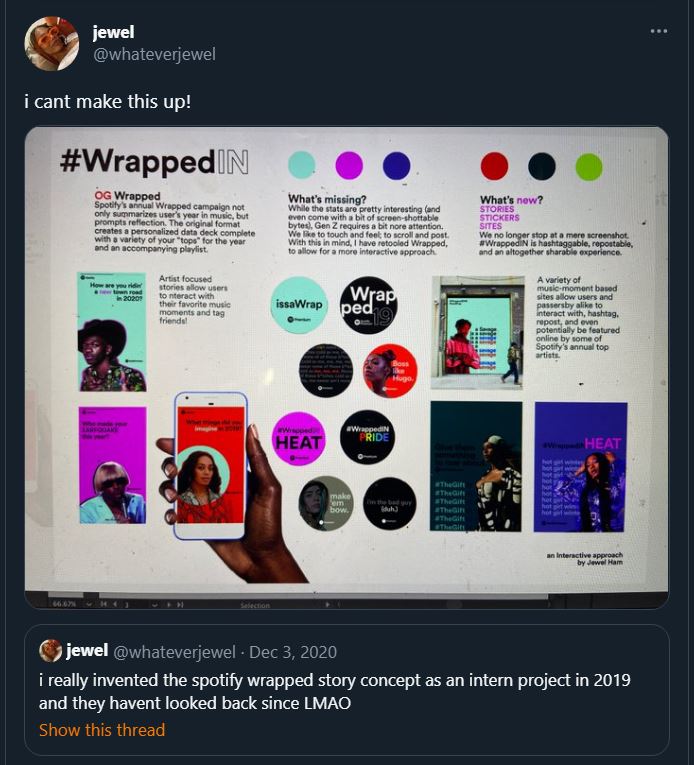 We all are Katie and will continue to be until organisations identify the need to view interns as learners and not cheap labours while also providing them with enough recognition, perks and wage for the work they put into. It is one of these interns who might return as high-potential talent that the company would need in the future. To not participate in the growth and learning of interns is to miss the opportunity of building a promising employee.