HR Technology
Using design thinking principles to solve recruitment problems
A step-by-step guide on how to use design thinking in recruitment.
"If I had an hour to solve a problem, I'd spend 55 minutes thinking about the problem and 5 minutes thinking about solutions." – Albert Einstein
I can closely relate to the above statement made by the creator of "the world's most famous equation". We live in an era where most of us are so enthusiastic about finding solutions that we tend to disregard the importance of deeply analysing the problem statement before jumping to conclusions. 
Fear is a major obstacle, and not discovering new ways to break stereotypes is the biggest mistake we all commit. While most orthodox recruitment theories are still put to practice with proven results, could there be another way, a better approach to solving recruiting problems? I've been going through a lot of contextual notes on Design Thinking and how it is solving some of the most complex real-world problems in a structured way; I am thinking why not apply some design thinking principles to solve some of the most pressing and persistent problems in the recruitment space?
First, let me put across the concept in a quick illustration and pick up a real-time use case to solve it by applying Design Thinking principles.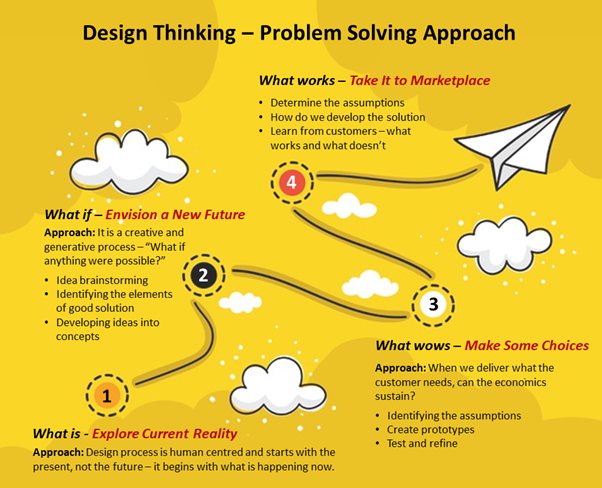 Now that we know the design thinking approach, let's run a use case using the design thinking methodology to solve a simple, yet a persistent problem all recruitment agencies are facing today: 
Identifying an opportunity: Let's consider a problem statement, one that is a real pain for every business within the world of recruitment solutions – sourcing of candidates for niche job profiles.
Scope the project: Now that we've identified the problem, we need to define the scope and what we aim to achieve by the end of the project – this will be the starting point of our design thinking process.

Scope/Project Need: Identifying and creating a supply chain of candidates for niche profile
Program Objectives: Create a sustainable channels and models, Identification of Job roles, create domains expertise, define methods of sourcing

Draft your design brief: Identifying and creation of long-term sustainable channels – be it online or offline, your aim is to ensure the engine runs continuously to attract talents to match the job roles. Have a dedicated team to work on specific skills.
What is?
Make Your Plans

Review all the existing methods of candidate sourcing – online portals, offline ads, referral network, hackathons, social media, etc.
Identify the channels that can be used as a sustained channel for sourcing niche job profiles; for ex., hackathons, tech community groups discussion forums, new HR tech, webinars, learning forums, etc. 
Look out for additional inputs to attract, assess and promote jobs

Do Your Research

Identify the tenure and use of the technology and the domain where it is used
How many companies are using these skills?
Map the skills and salary against the industry benchmarks
Can you benefit from your available resource pool?
What will be the career progression? Identify and define the career progression of the niche job role; use this information to market your capabilities for the particular requirement

Identify Insights

How is the job role positioned in the market?
What are the key selling points you would share with the candidates to attract their interest?
Interview the Hiring Manager to identify the critical areas

Establish Design Criteria

Market benchmarking
Supply source
Key Matrix of evaluating
What If?
Brainstorm ideas

Create a mind map and then evaluate the best model of sourcing that will lead to attraction
Define the delivery engine for the sourcing model

Develop Concepts

Project based hiring
Contract Hiring
Outbound sourcing
Hackathon

Create Some Napkin Pitches

Work along with the Hiring Manager and the Talent Acquisition team to define the hiring process
What Wows?
Surface Some Key Assumptions

Talent benchmarking
Sourcing model

Make a Prototype

Build and test the delivery models as suggested earlier
What Works?
Get Feedback from Stakeholders

Test the solution with different teams, business managers

Run Your Learning Launches

Make note of findings and refine the approach

Design on the Ramp

Launch the most successful model post refinement
Conclusion
Now, applying design thinking concepts for developing successful delivery models in recruitment can consume a bit of time and effort, because ours is a servicing sector. While most TA teams tend to brainstorm occasionally to refine and continually improve their delivery models, they overlook some key factors defining the experience of the team members, candidates as well as the end customer. A lot of research must go into solving recruiting problems effectively using design thinking. And for these reasons, I recommend that you invest enough time and effort, and may even hire an expert to apply this methodology to your recruitment practice.