Leadership
The different breeds of HR Leaders
Transformers, Dreamers, Runners and Blockers: A look at the different breeds of HR leaders.
HR leaders are expected to be business partners and have a pivotal role to play in their organizations. However, the industry is facing high levels of flux at the HR leadership level, and often, leaders fail to deliver as expected. As a result of the research undertaken for the book "Making of a CEO," teaching at IIM Ahmedabad and the consulting work done with many clients; I have been working on the question "What makes the HR leaders tick?" The answer was a unique combination of conceptual thinking with execution excellence. This led to the development of the capability matrix and the classification of HR leaders into different breeds: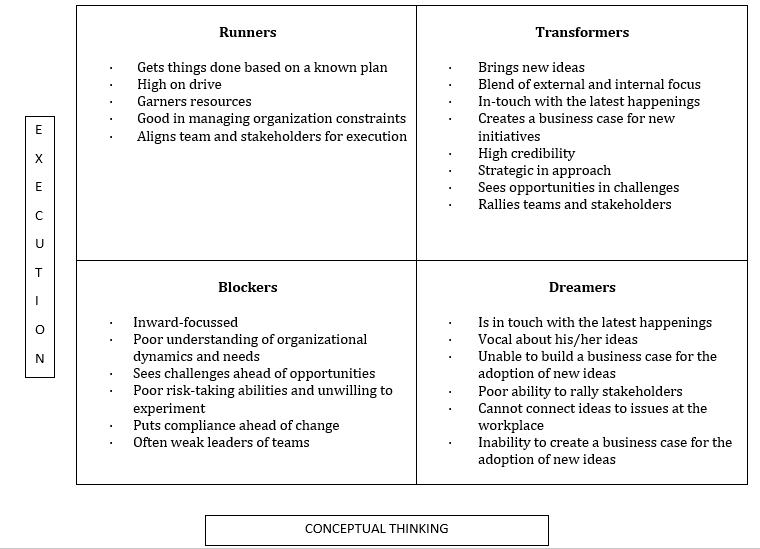 HR leaders must understand what is stopping them from bringing their best to the organization. For example, a dreamer is a valuable asset as long as the leader can bring in team members who can executive the new ideas and also align business leaders to his/her agenda. Otherwise, after a few years of 'just talk' and no actions, the leader may be seen as ineffective. Coaching can be a useful tool for such leaders to build their influence and execution ability.
Runners are an asset to the organization as they make things happen. They can make HR strategies happen and are excellent in execution. However, they tend to get stuck in the routine and are often not thinkers themselves. Runners must be provided with the big picture of what HR initiatives can support the organizational needs. They should also be encouraged to attend capability building initiatives and external forums. Promoting Runners to roles that need strategic thinking should be done carefully and with necessary development plans. The organization may lose a good executor and end up having a leader who may not have the required mindset or skills to lead the function if Runners are made leaders. The blockers are challenging to change as they lack both conceptual thinking and execution. They are misfits, at least in the current organization. 
Transformers are the real assets to any organization. Transformers should not get disillusioned if they are not able to garner resources or their ideas are not put into action for reasons beyond their control. They need to be involved in business decisions and should be given the appropriate level of responsibility and accountability in the organization. Here's a breakdown of the characteristics, outcomes and team outcomes for each type of HR leader: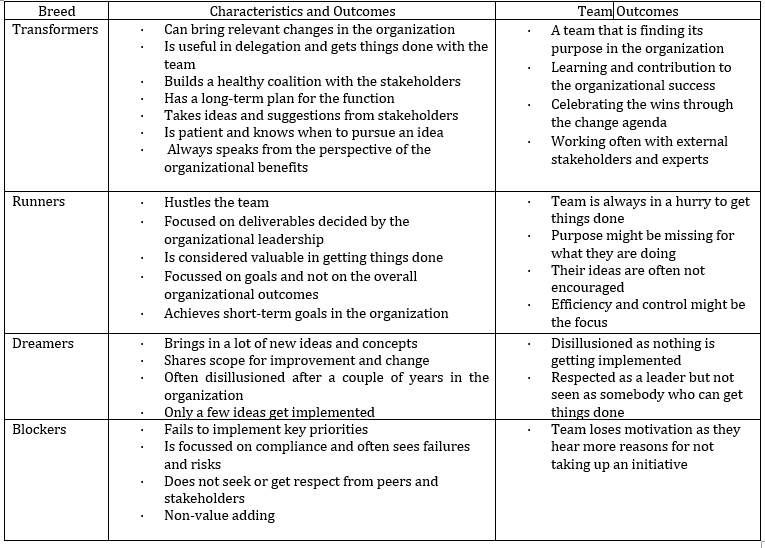 It is vital that HR leaders blend their thinking and execution skills to create maximum impact on the organization. Mentoring early on in the careers can help HR professionals to develop this blend and not get lost on either end of the spectrum if they are aspiring to lead the function. For the CEOs, they must choose their HR leaders based on substantial evidence of achieving and implementing fundamental HR-related transformation and identify them correctly to support them in their journeys.