Life @ Work
How to implement OKR to deliver business outcomes: Part 3
In successful OKR implementation, you will be able to set the cadence throughout the company where teams meet, think, plan & execute what it will take to grow the business then just keep executing thing on day-to-day basis without knowing if its contributing to company & business growth or not.
In the part-2 of this blog series, we looked at how to build the code OKR team and define the strategic objectives of the company. You can read the Part-1 of this series, in case you missed.
In part-3 of this post, we will look at:
• 4-Principles of successful OKR implementation
• Maturity stages in OKR implementation
• OKR Design Patterns
4-Principles of successful OKR implementation
Ray Dalio(founder of investment firm Bridgewater Associates, one of the world's largest hedge funds) says "Principles are ways of successfully dealing with reality to get what you want". 
At qilo, we have identified following 4 principles that's leads to successful OKR implementation. 
Principle 1: Define & refine few important objectives every quarter. These objectives should be aligned with your defined company priorities.
Principle 2: Define Key Results to achieve the objective. Every KR is either an Outcomes (Key KPIs or metric to achieve) or an Effort (Action Plan) to achieve the defined Outcomes.
Principle 3: Marry your business reviews & OKRs. This is imperative as most of the business reviews today within leadership teams and beyond are run without data. OKR helps you to run your monthly and quarterly business reviews based on data.
Principle 4: Enhance managerial effectiveness to define impactful Objectives & Key Results. Managers are the one who executive your agenda. Once they are able to define the OKRs, it will not just help in enhancing clarify within their teams as what needs to be achieved, it enhances the team level execution and engagement.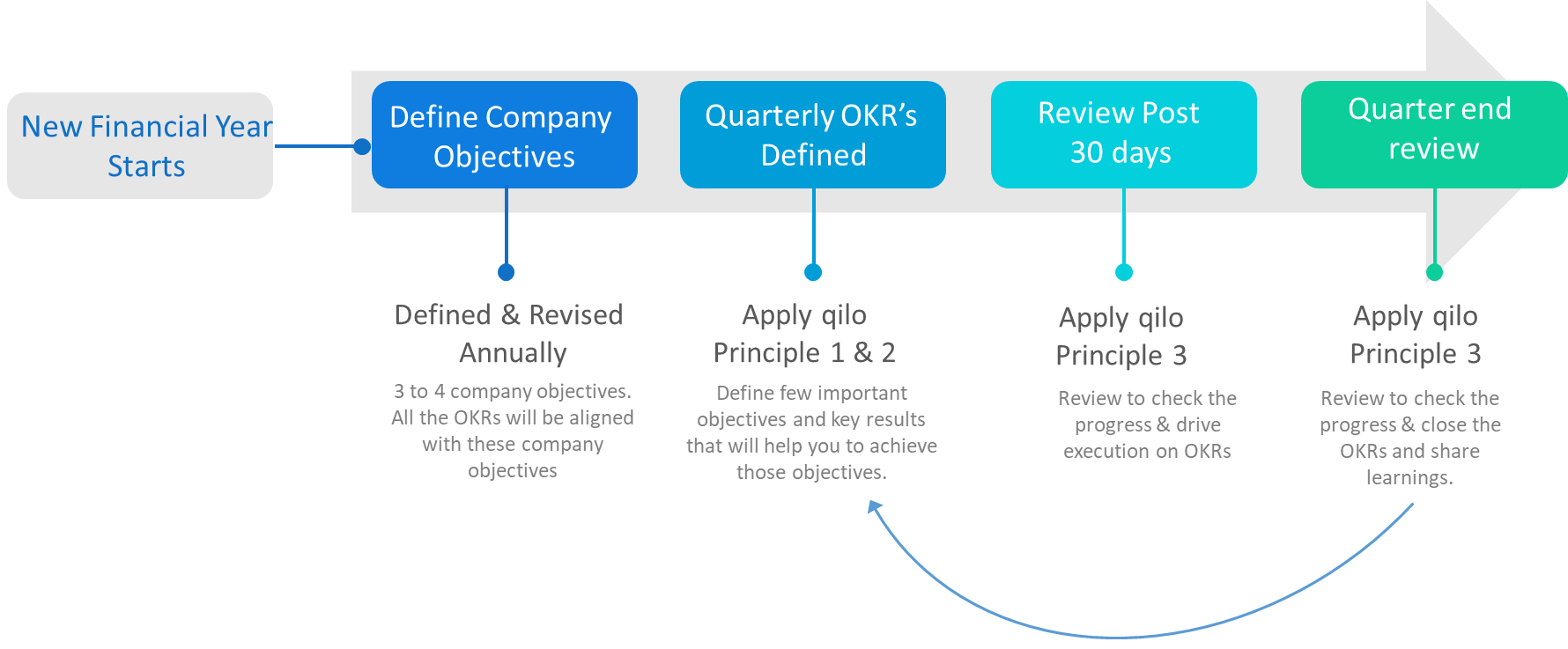 Stages in OKR Implementation
Implementing OKR in a company is not an easy. We are asking people to change their habit. OKR enforce discipline of thinking & planning to be implemented every quarter. Though this is what CEO expects people to do, but the adherence and implementation fails beyond leadership team. 
With the successful OKR implementation, you will be able to set the cadence throughout the company where teams meet, think, plan & execute what it will take to grow the business; then just keep executing thing on day-to-day basis without knowing if its contributing to business growth or not.  
At qilo, we have seen that many companies go through following 2 stages: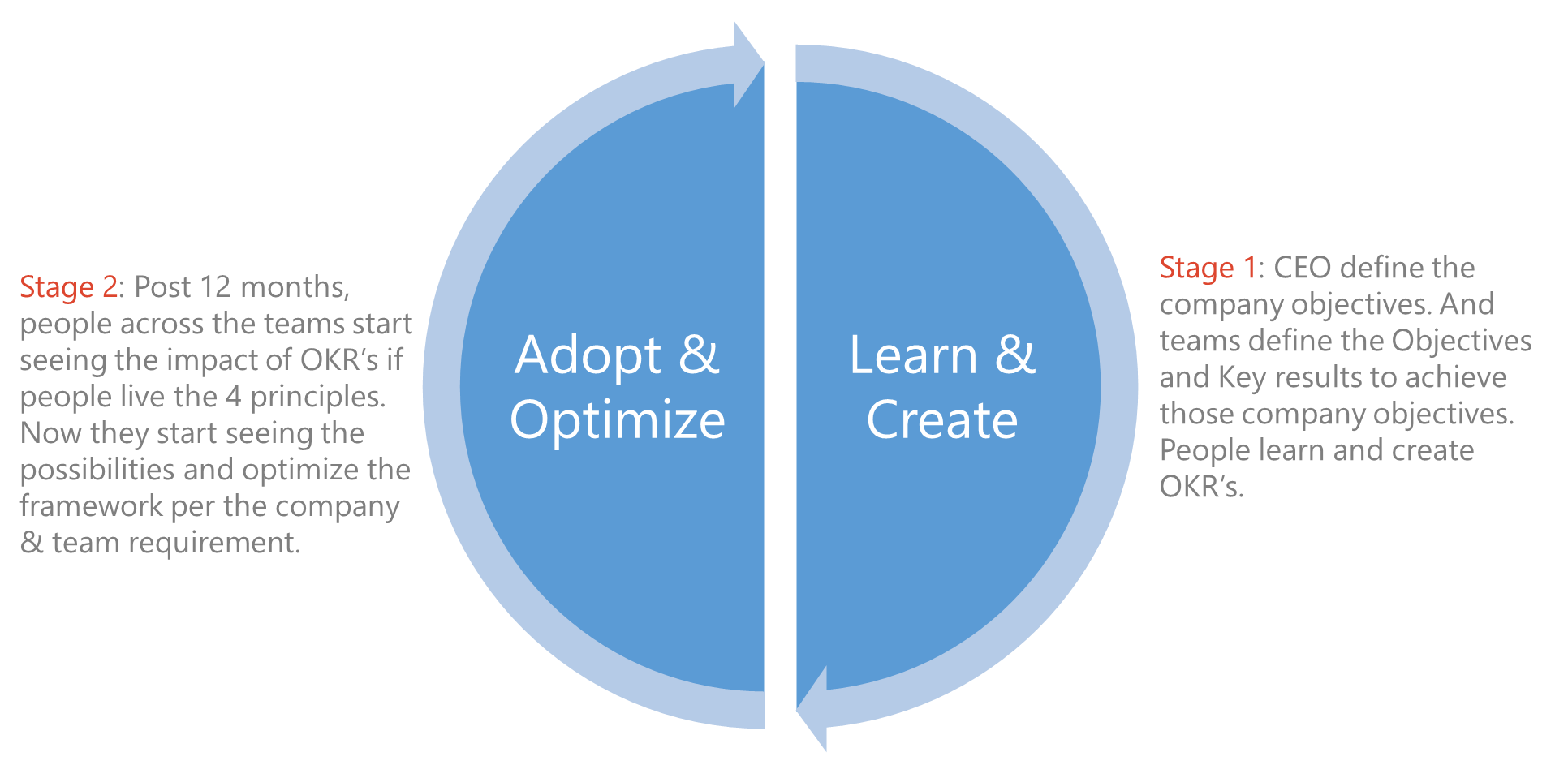 Stage 1: Learn & Create - Right from CEO to functional heads to managers, everyone in the company learn about OKR. They learn how to define the "Objectives and Key Results" that will help us achieve those "Company Priorities". Everyone in the company become clearer & aligned on what we are trying to achieve as company. And what they should be doing to achieve the highest impact. People will remain in this stage for 9 to 15 months. 
Stage 2: Adopt & Optimize- Post 15 months, most probably, people across the team will start seeing impact of OKR's and how its helping in brining transparency, collaboration and speed of execution. Resistance to adopting the OKR will reduce by this time and people will look forward to defining the OKR's every quarter and reviews of OKR's every month. You will see that people will start optimizing their objectives and key results.  CEO will come to know whether the "strategic bets" which are taken have been working or not. And what they can do to refine them further.
OKR Design Patterns
Design patterns are defined as typical solution to the common problems. When implementing the OKR's the most common problem post you have understood OKR as concept is "How to structure the OKRs". Primarily there are two approaches to arrange the structure them:
Individual OKRs
Team-based OKRs
Individual OKR's means that the Objective and the Key Results under that Objective are owned by the same person.  

Pros: Simple & Easy to create OKRs and easy to modify the same.
Cons: You end up creating too many objectives across the company. And you are not leveraging the true benefit of OKR's which is about enhancing transparency and team-collaboration to achieve business outcomes(a.k.a Key KPIs)
Team-based OKR's means that the objective is owned by one person and the key results are owned by different people from same or different teams. These key results can be assigned by skipping hierarchies to build more focus on execution and making things happen. 

Pros: Enhance the team communication and collaboration to achieve the objectives. You have less objectives to manage.
Cons: Takes more time to create the Objectives & Key Results as it needs people to come together as talk what should be achieved.
Pro tip: Leverage team-based OKR's to kill the silos & lack of collaboration among teams.
Common OKR Implementation questions
Question: What are the most common mistakes companies do in implementing OKR's?
Answer: There are many of them, but the most common are:
You think OKR is a performance management framework which will now allow you to do goal-setting exercise 4 times an year.
You want to cascade the OKRs. The characteristics of cascading is its top-down, one-way, irreversible flow, with no feedback cycles. OKRs do not cascade, OKRs align. Read here to understand more on this.
Unable to identify and finalize the OKR implementation Head. An implementation head is someone who understands your company business horizontally, can influence people in your company and is responsible for driving OKR implementation. 
Teams are not able to properly define the Objectives and Key Results. This is the biggest factor of OKR failure. And it happens because of lack of training on OKR during the initial phase. 
You are in too much hurry to get OKR adopted across the company without doing required change management.
You are unable to marry the OKRs with your weekly/monthly business reviews across levels. 
You have created the perception within your company that OKRs will be used to get performance rating. 
Question: How we can choose the OKR implementation Head?
Answer: The ideal OKR Implementation Head should be someone who understand the company business horizontally, can cross-question & influence across all levels on define metrices. Few options are:
If you are a big company, OKR implementation Head can be your Strategy Head or Chief-of-Staff or COO or CHRO. Choose someone who has required operational experience of your business and the one who has a credibility to influence people and get job done.
If you are an SMB or growing start-up, OKR implementation Head could be anyone of your functional heads. If you can hire a business performance specialist who works directly with CEO and responsible for driving business performance, she can be the implementation head.
Question: How we can rollout OKRs in a company?
Answer: Implement OKR horizontally at the top 3 level, this means Management, Functional Heads and Operational Managers. If you are a growing start-up or mid-size business where there are still no processes, you can always roll out OKR's across the company in one shot. For the top-3 levels, implement the team-based OKRs, while for the people below them, implement the individual OKRs.
Question: How I can make sure that the teams are creating quality OKR's, specifically Key Results?
Answer:  This is a tricky one.
Make sure that people are trained well on the OKR's as a concept. The CEO and functional heads can get introduced to OKR by an expert consultant. But make sure that people beyond the functional heads are trained by functional heads & managers in those function then an external consultant. 
Keep communicating every quarter the guidelines to create Objectives & Key Results and how to conduct the reviews.
Use analytics to see the type of Key Results getting created across teams, if you are using an OKR software.
Reward and recognize people who are drafted good OKR's. And managers who are conducting regular review. And share their stories across company.
Question: What are the top 5 mistakes companies do which leads to failure of OKR implementation?
Understanding that OKR cascades not align. Most companies think that OKR is just about cascading top level targets drilled down to last person in the person. That understanding is not only wrong, it has led to many implementation failures. Reason being cascading takes time, you wait for the top-level person to finish their OKRs before you can take them to next level.
Thinking OKRs as replaced of annual goal-setting exercise or projecting it as performance management system internally.
Not using the OKRs to drive your annual operating plan.
Thinking that its ok to create OKRs after 3 months are gone in new business year.
Not thinking that adopting OKR is an evolutionary process and expecting faster results within first 2 quarters.
Question: Can OKRs be used as Performance Management system?
Answer: Treating your OKR's as only PMS system will lead to people not accepting stretched Key Results. They will be constantly thinking that how they can define the simple & easily achievable key results that they can overachieved. And then they can showcase themselves as super stars and claim the highest bonus. The best solution is to combine the OKRs with quarterly 1-On-1's and your rating questions are around "How well your OKRs are defined" and "Are your Key Results appropriately stretched".
Key Learnings: 
Implementing OKR takes time, so don't rush and don't expect results immediately. 
For the first 12 months, focus should be on enabling people to understand OKR concept. And making sure that teams are including OKRs in their business reviews.
Prefer team-based OKRs at top 3-levels to enhance the transparency, collaboration and communication.
Drive execution on your annual operating plan using the OKR framework.
Note:
Part-1 of this blog series can be found here
Part-2 of this blog series can be found here