Skilling
The new skills marketplace
Five decades of opportunity is more than what any other country in the world has or will have — it is an opportunity for India to seize and establish leadership.
First the good news. The United Nations Population Fund (UNFPA) data1 tells us that India currently holds the longest window of opportunity, of about 5 decades, to leverage its "demographic dividend", which started in 2005. This means that we have a high working population (in the age group of 15-59 years) who can support those who are too young or too old to work. So, for another 38 years (till 2055-56) India has the privilege to leverage this great opportunity to prosper because our working population can support those who aren't employed. 
From Ceteris Paribus  to "Perpetual Beta"
Historically, when people completed their conventional education, they would find a job and "settle down", and 'settling down' meant achieving a state of stability — a bit like what an economist terms as "Ceteris Paribus" or "other things equal", a situation of equanimity where other things remain unchanged.
We can no longer tell a first-time workforce entrant to find a stable job; the job market is in a state of "perpetual beta"
However, the current world of work is anything but that. The notion of 'lifetime employment' is becoming unsustainable even for the biggest organizations. Many of the 12 million people who enter the workforce every year do not find jobs and India's unemployment rate is at an alarming 7.38 percent as of December 2018, according to latest data2 by the Centre for Monitoring Indian Economy. According to the Economic Survey of India3, there are almost 139 million migrant workers making it one of the largest exporters of skills to the world.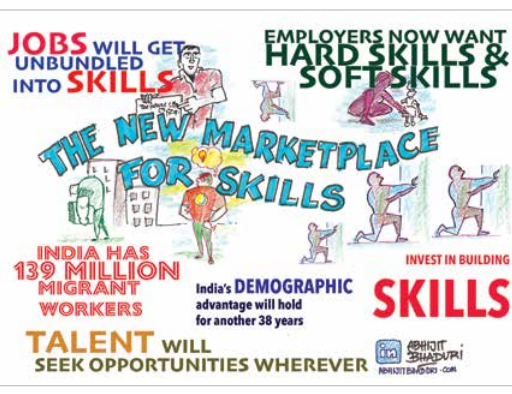 Out with the old, in with the new – Skillsets cluster
We can no longer tell a first-time workforce entrant to find a stable job. The job market is in a state of "perpetual beta". There are sectors and organizations that are collapsing because of new business models. A decade and a half ago GE was the world's most valuable public company but in June 2018, the infallible GE was removed from the Dow Jones where it was a member when it was formed by Charles Dow in 1896 and a continuous member since 1907. In October 2018, John Flannery was replaced by Larry Culp, an outsider. For everyone who has viewed GE as a leadership factory, not being able to find a CEO from within was impossible to reconcile with.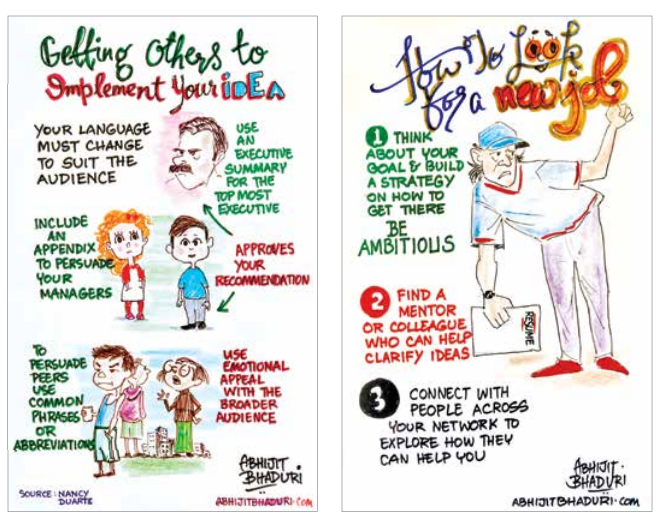 No strings attached to a degree or experience 
Education has become more and more distant from what the employers need. In 1970, 16 percent of the registered nurses held a bachelor's degree whereas in 2015, 60 percent nurses had it. While the cost of education has risen, the payback has not. Going to university doesn't necessarily translate into a bigger paycheck or a greater certainty of employment, according to The Economist4. Several employers like Google, Apple, and IBM no longer require applicants to have a college degree.
Having a degree was once reassuring for employers. They knew the person would be able to succeed in doing the job. Beyond the educational pedigree, the employers looked at the previous experience to predict success on the job. But even that is not a valid indicator anymore. Jobs Skills have become more important than previous experience or degrees. 
Hottest skills in 2019
LinkedIn recently analyzed all the job postings that employers have made and stated that there are at least 50,000 professional skills in the world. So which ones will make you most sought after? LinkedIn4 has the answer — from soft skills like creativity and adaptability to hard skills like AI and data science, the list is long.
And employers today want both hard and soft skills. The stereotype of the socially clumsy nerd is a thing of the past. Today's marketplace looks for people who can embrace new technology and solve problems with their creativity. Once they have figured out the solution, they need to collaborate with others to implement the ideas. In a world that is in perpetual beta, being able to adapt quickly is an important requirement.
LinkedIn states that the five hard skills in demand are: Cloud computing, Artificial Intelligence, Analytical Reasoning, People Management and User Experience Design. It is interesting to note that People Management is now being termed as a "hard skill". I am sure User Experience design will become a mandatory skill to have even for HR leaders and not just for Developers. When it comes to soft skills, creativity is the most sought-after skill. Creativity matters more than 'previous experience' because most problems do not have a precedent. Persuasion skills and adaptability to collaborate makes an employee sought after.
Given that each one of us is juggling multiple priorities that are often changing, being able to manage one's time does, significantly matters. That is also a sought-after skill.
While the hard skills will keep changing, the soft skills will be useful anyway. The new skills economy will need focused attention by the government and the employers. Five decades of opportunity is more than what any other country in the world has or will ever have. It is not an opportunity for us to lose and squander away. If you don't believe in waiting for someone else to build these skills in you, just get started on your own.