Culture
Mental health day leave: Are we ready to embrace it?
How a simple email about acknowledging the need to focus on mental health brings back the debate on whether corporates, leaders are in denial about employees' mental well-being.
When Madalyn Parker sent an email to her CEO about taking a sick leave for mental wellbeing, little did she know that it will get a global reaction. It did. More so, because she received an equally mind-blowing email from her CEO. Ben, her CEO thanked her for reminding him "the importance for using sick days for mental health". This small step by Madalyn to put mental sickness as any other ailment is indeed worth applauding. 
Depression/anxiety disorder/mental breakdown – whatever the term you may call it, it is not something to be pushed under the carpet – as we all do it. Anybody suffering from a slight mental disorientation, we either go into denial or refuse to accept that the person needs medical help. And this causes many people to just ignore until someday (often has been the case), a suicide note is found.  
Here's what happened
Madalyn wrote in her email titled "Where's Madalyn," that: "I'm taking today and tomorrow to focus on my mental health. Hopefully I'll be back next week refreshed and back to 100%." 
Her CEO Ben Congleton wrote back with - "I just wanted to personally thank you for sending emails like this. Every time you do, I use it as a reminder of the importance of using sick days for mental health — I can't believe this is not standard practice at all organisations. You are an example to us all, and help cut through the stigma so we can bring our whole selves to work."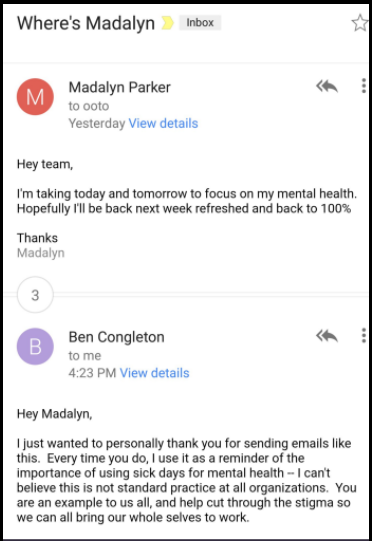 Ben in his Medium blog wrote that he didn't expect such a reaction from people all over the world. Madalyn was so impressed by the response, that she shared this on social media. 
He wrote, "It is incredibly hard to be honest about mental health in the typical workplace. In situations like this, it is so easy to tell your teammates you are "not feeling well." Even in the safest environment it is still uncommon to be direct with your co-workers about mental health issues. I wanted to call this out and express gratitude for Madalyn's bravery in helping us normalize mental health as a normal health issue."
Many poured in with their responses. While some wished they had bosses like Ben, others congratulated Ben and Madalyn for talking about mental health like this. 
Ben writes, "It's 2017. I cannot believe that it is still controversial to speak about mental health in the workplace when 1 in 6 Americans are medicated for mental health."




Why do we need more people like Madalyn & Ben?
According to World Health Organization, depression is a common illness worldwide, with an estimated 350 million people affected. The rate of emotional problems such as anxiety and depression has increased by 45-50% among corporate employees in the last eight years, according to a study by ASSOCHAM. In India, almost 42.5% of employees in private sectors are afflicted from depression or general anxiety disorder, said the ASSOCHAM study.
Increasingly demanding schedules and high stress levels are leading to depression or general anxiety disorders in individual lives and have wide ranging effects like daytime fatigue, physical discomfort, psychological stress, performance deterioration, low pain threshold and increased absenteeism. Nearly 38.5% of corporate employees sleep less than 6 hours in a day due to high stressed levels that arise out of tough targets set for themselves by employers and cause diseases like depression, hypertension, sugar etc. Barriers to effective care include a lack of resources, lack of trained health care providers, and social stigma associated with mental disorders. Another barrier to effective care is inaccurate assessment.
The reason why disconnecting from work at regular intervals to rejuvenate not just physically, but also mentally is a prerequisite to give 100% at your work. And instead of shoving it in the deepest ally in your heart, it is better to acknowledge it and get it treated, just like any malady should be contained. 
Empathy from leaders, co-workers a must:
Like Ben, a leader who is empathetic towards the wellbeing of his/her employers will be able to draw the top talent as well. "It's 2017. We are in a knowledge economy. Our jobs require us to execute at peak mental performance. When an athlete is injured they sit on the bench and recover. Let's get rid of the idea that somehow the brain is different," wrote Ben. 
He said that as leaders a lot of work must be done, but there are some easy actions a leader can take to become part of the solution. He urges people to "take some time this week to express gratitude to individuals on your team. You might be surprised at the positive impact"; and also "Take some time to reflect on how your company's values help create a safe-space for your teammates — 1 in 6 of whom is likely medicated for a mental health issue. Think of one action you can take to help your teammates feel safe."
While debates are going on about mental wellbeing, work-life balance and employee health, the question which still remain is : Are we ready to give this our time?