Appointments
Debra Lee is the first African American person to join Twitter board
Twitter, one of the Silicon Valley giants under fire for its dismal diversity numbers, has recently added Debra Lee, the chairman and CEO of BET, to its board of directors.
On this side of the world, we wake up to the news that Twitter has a new board member and she is African-American! Debra Lee, the chairman and CEO of Viacom's BET, the parent company of Black Entertainment Television cable network, has recently joined the Twitter board of directors, joining two other women. Twitter has been criticized repeatedly for the homogeneity of its workforce, management and its board board of directors — which until early 2013 was all male and caucasian. Lee now joins two other women on the board.
Ms. Lee will bring a more diverse voice to Twitter's governance. She, who has more that 68,000 followers on Twitter, tweeted on Monday that she is thrilled to be joining the company's board.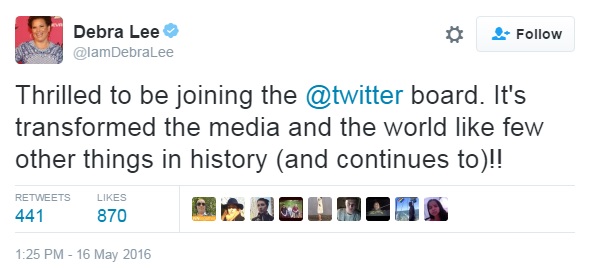 Twitter has emerged as a pathbreaking vehicle to underserved, underrepresented and activist voices in the US and all over the world in the recent years, exemplified by campaigns like #blacklivesmatter and #ferguson in the US, #nirbhaya in India, to name a few. Nearly 80% of twitter accounts are from outside the US with its greatest penetration being in the middle-east and Africa. However, as a Pew study revealed last year, 28% of black and Hispanic Internet users in the US are on Twitter (compared to 20% white users) but barely 2% of its leadership and 5% employees overall are black and hispanic.
Under the leadership of Jack Dorsey, Twitter CEO and one of its co-founders, the company has repeatedly stressed its commitment to course-correct and strive to be a better reflection of its user demographics. Omid Kordestani, a former Google executive came on-board as the Executive Chariman last year. One month ago, Hugh Johnson, VP and CFO of PepsiCo, and Martha Lane Fox, British entrepreneur and Founder of travel and leisure site lastminute.com were appointed to the board. Dorsey announced in April that there will be additions to the board that "would bring diversity and represent the strong communities on Twitter."
Efforts to diversify America's corporate boards, particularly in the Silicon Valley, with minorities and women has been a work in progress, albeit a slow one. Besides Twitter, giants like Facebook and Google have recently been under fire for not appointing enough members of minority communities to the technical and engineering positions, as well as executive roles.
Debra Lee has served as BET's CEO for about a decade. Prior to joining BET in 1986, she spent five years as an attorney at Washington, D.C. based Steptoe & Johnson.